Larris Vlach didn't even know he was a school record holder until a decade after he graduated from Napavine High School.
The Tigers' track and field program was in its infancy, a mere five years or so into its existence when Vlach set the benchmark in the shot put in 1966.

"We only had six guys on the entire team," Vlach remembered. "They didn't keep track of records then. Nobody said anything to me until about 10 years later when they started putting records together. I had no idea it was the record."
It was only after the school sorted all the numbers from every event that Vlach was finally notified that his throw of 54-feet, 10 inches set during his senior season remained the top distance.
The throw, which actually would have beaten last year's Class 2B state championship heave by more than a foot, proved to have staying power within the Napavine program as it endured as the high mark for five decades.
"I knew it was still the record because my daughter took a picture of the board at the school which has all the records on it," Vlach said. "I actually thought it would have been broken a long time ago."
After 50 years and countless attempts, the record finally fell when Chase Van Wyck opening his senior season by throwing 55-07.25 during the Rainier Icebreaker Invitational.
While it took Vlach 10 years to learn about his initially record-breaking distance, it was a number Van Wyck had been eye-balling for quite some time.
"He's been chasing that record for a while," said Napavine assistant track coach Tamara Johnston. "I think it really hit him from his freshman to sophomore year. He went up about 10 feet, which is just huge. And I think after that he just thought there was no reason he couldn't get that record."
It was Johnston who tracked Vlach down to extend an invite to the now former record holder to meet Van Wyck at the Lewis County Invitational. Vlach, now a resident of Spanaway, happily accepted.
"I think it's great he was able to break it," Vlach said. "It kind of surprised me in a way that I was able to throw that far. During my junior year, I had guys that I had competed against that said I was going to do this the next year, and I thought there was no way. Luckily, I had teammates who were able to push me."
It wasn't until mid-way through his spirited conversation with Vlach, prior to the opening of the Lewis County Invitational, that it donned on Van Wyck he was talking with the individual whose record had long-served as his motivation.
"You could see it just clicked with him," said Van Wyck's father, Rick, about his son's exchange with Vlach. "His eyes got big. You could tell he finally figured out who he was talking to. You could see he was excited. It was, 'Wait a minute – name again? Shot put record holder?'"
An appreciative Van Wyck fully took the opportunity to pick the brain of the man he had been chasing his entire high school career.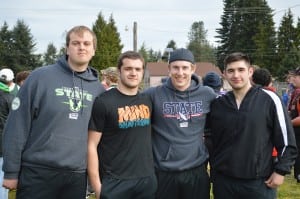 "It's pretty cool to get to talk to him," Van Wyck said. "It's an honor for me to break his record. I'm kind of speechless. I am actually pretty surprised I got it this early (in the season)."
Now the school's record holder in the event, Van Wyck is hoping to parlay that success into a second state shot put championship.
He claimed his first title as a sophomore with a throw of 49-09.50.
"I was probably the smallest guy out there," said Van Wyck about his experience at the state meet two years ago. "It was intimidating at the time. I didn't have good form. I am not sure how I pulled that out."
Undersized, yes, but that was ultimately trumped by an unwavering work ethic.
"He's just a really hard worker," Johnston said. "His sophomore year, no one believed me when I said he was going to win state. He was pretty small, but you could just see the potential in him. He's just been an awesome athlete to work with."
Van Wyck, who will attend Eastern Oregon University on a football scholarship, actually improved on his state throw the following the season (53-01.25), but finished third behind North Beach's Jonny Law and Caleb Bridge.
Bridge has since graduated, but defending champion Law returns as a senior as does Tim Poplin, another North Beach senior who finished fourth at state in 2015.
"North Beach really does push me," said Van Wyck, who defeated Law and Bridge for last year's District championship before finishing behind them at state. "They are the competition I really need in this. They virtually are my motivation to try to get that state title again."
And, that's a feat that would surprise no one this time around.