Brandon Wickes and Caitlin Arnold love farming with horses. They don't consider themselves anti-modern (in fact, they have no problem borrowing their landlord's tractor for some chores). The truth is, they simply like farming with horses and that's why they started Furrow Horse Farm.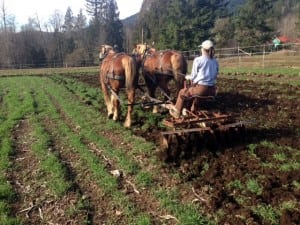 Both Wickes and Arnold had been farming for several years when Wickes started getting interested in draft horses. He began researching and meeting other draft horse farmers. He spent time with a mentor in Sequim to learn basics. That experience helped him decide that he really wanted to work on a farm on a daily basis so he and Arnold started applying for apprenticeships. Since there not many draft horse farms that take on apprentices, the options were pretty limited. But they found one in Ontario, Canada and in 2014 they moved and spent the season working on a farm growing seven acres of vegetables using draft horses.
The couple then began looking for their own property to farm. But since they weren't in a position to buy, they began researching options via Washington Farm Link. "It's like a matchmaking site for young people who don't have land and older people who want to retire or have land they are not using," explains Arnold.
While in Canada, the couple looked occasionally for a few years and saw a property listed in Morton, owned by well-known locals April Doolittle and Fred Schwindt. "We leased it sight-unseen," laughs Arnold. "We had to do everything over the phone and through email." But what they got was a nice little two-acre parcel.
"We had very little money to invest and really needed to start small. We're doing well with what we have." Last year they added another ½ acre and hope to add a little each year.
Arnold says they are often asked about the cost. She said it's a little hard to tell. She hasn't calculated a full year of feed since they have just had the horses since October. However, Arnold says, "It's a lot cheaper to get into because the horses cost less than tractors and machinery. But it is more difficult because draft horses and equipment are harder to find, while you can find used equipment fairly cheap."
She goes on to explain, "For us, not having to worry about the maintenance of a tractor is good. Neither of us have the mechanical skills, so the less there is of that, the better."
Future plans for Arnold and Wickes are to keep expanding their CSA (community supported agriculture, which provides a weekly box of vegetables from June through October). They hope to double the number of members they had last year. They sell at the Chehalis Community Farmer's Market and restaurants such as The Pearl Café, and provide produce for the Mineral School artist's residency program. They plan to expand both of these venues as well as others. "We hope to ultimately not have to work away from the farm," explains Arnold. "It was pretty difficult farming last summer while working other jobs." As they grow, however, Arnold sees some nice opportunities. "We would need to hire help, and might even be open to hosting an apprentice ourselves."
Arnold has some advice for others who may be thinking about farming with draft horses. "If you haven't farmed at all, go work on a vegetable farm for one season. If you have already farmed, go work on horse farm. I just think it's so essential. You can learn it on your own but the amount you learn from working with someone every single day, someone who has 30 years of knowledge, that kind of information we wouldn't have been able to access on our own. I really think doing an apprenticeship is essential. But if you can't do an apprenticeship, read, get in touch with farmers, watch videos. You can learn a lot on your own."
When asked if she thinks this kind of farming will grow in the future, she is thoughtful. "It's definitely growing. We have several young farmer friends already doing it or interested in it. I think it will grow. I meet more and more people that are interested in it. However, some of the barriers are that there are few farms on which to learn this skill. It's pretty competitive to get apprenticeships. Also, finding good, well-trained horses that have been working on a farm already is difficult."
Arnold is proud of their progress so far. "Being able to be going into our second year with our team of horses is great. Our goal is to do all field work with them this year. We want to be fully horse-powered." Arnold is excited that they have also held quite a few community education outreach presentations. "We get to tell people about what we're doing and what farming with horses looks like in 2016. We're excited to get the word out."
To find out more about Furrow Horse Farm or their CSA visit their website, call 360-492-1097 or send them an email at furrowhorsefarm@gmail.com. The farm is located at 280 Butts Road in Morton.