By Marlee Riggin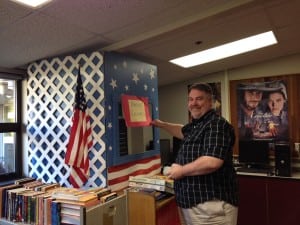 Randy Johnson was a successful AllState insurance agent before becoming an eighth grade history and public speaking teacher at Centralia Middle School (CMS).
As an insurance agent, he'd file forms and make phone calls, then look at the time and see it was only 8:30 a.m. "I was making money and not enjoying it," he recalled.
Two events pointed him in the direction of a major career change.
"Divorce was the catapult for the change," said Johnson. His divorce combined with his feelings for his current occupation, left him open for a change. "I wasn't really loving it," he said.
Then, a conversation with long-time friends, Don and Fran Meek put him on a new path which he admitted was a "calling."
Meek told Johnson he was working on a new teaching program through Washington State University at Centralia College. Johnson enrolled. Upon completion of the program, he had two interviews: the first was for a fifth grade position in Tenino, the second was as a social studies teacher at CMS.
He acknowledged his good fortune. "I ended up in the place I wanted to be, teaching at the level of what I wanted to teach, teaching the subjects I want to teach."
Johnson continued his education obtaining a Masters in Integrating the Arts into Education. He's an advocate of Howard Gardner's Multiple Intelligences Theory and utilizes a multitude of approaches in the classroom. "I do hands-on, mock trials, and mini plays," said Johnson.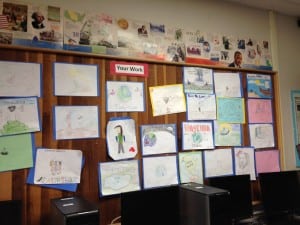 "We treat kids the same way, thinking they're all going to be college professors," Johnson acknowledged.  He understands that many of the students leaving his classroom will grow up and not go to college. His style of teaching honors not only the different ways a person can learn, but acknowledges skills and abilities needed outside of academia.
This time of year, he is teaching exploration and Triangle Trade. His classroom is set up with three stations: the British Colonies, the West Indies, and Africa. His students will play act the journey complete with roles, costuming, props and music.
"They will do the limbo to Bob Marley," said Johnson as part of their entrance into the "Indies." He confessed it sends a bit of a mixed message because many slaves died on the journey from Africa to the West Indies. However, he will teach this information as part of the lesson in this activity.
His methods are not equally embraced by his fellow teachers. "Not everyone gets it," said Johnson. "I feel misunderstood quite a bit."
His students prove otherwise. They will be tested on Triangle Trade, Jamestown, and the Three G's of the Spanish Empire. Over the years, they consistently do well on this particular unit, even though it covers a lot of territory.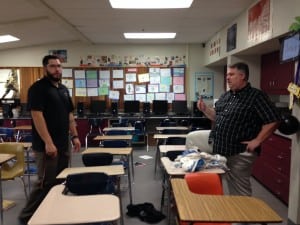 Johnson's creative approach to teaching and learning was first practiced at home. As the main custodial parent of two sons and a daughter, he's been a big fan of traditions. He's had pirate nights, scary nights, treasure hunts, and even midnight madness. "I'd wake the kids up at midnight and we'd make smores and drink hot chocolate," Johnson explained.
These kinds of activities are what bind kids to him. "I still believe it's all about relationships with people," said Johnson. He knows the importance of establishing a warm rapport in the classroom as the foundation to learning.
Outside the classroom, he's extended his warmth for the youth in the community as a leader in the Young Life program. "Ultimately, the overall message is love," he said.
Johnson no longer watches the clock waiting for his day to end. When the bells rings at 2:40 p.m., he will still be found at work playing.