Derpy Dragon Designs is a magical place where you can find the perfect handcrafted crocheted animals, adorable decals, and one-of-a-kind pieces that will surely bring a smile to your face. From cuddly bears, sea creatures, kittens, and small amigurumi creatures to larger whimsical dragons and colorful unicorns, this Toledo-based crafter offers a variety of unique designs handmade with love and care, making something from Derpy Dragon Designs a perfect gift for your next special occasion.
Shop for Local Gifts at Derpy Dragon Designs
Are you running out of gift ideas? Derpy Dragon Designs has you covered as a locally run small business in Lewis County specializing in creating distinctive and one-of-a-kind handmade crocheted items. No matter what you are looking for, Derpy Dragon Designs has a myriad of items in varying styles, sizes, and colors, making your next gift idea a cinch.
All items are crafted with the highest quality yarns, materials, and diligence, ensuring that each piece is truly special. Explore the extensive online collection of cuddly bats, magical fairy and mushroom house containers, soft elephants, adorable chunky bee plushies, slinky jellyfish, scarves, hats, rainbowy pride-inspired items, and so much more! There is something for everyone at Derpy Dragon Designs, and you are sure to find the perfect item for yourself or a loved one.
Owner Dorrie Wade crafts each and every single item with attention to detail so you can trust the quality of the gift you're buying, and it sure will be one-of-a-kind! You will not find these fabulous items at mass-produced stores. Shop at Derpy Dragon Designs for memorable gifts and to support a local artist in your community.
Meet the Owner of Derpy Dragon Designs
Crocheting is a cherished art passed down through generations for centuries and continues to be a popular hobby today. Dorrie Wade, a Toledo High School graduate, is one such crocheter and has been practicing this craft since she was a little girl. Now, with 20 years of experience, she hopes to pass her talent on to her daughter just as her mother did with her.
"My mom taught me all the basics of crocheting when I was very young," says Wade. "My whole family is very crafty, so I always had a lot of encouragement and support with any craft I wanted to do."
A simple chain, or "snake" as young Wade would call them, is all her tiny fingers could procure in the beginning, but years of practice and creativity became a constant source of joy in her life, and it is a hobby that she has come to be known for among family, friends, and community members.
"At first, I was selling at local events and bazaars during the holidays," says Wade. "Then I created my Facebook page and began selling things on Etsy. But now that I don't have Etsy, I sell year-round from my own website."
The name "Derpy Dragon" originated from the silly or "derpy" faces that the founder, Wade, would intentionally incorporate into her designs. What started as a fun hobby quickly became a profitable business as more people began noticing Wade's creative and original pieces. The brand has since expanded to include various other products, but the whimsical nature of the name and designs remains front and center.
With Wade's precision and commitment to customer satisfaction, shopping on her website becomes more than just a transaction — it becomes a personalized experience with a local business owner.
Hiding Plushies Around Lewis County
Wade's website is more than just a platform to sell her items. It's a way to connect with her fellow community members. However, Wade felt a growing need to create a different connection with those that enjoyed her work. So, Wade began crocheting miniature versions of the items she offered on her website and hiding them in various places around Lewis County.
"I got the idea from other artists doing similar things," explains Wade. "They only take a few minutes for me to make, so I am planning on doing a lot more to hide closer to the start of summer."
Find these cute and cuddly companions adorned with a message from Derpy Dragon Designs, encouraging children to enjoy a cute plushy. This has become a popular activity for families in the area, as it not only provides a fun scavenger hunt for kids but also introduces them to a local artist and offers a kind gesture. So, the next time you find a cute, crocheted companion, be sure to take a picture and share it!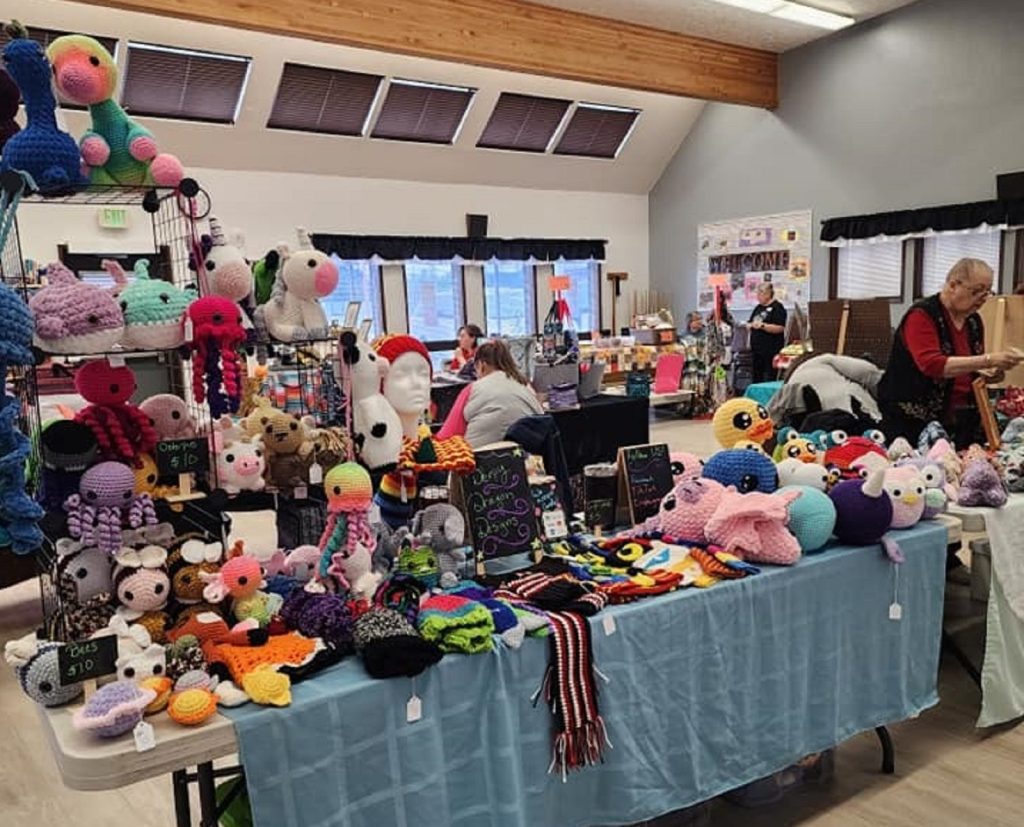 Visit Derpy Dragon Designs
To stay up to date on products or to place an order, visit Wade's Facebook and Instagram page, TikTok, or visit the Derpy Dragon Design online store.
Come explore the magical world of Derpy Dragon Designs to bring your imagination to life.