From new places to beloved classics, Centralia, Chehalis, and all of Lewis County offer romantic restaurants for a date night to remember. Excelling in ambiance, service and flair from the kitchen, these local restaurants are perfect for an unforgettable evening with your loved one.
Romantic Restaurants in Centralia
O'Blarney's Irish Pub
221 N Tower Avenue, Centralia
At O'Blarney's Irish Pub, the vibe is always relaxed, and the menu features various dishes with something for everyone. Go traditional with Shephard's pie or corned beef and cabbage. Find a mouthwatering prime rib special on Fridays and Saturdays after 5 p.m. Your date will remember the food but don't overlook the fun found at O'Blarney's. Shoot some pool, throw darts or catch the game for a lowkey date night.
Tiki Tap House
404 North Tower Avenue, Centralia
If pizza is your passion, don't miss Tiki Tap House, where the menu offers a wide variety of tasty toppings in a festive and fun atmosphere. The hand-tossed pies and handmade sauces are the perfect pairings for a date night that will leave your tastebuds dancing.
McMenamins Olympic Club
112 North Tower Avenue, Centralia
McMenamins Olympic Club offers not only a historic venue for a delightful dinner in a wooden booth but also enjoy a movie in the cozy theater with your date. Stay the night in one of their comfortable vintage rooms for a truly romantic getaway without traveling.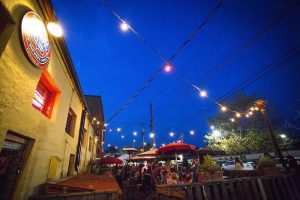 Vicky's Salvadorian Restaurant
1409 South Gold Street, Centralia
For an unforgettable meal in a comfortable space, head to  Vicky's Salvadorian Restaurant. Find chicken and beef on the dinner menu, so try the slow-cooked Pollo Guisado, or Bistec Encebollado seasoned with Salvadorian herbs. Wash it all down with a Salvadorian beer and save room for dessert!
Romantic Restaurants in Chehalis
The Pasta Bowl
1780 North National Avenue, Chehalis
Locally and family-owned, The Pasta Bowl brings Italian dishes to Chehalis. Popular menu items include grilled chicken fettuccine, spaghetti and meatballs or fresh house-made meat lasagna. Toast your delicious meal with beer, wine or one of their specialty sodas.
McFiler's
543 NW Pacific Avenue, Chehalis
Chehalis is host to McFiler's with a full menu and bar sure to please anyone. On Mondays, the special is prime rib. Thursdays enjoy steak night, and Fridays feature seafood. Served up with a smile, find fun events and more at this not to miss date night destination.
Jeremy's Farm to Table
576 W Main Street, Chehalis
Are you looking for a fresh, locally sourced menu in a rustic and elegant atmosphere? Check out Jeremy's Farm to Table for high-quality, local ingredients that create many delicious options for a date night dinner. Find Tilton River Rainbow Trout, steak, prime rib and more on the dinner menu. Couple your meal with one of their fantastic wines, and treat your date to dinner when Jeremy's hosts a fantastic musical act.
The Shire Bar & Bistro
465 NW Chehalis Avenue, Chehalis
You don't have to travel to Middle Earth to enjoy The Shire! Start your romantic meal with an appetizer of warm lobster and prawn dip or sweet curry mussels. Follow the starter with an entrée from a list like no other in the area. Enjoy chicken and crab savoy (when available), or delight with ginger butter prawns and scallops. The desserts are to die for including crème brulee and chocolate pot de crème.
Romantic Restaurants in Lewis County
Ramblin Jack's Rib Eye
1336 Rush Road, Napavine
An icon in the Napavine area, Ramblin Jack's Rib Eye serves up hearty portions of delicious American fare in the form of from-scratch cooking. There is plenty of variety to choose from, including from the campfire grill options like smoked tri-tip, prairie favorites like meatloaf and breakfast all day. The desserts are massive, too, so treat yourself and your date to something sweet like the cowboy pan cookie.
Mill Town Smokehouse
834 Westlake Avenue, Morton
Mill Town Smokehouse invites you to enjoy, savor, taste and roll for a fun evening out with a date. Yard games are a fun way to interact while enjoying the view. Then, savor the flavor of this outstanding BBQ, craft brews and small-batch whiskeys. When you've had your fill of the scenery and food and drinks, hit the lanes and roll some bowling balls for a night to remember.
Where is your favorite restaurant for a romantic date night in Lewis County? Send us an email at submit@lewistalk.com and let us know!