Submitted by Providence Swedish
Naomi, a Providence Centralia Hospital Information Desk volunteer, says, "Who doesn't like feeling needed and helpful? That's how it is for me with the staff and patients coming in."
Although often unnoticed, volunteers make a big difference in the day-to-day at Providence Centralia Hospital. Volunteers support hospital caregivers and the surrounding community, from information desk help, pharmacy assistant, and the No One Dies Alone program to many more positions. Volunteering at Providence Centralia Hospital takes many forms, but one thing remains true throughout — volunteers ease the way of hospital staff during difficult times. An added perk for volunteers is the chance to positively impact the community, form friendships and even develop new skills.
"I love my volunteer position at Centralia Providence," says Naomi. "I love chatting as I deliver them to their respiratory therapy or x-ray appointments. I love hearing the check-in staff say, 'our volunteer, Naomi, will take you where you need to go.' I feel good that I am able to offer a friendly smile and a little guidance during my volunteer time."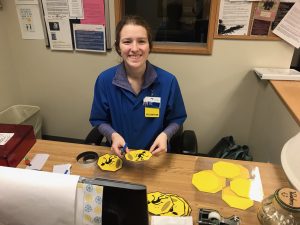 The Pause and Return to Volunteering at Providence
Providence Centralia Hospital enjoyed a large roster of volunteers before the pandemic. During the pandemic, volunteers were not allowed due to COVID-19 restrictions, indefinitely pausing volunteer services. As of mid-2022, volunteers are back in the hospital, slowly growing the roster once again.
"As a 38-year employee with Providence St. Peter Hospital, I came to respect the hospital's core values and felt that the hospital was part of my extended family," says Frankie, a volunteer. "After I fully retired, I felt the need to help where I would be most useful and signed up to volunteer both for St. Peter and Centralia. In 2019, the COVID pandemic changed the dynamics of hospital volunteering for volunteers, putting us on a leave of absence status. Fortunately, I was able to return early and provide clerical services to the PSPH Volunteer Services."
Volunteer Positions Available at Providence
Providence Centralia Hospital has volunteer positions available listed on the website. Currently, the positions with the most need are:
Patient Rounder: Round in (non-isolation) patient rooms with a comfort cart to provide activities, games, personal care items, and more
Information Desk: Assist patients with new registration at a kiosk, escort and answer patient and visitor questions
No One Dies Alone (NODA): Serve at the bedside, offering a human and spiritual presence during a patient's dying process
Pharmacy Assistant: Assist with organizing, labeling and errands in the hospital pharmacy (license required).
Call 360.493.7482 or email to learn more. Find available volunteer positions and requirements on the Providence Centralia Hospital website.