On the southwestern side of Thurston County, the Capitol State Forest offers motorbike and ATV riders opportunities to give it their all and ride at Rock Candy. Off-road vehicle riders can enjoy the trails at Rock Candy from May 1 to November 30, so it's a perfect place for a summer ride with summit views of the Olympic Mountains and Puget Sound.
Capitol State Forest
As a multi-use area, Capitol State Forest is a place where outdoor enthusiasts of all types delight in the Pacific Northwest's wilds. Hikers, mountain bikers, motorized vehicles and equestrians appreciate this massive outdoor playground with 100,000 acres of forests, trails, hills and mountains. With around 100 miles of trails for motorized use, Capitol Forest offers those with a need for speed routes with dirt, trees, climbs and more for hours of fun on ATVs and dirt bikes. Just a quick drive from Lewis County and in the timber-producing working forest of the Black Hills, Capitol Forest is a popular recreation destination with access to countless trail systems, day-use areas, campgrounds and more.
Rock Candy Trailhead
The trails at Rock Candy are primarily for off-road vehicles and mountain bike riders, but hikers also use them. There are restrooms at the trailhead and ample paved parking, all you need is a Discover Pass at $11.50 for day use or $35 for an annual pass. Be sure to look at the information board at the trailhead for any alerts or notices for the area.
Beyond the trailhead, find groomed logging roads to more uneven and rocky terrain for endless fun on two wheels or four! The trail weaves around Rock Candy Mountain to an open summit and on a clear summer day, find views of the state's majestic mountains, the south saltwater inlets of Puget Sound and if conditions are right, downtown Seattle.
Riding at Rock Candy           
As the third highest named mountain in the Black Hills and the fifth highest named peak in Thurston County, Rock Candy Mountain looms at 2,356 feet. This oasis for riders offers endless miles of offroad trails varying from narrow to vast, open stretches where the forest is logged, bridge crossings and, of course, rocks! Additionally, find a mix of difficulties for both advanced and beginning riders.
Start the loop at the parking lot and follow the North Rim Trail into the forest. At the junction with the Rock Candy Mountain Trail, turn right to the steep switchbacks up Rock Candy Mountain. At the highest point on the loop on Army Road, be sure to take a moment to stop and enjoy the stunning open views before jumping back on and into the shelter of the woods again to descend back to the parking area.
Not ready to head home yet? Other ATV and dirt bike trails nearby include B-Line, Divide Trail North, Larch Mountain and Waddell Basin to make a day of the ride.
Tips for Riding at Rock Candy
Be alert for other road users, from heavy vehicles to bicycle riders and hikers, so check your speed accordingly.
Off-road vehicle riders can enjoy Capitol State Forest trails from May 1 to November 30.
Don't forget your Discover Pass.
Cell service is spotty in the area, so be sure to let someone know where you are going to ride and download the map before heading out. Motorbike and ATV trails are marked in red.
Follow the seven principles of Leave No Trace to keep the area clean and enjoyable for everyone, including the local wildlife.
Do not ride in streams or on road berms.
A U.S. Forest-approved spark arrestor and a vehicle license or ORV permit tag are required for all off-road vehicles.
Be sure to check the Department of Natural Resources website for any recreation alerts.
Make sure to follow DNR rules when it comes to right-of-way yielding when sharing the trail with other users:
Horseback riders or people with pack stock always have the right-of-way.
Hikers yield to horseback riders.
Mountain bikers yield to hikers and horseback riders.
Off-road-vehicle riders yield to all traffic.
Downhill traffic yields to uphill traffic (yielding rules may vary by landscapes).
Extend the Rock Candy Fun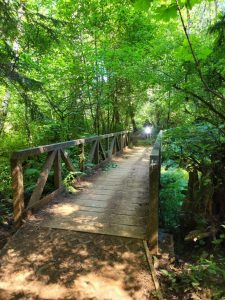 For a multi-day riding adventure, consider camping at Porter Creek Campground near Elma. This free camping area offers 16 sites with access to all ATV and dirt bike trails in Capitol Forest, including Rock Candy. As a popular area for day-use also, Porter Creek is surrounded by large trees, with shade from the summer's heat. Open seasonally, this campground provides entry to seemingly endless acres of forest land to the east into Thurston County.
How to Get to Rock Candy
From I-5 in Olympia, exit onto U.S. Highway 101 north. After six miles, merge onto U.S. Highway 8 for another 4.7 miles to the Rock Candy Mountain Road entrance of the Capitol Forest. Turn left on B-line Road and proceed to the trailhead.
The hills are full of adventure, so get out there! Ramp up this summer's fun factor and take an ATV or dirt bike ride up Rock Candy Mountain in the Capitol Forest.
Get more information about outdoor activities by visiting: Outdoor Activities in Olympia & the Pacific Northwest | Experience Olympia.
Sponsored