Submitted by Maleah James Kuzminsky, Twin Transit Travel Trainer
Catching a flight? Traveling from Centralia to SeaTac Airport can be exhausting and expensive. It can be stressful to navigate traffic, only to struggle to find and then pay for parking. Are you looking for a cheaper and more enjoyable option? Did you know that you can travel from Centralia to SeaTac Airport via bus with comfort and ease? Well, now you can!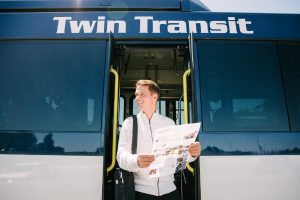 My friend and I recently rode the bus from Centralia to SeaTac Airport. It was simple and convenient! There are a few different travel options when making this trip, so I will describe the route we took and our experience. For reference, I will list the other travel options as well.
In advance of our trip, we purchased FlixBus tickets for our connection from Olympia to SeaTac Airport Terminal 2. Our tickets cost $7.99 per person, each way. On the day of our departure, we arrived at Mellen e-Transit station by 7:25 a.m. and boarded the Twin Transit Green Line towards Olympia. The Green Line makes only two stops- first at the Tumwater L&I building and second at the Olympia Transit Center (OTC) in downtown Olympia.
We arrived at OTC by 8:10 a.m., allowing us forty-five minutes to make our connection to our FlixBus. For those needing to avoid the walk, you can board Intercity Transit's route 94 towards Plum Ave & Union Ave from OTC. Route 94 travels five stops and takes approximately six minutes. My friend and I chose to walk, stopping to grab some food and a coffee. Our walk from OTC to the FlixBus Stop Olympia (Union & Plum) took us 15 minutes (0.8 miles).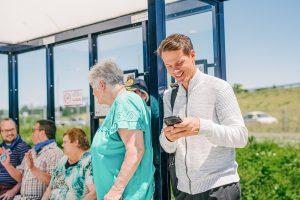 We boarded our FlixBus by 8:50 a.m., plugged our phones in to charge, used the free Wi-Fi onboard to roam the internet and enjoyed our short and direct ride to SeaTac Airport Terminal 2. This bus took one hour and avoided traffic jams by utilizing bus lanes. Since both Twin Transit and Intercity Transit are fare-free, the only cost associated with our trip was our FlixBus tickets. These tickets cost us $7.99, per person, one way. We were dropped off by 10 a.m., directly at the end of the departure terminal, near Delta gates. My friend and I found that our journey was affordable, convenient, and even enjoyable! I will be riding the bus to the airport in the future!