With the recent closure of Martin's Southgate Drug, many people may be left searching for a new and reliable pharmacy to fill their prescriptions. NW Remedies is an excellent option for those looking to keep their prescription refills local. Their commitment to high-quality products and a person-first approach to medicine leaves customers feeling happy and cared for with each and every visit. If you are in need of a new pharmacy home, this local compounding pharmacy is ready and eager to support you in a happy, healthy life!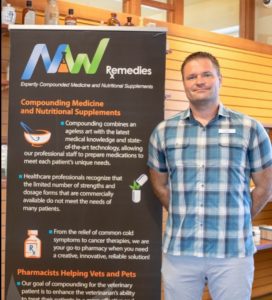 NW Remedies Manager Ryan Martin has been a pharmacist for the last 13 years and is deeply devoted to the care of all of his patients. With NW Remedies, he has the opportunity to work holistically in the health industry through the practice of compounding. "In compounding, we get powders that are the pure chemical for the drug and use it in whatever way works best for our patients," Ryan explains. "We can make them into preparations such as creams, liquids, lozenges or capsules." All of this is done right there at their store through high-tech industry equipment and their experienced team of compounding technicians.
Their team works very closely with the prescribing doctors and naturopaths to ensure that you are getting exactly what you need.
With compounding, everything is made to order. "We don't bulk-make anything here," says Ryan. "We make individual medicine for each individual patient, so your medicine is made by hand specifically just for you." This is a great option for individuals with allergies since most major pharmacies prescribe medications with numerous inactive ingredients, some of which are common allergens. NW Remedies on the other hand strives to use as few inactive ingredients as possible, usually only one; which is gluten, dairy, corn, and lactose-free, and well-tolerated.  With custom-made medications like these, you can rest easy knowing there aren't any inactive ingredients that may trigger an allergic reaction.
Medicating Pets Made Easy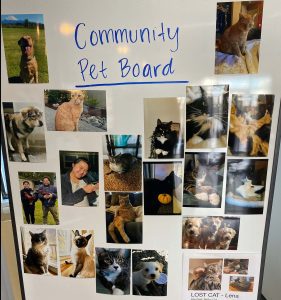 In addition to making and providing prescription medications for people, NW Remedies specializes in pet medicine for a range of species. Approximately half of their compounding business is making liquid medicines, topical creams, and capsules for animals such as dogs, cats, birds, lizards and more.
Have you ever tried to pill a cat? It isn't easy! The best part about the pet medications at NW Remedies is the care and consideration they put into each prescription to make sure your pet will like it. "We flavor our pet medicine depending on the animal with flavors like beef, chicken, liver, bacon and even ocean fish," says Ryan. "Our clients' pets go nuts for it and love taking their medicine!" NW Remedies can even make prescriptions into chew treats for the extra picky pet, so no matter what you can give your pet the medicine they need to stay healthy.
Quality and Care
With many of their medications, NW Remedies has third-party sterility and potency testing is done to ensure the absolute highest quality for their patients. "When you get something here, you can trust that it has the right ingredients and has been made in accordance with USP standards," Ryan explains. None of their prescriptions sit on the shelves for weeks at a time since they are made when you order them. It typically only takes about 24-72 hours for them to compound and create your medication, and with this level of quality and care, it is well worth the wait. Although NW Remedies cannot bill directly to insurance companies, they can provide claim forms that can be submitted to insurance for reimbursement. Compounded medications are not as cost-effective as bulk medications, but the team at NW Remedies strives to keep this top of mind when working with patients. "We try to accommodate people's needs the best we can," says Ryan. "I am here to help patients, so we try to work with people who have limited resources and offer alternatives as needed."
Not only does NW Remedies provide the unique service of compounding, but they also have a storefront with a wide selection of products to support total health. "Our storefront has a lot of natural light so it is very welcoming, clean, and bright," says Ryan. "Our clients just love it." The storefront is full of health-boosting supplements such as vitamins, probiotics, collagen proteins, and more. They also have vegetable-based capsules for vegans and vegetarians, so no matter your dietary needs, there is a product here for you at NW Remedies. If you aren't sure where to start, their team of wellness advisors can provide recommendations based on your needs. "These ladies are well-informed on diseases and over-the-counter medicines to treat them," shares Ryan. "I also am often in the storefront and am available to help too."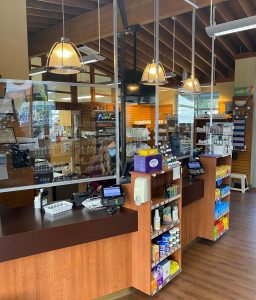 At NW Remedies, you will find a knowledgeable and caring staff committed to serving you and helping you live a happy, healthy life. "We don't want to just give you medicine and say goodbye," Ryan shares. "We care about the whole person, so we focus on diet and supplementation to support better health. That's what sets us apart from a regular pharmacy."
They are currently accepting new patients, so previous patrons of Martin's Southgate Drug are welcome to come by if they are in search of a new pharmacy home. No matter your need, you can trust you will be in good hands at NW Remedies.
NW Remedies
1851 State Ave NE #105, Olympia
360.491.0607
Sponsored