When you live in a small community for many years, you come to intimately understand what is needed to help. Greg Lund, his family and employees at Century 21 Lund Realtors have just such a history and knowledge and put it to use often, most recently as a community partner to the Chehalis Foundation.
Lund's father started Robert E. Lund Realtors nearly 60 years ago. The history of the location of the business is interesting. They've always been in Lewis County, bouncing back between the corner of 12th Street and the far corner of 11th Street in Chehalis. There are two buildings that are side-by-side. The elder Lund was in the basement back corner as a tenant in the building next door and as a tenant in the building where they are currently located. The current building was purchased in whole when the former owner fell on uncertain times. The Lunds then created a business condominium with attorneys, eye doctors, and the real estate office. "So, for 60 years, we've bounced back and forth in a one-block area," laughs Lund. Then in 1985, the Lunds bought the Century 21 franchise, and it became Century 21 Lund Realtors.
The company is very much a family business. Lund's father, while not actively involved on a daily basis, is still the owner. Lund admits he has always been interested in following in his father's footsteps. "I was a commercial lender, for a time with Security State Bank, which is also community-oriented, and then in the early '90s, I joined dad. I just followed that natural interest and progression." Greg isn't the only family member involved in the business. Lund's sister, Julie Lund, also fills a necessary and significant role, not as a licensed agent but in marketing and agent support.
Century 21 Lund Realtors has been involved with the Chehalis Foundation for several years. The company as a whole is a supporter of the nonprofit and its mission. But how did the foundation know they could approach Century 21 Lund Realtors and gain their support? "They just knew that we were supporters of their effort, supporters of the local schools and local community. We're part of the community. The community has been good to us, and so that was just kind of a natural fit," Lund explains.
Lund elaborates on why he believes in the value and necessity of the Chehalis Foundation. "I think that they fill a gap. With public agency or taxpayer monies needed for projects, sometimes there's a gap in there, and I look at them as being a positive influence to maybe fill that gap to take a project to the next level."
He further explains the gap by using an example of rehabbing a park. For instance, it can be simply maintained by mowing the grass, trimming brush, planting a few trees, and that is all. Or there can be a bigger vision to take the park or project to a higher scale with a bigger impact and longevity, and that's what Lund sees in the foundation's projects.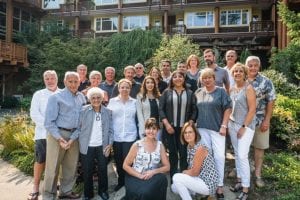 The most visible projects include the pool, and most recently, Penny Playground and the ballfields. "That will last for decades rather than just something like a quick coat of paint. It was a major project, so it's just taking it to that next level or two," beams Lund.
Lund also understands that public agencies don't always have the time and funds to implement an ambitious vision. He sees the Chehalis Foundation as the bridge to provide the ambitions and energies of the private sector alongside the public sector.
"The Chehalis Foundation is proud to partner with Century 21 Lund Realtors. They embody the qualities we look for in a community partnership by creating a culture of investing in Lewis County and giving back to make this a better place to work and live," says Executive Director with the Chehalis Foundation, Jenny Collins.
Lund's involvement with the foundation is more of service than of finances. He is currently involved in one of the potential new projects determining where to locate a new tennis facility because, "That's what I do, I do dirt," he laughs.
The bottom line for Century 21 Lund Realtor's partnership with the Chehalis Foundation, is community involvement. They have employees on the Centralia-Chehalis Chamber board, Greg Lund himself has been on the Chamber Board, and they have staff that volunteer on the City of Winlock Parks Board.
Lund says that as agents that come through the company, they are encouraged to get involved in the community. "One of the reasons we're involved in the Chehalis Foundation and really in the Student Achievement Initiative, which is one of their main platforms, is to improve the community. There's nothing better than the quality of schools as a draw when people come to look for a home. The better the schools are, the easier our job is to attract people. The community has always treated us really well, and so we try to, in turn, give back."
Century 21 Lund Realtors
1169 S Market Blvd.
Chehalis
360.262.1738
Sponsored