Following a one-year hiatus due to the COVID-19 pandemic, the Chehalis Jr. Cats Youth Football program is all set to make its return this fall.
With the objective of familiarizing young athletes with football and cheer fundamentals, the non-profit organization also strives to teach each player to give their absolute best effort in all they do, from school to sports and being a good citizen. The committed coaches work to build future Bearcats while fostering a sense of responsibility and accountability in players.
Football and cheerleading sign-ups are open now through July 15. Practices start in early August, and games are scheduled to begin in September and run through October 30. Football is offered for grades kindergarten through sixth grade.  Cheerleading is for grades kindergarten through eighth grade.
"The Chehalis Jr. Cats football strives to provide the best youth football and cheer programs in our town," said Bear Pallas from the Jr. Cats, "but more important is just seeing Chehalis kids involved and participating in some sort of activities."
Founded in 2009, the Chehalis Jr. Cats compete in the Thurston County Youth Football League (TCYFL). They offer a full season with kindergarten and first-graders participating in flag football. Second- and third-graders compete in minors, which is tackle football with no punts or kickoffs. Fourth- and fifth-graders play major JV tackle football, including special teams, while sixth-graders play in the varsity level.
"The whole program progresses as the kids get older, but hard work, honesty and respect are the keys to success," Pallas said. "Basic fundamentals are stressed and learning to play the game safely guide us in everything we teach."
All divisions of Jr. Cats Football play five regular-season games and three playoff games.
Practices for tackle football players competing in minors, junior varsity and major varsity are three days a week – Tuesdays, Wednesdays and Thursdays – for two hours at Chehalis Middle School, with games slated every Saturday. Sign-up fees are $75 per athlete and include a personalized Jr. Cats jersey and admission to the Jr. Cats camp.
Practices for flag football (kindergarten and first grade) are one hour, twice a week, with days and times to be announced. Sign-up fees for flag football are $15 per athlete and include a jersey and admission to the Jr. Cats camp.
The Jr. Cats Cheerleaders are divided into two age groups with flag football cheer for kindergarten and first graders and tackle football cheer for second through eighth-graders. The cheer season will begin with a camp in early August.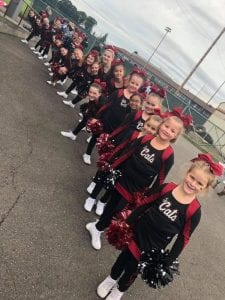 Sign-up fees are $10 for flag cheerleaders, including a t-shirt uniform and $40 for tackle cheerleaders, plus the cost of the uniforms. Tackle cheer practices will be held Tuesdays, Wednesdays and Thursdays for two hours, while flag cheer practices will be held twice a week for one hour with days and times to be set.
According to Pallas, the TCYFL has yet to determine the guidelines for spectators for the upcoming season, stating it will be guided by the WIAA, which oversees the state's high school athletics.
"The safety of our kids in our program will be the most important issue we deal with. We will be following all COVID rules and guidelines as per what the WIAA provides us with this fall. Training provided to our coaches will be passed on in our mandatory league coaches' certification classes provided by our league," Pallas said. "It's been tough the last year losing the 2020 football season. Always seeing our sixth graders off is important, and we had a great group that got better every year, but the most important thing is the health and safety of our kids and coaches. Football is just a game."
In addition to being active participants, sponsors and supporters of local fundraisers such as the Chehalis Little League Baseball, Chehalis Girls Fastpitch Association and W.F. West High School, the Jr. Cats Youth Football also provide a limited number of scholarships for young athletes to play football or cheer. They have awarded past Jr. Cats football players and cheerleaders scholarship opportunities based on academics and community involvement.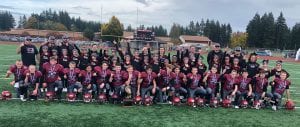 "The Jr. Cats always guides its decisions on what's the best for our Chehalis kids. We live in a great community with special people and kids," said Pallas, who has been involved with the program since its inception. "It's really fulfilling seeing all the amazing things the kids from our program achieve as they progress in life."
For more information or to sign-up your child for this fun and exciting program, visit the website for Chehalis Jr. Cats.