A delicious meal composed of locally grown food brightens even the darkest of days. Lewis County flourishes with farms, offering an abundance of healthy fruits and vegetables. While many people are familiar with the selection of farmers markets crisscrossing Lewis County, another option for fresh produce and other agricultural products is a CSA or community supported agriculture. Signing up for a farm's CSA program not only provides the joy and convenience of nutritious goodies for a set amount of time, but it supports a local business. And without farmers, there would be no food.

Seedpod Farm in Centralia focuses on building community around good food. Adam and Julie Gullett see their farm as not only a family business but a way of life. Their children are very involved in the farm, helping with everything from pumpkin research to deciding which endangered animal breeds to add to their menagerie.
The servant share CSA provides a unique opportunity for folks to participate in growing their own food. This program is available from mid-June through October, with three two-hour sessions available each week, following CDC guidelines. The farm provides a gardening plan, seedlings, soil amendments, watering assistance, and guidance through the season. They also help pack food to donate to low-income seniors in the community.
For those without time or desire to DIY, other options include a summer share running twelve weeks from mid-June thru August for $300 and a fall share lasting eight weeks in September and October for $200. There is also a flower patch CSA for nine seasonally crafted bouquets weekly from June 2 to September 1 for $210.
Root Cellar Farm in Onalaska is a certified organic and salmon-safe farm using sustainable technologies to increase efficiency. After renting land for several years, Lucas and Paterka Town were thrilled to purchase a Lewis County farm. Living where they farm allows for a much smaller carbon footprint and a better chance to know their customers. They also appreciate being able to share their experiences with their online community.
The 18-week produce CSA, currently waitlisted, includes flavorful, tasty veggies from June through September. Available add-ons include eggs, flowers, coffee, meat, and succulents. The flower bouquet CSA membership is still open, allowing for a gorgeous, organic, cut-flower bouquet each week. Three choices include four weeks in August or in September ($100 each) or nine weeks from August 4 to October 1 for $200.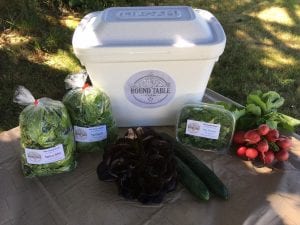 Round Table Farm in Winlock grows delicious and exciting salad greens and complementary vegetables. Dylan Jones and Dave Turczyn came to Lewis County for the beauty, resources, wildlife and outdoor recreation, as well as the opportunity to sell locally to a supportive agriculture community. In fact, market customers helped determine their business model. Initially, Round Table Farm grew a large variety of vegetables, but everyone kept raving about the salad greens, so the focus shifted. Now, the two are known as "The Salad Guys."
Their greens box delivery provides everything needed to make great salads, minus the dressing, all summer long. A box usually contains at least two bags of their best seasonal salad mixes. It may include other greens such as spinach, arugula, and baby leaf kales, joined by accompanying veggies, such as cherry tomatoes, cucumbers, radishes, turnips, or sprouts. The program runs from mid-May to mid-September, and customers can opt for weekly or every other week. A discount is offered for full season prepayment.
Courageous Crow Farm in Packwood produces flowers, wool fiber, and vegetables. Alexander Gerhard and Rebekah Velasco combined the meanings of their last names to select their whimsical moniker, but it also pays homage to a pair of helpful birds that befriended the farmers. After getting married in Packwood, the couple fell in love with the community and the landscape. They decided to fulfill their dream to farm under the shadow of a mountain.
They offer two CSA options. The first is a cut flower CSA from June to October, every other week. The $25 bouquets are 100% grown in Packwood. The second offering is a bouquet subscription from May to October, available once a month or every other week. These $40 bouquets include farm-grown blooms and flowers sourced from other local growers and Northwest wholesalers, emphasizing design and floral artistry.
Olequa Farm, now owned by Burke and Laura Deming, has been part of the Winlock community since 1970, when Burke's grandparents bought the property. Burke came to the farm to help his grandmother after a summer job and never returned to Oregon State. The Demings grow around 100 different varieties of fruits and vegetables, including apples, tomatoes, carrots, and peas.
The CSA program delivers a cooler filled with produce either every week ($435 for the season) or every other week ($250 for the season) between the third week of May and the third week of September. Delivery is available between Longview and Centralia.
Other local farms with CSA programs include Coffee Creek Community and Gardens in Centralia, Buckleberry Farm in Chehalis, Newaukum Valley Farm in Adna, and Boistfort Valley Farm in Curtis. Signing up for one or more of these subscriptions allows Lewis County residents to focus on good health, explore their community, and help their hard-working neighbors.