There's nothing like cracking open a can of cold beer on a hot summer day. With their portability and freshness, cans are a perfect vessel for summertime drinking. Fans of Centralia's Dick's Brewing Company beer can rejoice, as they are now offering beer in cans for the first time ever in its 26 year history!
Available in six-packs, find cans of El Ricardo and Straight Coastin now at Dick's Brewing Company and Northwest Sausage & Deli.
El Ricardo is a Mexican lager. "It's a pilot batch we did last year that was well received by customers," says owner Julie Pendleton. "So, we decided it would be a fun one to release in a can."
While Straight Coastin has been around for a few years and also available in bottles, the hazy IPA is popular in the taproom and deli and good for spring and summer.
"We've talked about it for a long time," says Pendleton. "It was already scheduled before the quarantine and we decided to go ahead and go through with it as something to look forward to in the middle of a pandemic."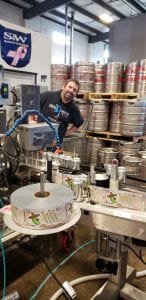 The process for brewing the beer in cans is exactly the same. "It's more flexible then bottles," says Pendleton. "We are able to can lots of different things during the time. Although the canned beer is limited, we will can them again in the future." Look for the American Lager Silver Mullet in cans after June 15.
Customers are already loving Dick's beer in cans. "It's flying off the shelves," says Pendleton.  Of course, find Dick's beer also in growlers, crowlers and bottles.
Beyond beer, find amazing food to-go at Northwest Sausage & Deli. They are offering the same full lunch menu. Find customer favorites like the popular Cuban with grilled ham and pork loin, Hot Pastrami on Rye, Prime Rib Dip, or try the Trio with smoked roast beef, turkey and ham with Swiss and provolone cheeses.
Plus, the deli is now open with their complete dinner menu on Friday and Saturday. "Customers were clamoring for the Prime Rib," says Pendleton. Also find the NW Cheeseburger, Smoked Tri-Tip, Hawaiian-Style Smoked Pork Loin and more.
But there is even more offered at Northwest Sausage and Deli! Need quality frozen meats and don't want to go to the grocery store (or can't find meat at the store)? Stop by and grab bacon, hamburgers, bratwurst, breakfast sausages, steaks and more to put in the freezer to cook later or have a mouthwatering BBQ with the family.
Call ahead and they will have your order ready to go. Don't want to get out of your car but craving Dick's beer or food? Call ahead and they can take your payment over the phone and bring your purchases right out to your car in the parking lot. Safety is a priority and the staff is doing extra cleaning and sanitary practices.
"We appreciate all the local support and can definitely feel it from everyone," says Pendleton. "From regular local customers coming in getting lunch and buying beer, to new customers who have never been in before or haven't been here in a long time are coming in. We are very fortunate."
Soon, locals can look forward to sitting down at the deli to enjoy a delicious lunch or dinner or visiting the taproom for some beer.
"At this point, we have plans to open both the deli and brewery at 50 percent capacity with all the social distancing requirements that have been put in place," Pendleton says. "People are antsy to sit and drink and eat and we miss our customers. It is so quiet to not hear people talking and laughing while we work. We really miss that comradery and atmosphere of having customers around. Having them back will be fun. The social interactions are truly missed."
Northwest Sausage & Deli's current hours are Monday, Tuesday, Wednesday 11:00 a.m. to 5:00 p.m.; Thursday 11:00 a.m. to 6:00 p.m. and Friday and Saturday 11:00 a.m. to 8:00 p.m. The tasting room at Dick's Brewing Company is open on Friday and Saturday from 3:00 to 7:00 p.m. for beer to go.
Dick's Brewing Company
3516 Galvin Rd.
Centralia
360-736-1603
Northwest Sausage & Deli
5945 Prather Rd. S.W.
Centralia
360-736-7760
Sponsored