When Governor Jay Inslee announced an emergency proclamation to temporarily prohibit restaurants from serving sit down meals during the COVID-19 outbreak, many Lewis County restaurants quickly shifted to offering take-out, delivery and curbside meal options.
Limiting the gathering of groups helps to assist in slowing the spread of the virus through social distancing, while carry-out, curbside and delivery options allow restaurants to keep their businesses afloat while serving local communities delicious food.
Supporting local businesses is more important than ever while community members need easy access to food, so read through the list below for some of the restaurants around the area that are dishing out all kinds of appetizers, entrees, and desserts.
Centralia 

                                                                                   
Boccata is offering select menus for take-out ordering only. The sandwich, salad, pizza and take and bake menus will be available for both day and evening service with the dinner menu available after 5:00 pm. Call 360-736-2402 to order. Boccata accepts Door Dash orders but please refer to the specific menu before placing an order as some items may temporarily be unavailable.
Bill and Bea's Drive-in is open from 8:00 a.m. to 8:00 p.m. for take-out orders of their breakfast meals, burgers, baskets and more. Their number is 360-736-6697.
The Hub Bar & Grill offers lunch and dinner as curbside take out including a kid's menu. They even have a spicy Apocalypse Burger! Call ahead at 360-736-2229.
Big T BBQ has a drive-thru, so call 360-330-0830 to preorder some of their mouthwatering barbeque meals.
Berry Fields Cafe will be open and taking to-go orders from 11:00 a.m. until 6:00 p.m. with hours subject to change. Online orders can be made at berryfieldscafe.com or call 360-736-1183 ahead for curbside pick-up from their full menu.
Country Cousin is the place for home-cooked comfort food. Call 360-736-2200 to order and they'll have it ready when you get there. Get breakfast, lunch, and dinner for take-home meals.
Dawns Delectables Dessert & Sandwich Shoppe hours are 11:00 a.m. to 3:00 p.m. The phone number to call in an order is 360-807-4393. They are offering a full menu, with take out or the ability to order and pick-up at their walkup coffee window.
Dick'sBrewing – NW Sausage & Deli is offering lunch, sausage and beer to go. They are open 11:00 a.m. – 6:00 p.m. Monday – Saturday.
Great Cuisine of India is offering take-out options, delivery through Grub hub or Door Dash. They are open from 11:00 a.m. – 10:00 p.m. Call ahead to order their incredible Butter Chicken and absolutely try their Garlic Naan Bread. The phone number is 408-654-9894.
Main Street Grill has a walk up and drive-thru window, as well as take-out orders. Their hours are 9:00 a.m. and fluctuating between the closing hours of 3:00 and 4:00 p.m. depending on the level of orders.
Elvie's Bistro serves Asian fusion food to-go and invites customers to call 360-736-3926 to place an order.
Tiki Tap House's online menu is an array of mouthwatering pizza, salad and more. Your moth will think you are on a tropical getaway so give them a call at 360-669-0161 for an order to take home. Be sure to check their Facebook for specials.
Chehalis
Chehalis Deli is offering take-out options with a call ahead order. Their phone number is 360-748-6021. Don't know what to order? Try a Bostonian, hot with sprouts!
Taqueria Lolita is open for to-go orders with regular business hours. Call 360-748-4060 for some of their authentic Mexican food.
Shakespeare and Company serve to-go sandwiches, yummy treats and drinks. They are happy to have folks call 360-748-4652 from the parking lot and will run the items out to their cars if needed. Weekday hours are reduced to 8:30 a.m. to 5:00 p.m., Saturdays 9:00 a.m. – 4:00 p.m. and Sundays 10:00 a.m. – 3:00 p.m.
Jeremy's Farm to Table is offering take out options of their full menu, as well as continuing operations of their fruit and veggie stands. Their phone number is 360-748-4417.
Kobo Teriyaki is offering take-out during their usual business hours of 11:00 a.m. to 9:00 p.m. Please call 360-740-4353 to place an order.
Mackinaw's offers a special take-out and delivery menu of their divine steak, fish, pasta and more. They also offer family-style meals serving four to six people. Call 360-740-8000 to order. Their hours are from 5:00 – 10:00 p.m., closed Sunday and Monday.
McFiler's current hours of operation are 12:00 until 10:00 p.m. every day. Call 360-996-4400 to place an order or stop by to order in person. Delivery is limited to six miles from the bar. View the full menu at https://www.facebook.com/mcfilers/menu/.
Pe Ell
The Tin Snug is offering take-out, as well as drive-thru options. For sunny days, they have appropriately spaced outside seating. Grab a delicious meal, espresso, and end with a cone of ice cream delight. Their number is 360-669-6134 and the hours are 8:00 a.m. to 8:00 p.m.
Evey's Cafe is still open to serve your to go hunger. Call 360-291-9902 and place your order for breakfast, lunch or dinner today!
Napavine
Napavine Grill welcomes to-go orders so call ahead at 360-266-6323. Their menu includes several homemade grab-and-go items that you can put in the fridge and save for later including pasta, potato and green salads, cold sandwiches with veggies and dressing on the side.
Plaza Jalisco is open for take-out orders of their amazing Mexican dishes. Just call 360-262-0243 to place an order.
Sahara Pizza offers carry-outs and deliveries of their fabulous pizza and more to the Napavine and Winlock areas. You can either call 360-262-0440 to order, come in, or order online.
Toledo
Bonanza BBQ & Catering is serving curbside pickup of their amazing barbeque and more Tuesdays through Fridays from 12:00 – 6:00 p.m. Just call 360-864-2277 to order ahead or email bonanzabbq@aol.com with an order and the best time for pick-up.
Donna's Place with fresh burger patties, pizza and more offers a walk-up window to pick-up. Call 360-864-2700 for quick service.
Betty's Place is taking phone orders from 11:00 a.m. to 7:00 p.m. Please, call 360-864-4867 to place an order and either call again when you are in the parking lot and they will bring out your order or come inside and pick it up.
The Crowed Kitchen Catering Co. offers take-home meals. To find out more follow them on Facebook or call 360-751-4807.
Good Stuff Food Cart just opened and is located near Exit 59 at 196 Cowlitz Way.
Offering take and bake, freezer meals and family meals, also find the regular menu espresso, real fruit smoothies, gyros, fish tacos, shrimp po boys and other yummy stuff each week. Call 206-303-9472 to pre order and check Facebook.com/Goodstufffoodcart for future happenings. Open Tuesday to Saturday from 7:00 a.m.-2:00 p.m. with breakfast burritos and espresso porch drop off/deliveries on Tuesdays and Saturdays.
Onalaska
The All In is offering take out dining and curbside delivery as well as a limited home delivery option. To order just call 360-978-4631. The All In is also supporting the community with a free turkey and cheese sandwich with chips to anyone that is needing help through this uncertain time.
Pizza Girl is offering fast pick-up. To allow for such speedy service please pay over the phone by calling 360-978-4848. Don't miss the March special Roadhouse Burger for $8.95.
Ethel and Salkum
Great Wall offers to-go orders for those who crave Chinese food. Call 360-985-8888 to place an order.
Kelly's Kountry Kafe is still serving up their mouthwatering burgers in to-go orders. Reach them at 360-978-5410.
Mossyrock
Thee Pantry Café has menus posted in their windows, with curbside service available for breakfast, lunch, pizza and dessert. Call 360-983-8371 ahead for to-go orders.
Nachos Mexican Restaurant is serving up to-orders and offers convenient delivery. Just call 360-983-3562.
Lemon Tree Café & Expresso is open for pick-up with their entire menu available including breakfast. Call 983-3235 to place an order.
Morton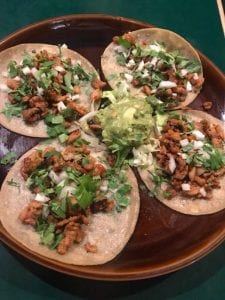 Plaza Jalisco is a favorite of any Mexican food lover. Get your favorite dish to-go by calling 360-496-6660.
The BucksnortPub not only has to-go orders, but they also will deliver food to your door for cash orders. Reach them by calling 360-496-5355.
Papa Bears Restaurant & Lounge has to-go of their full lunch and dinner menu available, but no breakfast. Call 360-496-6411 to order ahead.
Cody's Café serves classic American diner fare at great prices. For take-out call 360-496-5787.
Rivers Coffeehouse & Bistro is offering their menu to-go, just call 360-496-3368 to place an order.
Randle
Hazel's PieWay 12 looks forward to baking for you and is open for take-out and a new delivery option is now offered. Get free delivery within five miles of the shop for no charge. Delivery to further areas for a fee is also available. In addition to pie, cinnamon rolls and bread, they will also have a daily lunch special which will be posted to Facebook the day prior. For orders call 360-713-1781.
Huff & Puff Drive-In is open for to-go orders, to place an order just call 360-713-1781.
Tall Timber Restaurant is offering take-out orders of their regular menu with breakfast all day. Call 360-497-2991 in advance if possible, to place an order. Watch Facebook for daily specials.
Packwood
Cruisers Pizza is offering to-go orders only. Just call 360-494-5400.
Closures and hours change frequently, so please call beforehand to check with each establishment.