Chartered on February 25 in 1921, the Chehalis Rotary Club is the 60th of what is now 35,553 Rotary Clubs worldwide. This marks the 100th year of service above self for the Chehalis Rotary Club. The members are creating lasting change, in the community, themselves and across the globe.

Service Above Self is more than just a slogan. Rotarians live in service through various avenues including service to the club, the local community and youth. What's more, it drives their commitment to vocational service in using their expertise. Another aspect of Rotary is international service to advance goodwill and peace around the world.
Recited to start every membership meeting, the Four-Way Test is a nonpartisan and nonsectarian ethical guide for Rotarians to use in personal and professional relationships. It reads, "Of the things we think, say or do – Is it the truth? Is it fair to all concerned? Will it build goodwill and better friendships? Will it be beneficial to all concerned?"
President David Eatwell of Chehalis Rotary has been with the club since 2016. He shares stories of his research into the club's history and its heyday. In the 1960s the club had as many as 140 members, meeting at the St. Helen's Hotel and eating lunch on Chehalis Rotary china. There's one last known setting of that china today.
The Chehalis Rotary has its share of notable members, both present and past. One such person is State Senator Virgil R. Lee born in 1895. As a Rotary member from 1924 until 1986, his lifetime of service is marked with his leadership in acquiring the land for Recreation Park. Virgil served as Rotary President for the Chehalis Club in 1926. He was also District Governor in 1960 and a Paul Harris Fellow in 1974. It was in his honor that the Chehalis Rotary Club built the log meeting facility in Recreation Park in 1956.
Another Chehalis Rotary member who is remembered with a commitment to service is State Representative and Lewis County Treasurer Rose Bowman. As club president from 2004 to 2005, Rose served also as the 5020 District Governor for 2015-16. Her leadership and friendship were an inspiration to all who knew her. She was honored by the naming of the meeting area of TransAlta Commons at Centralia College for her.
Other members with significant contributions to the community include Jim Vander Stoep, Chehalis attorney and member since 1954 and president in 1959-60, Doc Henricksen who had the idea for Penny Playground in 1993 and Gail Shaw, for whom the local aquatics center is named. The number of Chehalians who gave of themselves through Rotary is impressive and evident all over Chehalis.
What is commendable is how the local Rotary Clubs work together. The three clubs formed the Lewis County Rotary Foundation. Through the combined efforts of Chehalis Rotary, Rotary Club of Centralia and Twin Cities Rotary the area's Rotarians accomplish outstanding feats.
The trio of clubs come together for an annual auction known as the Tri Club Auction each May. The funds raised previously were donated to the improvements at Penny Playground to build an accessible place for all children.
With a vision to promote early childhood literacy and in conjunction with United Way of Lewis County, the local Rotary Clubs support the Dolly Parton Imagination Library. Now parents with young children living in Lewis County can sign-up to have a free book mailed to their home each month. The Imagination Library program provides high quality and age-appropriate books to children birth to five years of age.
Just launched, the Imagination Library already has over 800 participants and needs the help of the community with funds. A donation of just $25 sponsors a local child with a free book every month for an entire year or $125 for five years. Donations are accepted online through United Way, at Shakespeare and Company and local Timberland Regional Libraries.
That isn't the end of Chehalis Rotary's literacy efforts. Chehalis Rotary installed several Little Free Libraries around the area. The first was installed at the South Market Street Laundromat and others are found at the office of Dr. Alicia Spalding and Henricksen Family Dental on Market Boulevard in Chehalis. Another can be seen at the Napavine Grill. With re-purposed cabinets and non-functioning coolers, they are filled with books for everyone from infants to adults. The public is invited to take a book or leave one to share. Chehalis Rotary extended this effort by supplying books to Twin Transit for their Books on Buses program.
If residents have an appropriate cabinet, cooler or books to donate to this effort, Chehalis Rotary would be grateful. The club is also seeking local office waiting areas where parents sit with their children to put on the list for receiving a Little Free Library.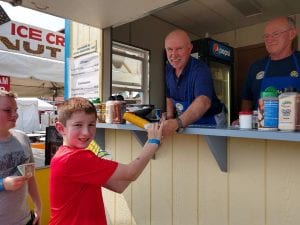 With a need for new members, Chehalis Rotary invites all to join them in their work of service in the community and beyond. One of the newest members is Karen McSwain owner of Shakespeare and Company in Chehalis. "I joined Rotary because I want to be more involved in my community," says McSwain. "I was attracted to Rotary's motto of 'Service above self,' and I like how Rotarians serve both local and international communities."
Be part of the movers and shakers in the community and consider joining a local Rotary Club. Chehalis Rotary Club meets Wednesdays at 12:00 p.m. at the V.R. Lee Building at Recreation Park in Chehalis. Those interested in being a Rotarian should call Club President Dave Eatwell at 503-358-2739 to discuss attending a meeting. Lunch is served and guests are welcome.