B.j. Eastman of Randle suffered what no parent should ever have to endure. His son Ben was murdered in 2018. Born out of the unthinkable, Blessings from Ben is one local father's tribute to his son.

After receiving support and donations from the community, B.j. decided to give back in a way that would make Ben proud. "I got to thinking after Raise for Rowyn helped me. People were so willing to help, I felt like I had a platform to honor Ben while doing something pretty cool."
The first blessing was when school started B.j. helped two students with athletic costs and then took them school shopping. "I got to spend the day with them and make two kids smile," he says. "It felt pretty awesome."
When his sister Cathy Abbott started a Go Fund Me and raised $6,000, B.j. initially wanted to create a bronze statue in Ben's honor. Finding the cost too high, he donated funds to the White Pass ASB for the students for fees and sports costs.
Blessings from Ben purchased new uniforms for Morton White Pass 6th grade girls' basketball team, new soccer goals, and helped send athletes to state competitions and more to support athletes. This school year alone already, B.j. bought six pairs of cleats, paid five ASB fees, with two more requests just coming in.
"I just know the struggle that it is for a parent to have to cover those costs," he says. "I think any child should get to play." Beyond White Pass schools, B.j. reached out to Morton, Mossyrock, and Onalaska this year.
Recently while shopping at Big 5, B.j. approached a family and asked to buy their son's football cleats. "We've reached as far as Adna," he says. "I just hope to keep it growing and help all of Lewis County."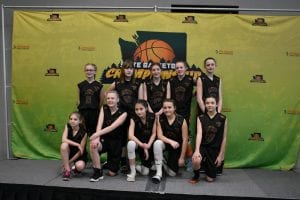 Beyond students, B.j. felt compelled to assist grieving families who have lost a child. "I will be there any time a parent loses a child," he says. "I get great reward talking with them about what I have been through and what it took to process and get to where I am now." Some parents have let B.j. know later that he left them in a better place. "That's all I can ask for," he adds.
Thus far Blessings from Ben assisted six grieving families, some of them from Lewis County. "I call it grief relief," says B.j. A family he supported in Eatonville let him know the money he gave them was just enough to cover a beautiful casket for their son. "That's really special," he says.
Another aspect of Blessings from Ben is sharing the love with acts of random kindness. Immediately after B.j. lost his son The Brew in Morton donated all their tips to help cover his lost wages. The lines were long with people eager to support him. Now, pay it forward lines at the coffee shop have lasted all day with people buying coffee for the next person in line.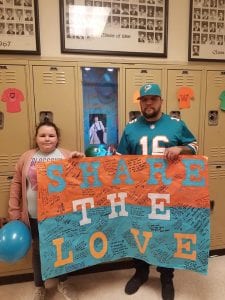 While B.j. and his family were eating in town he was recognized, and his tab was anonymously paid. "We paid it forward to the next time," he says. "There's a lot of pay it forwards going on around here."
"It's a great feeling to be able to help bring a smile to someone, especially to a kid who might not have a smile. We have enough ugliness in this world," he says. "We call it #sharethelove. Everyone including teachers and staff out here wear the T-shirts." Those shirts and other clothing with the message to share the love are available at Blessings from Ben apparel store. All proceeds go to the non-profit.
B.j reminds others, people's struggles are not always apparent. "Share the love, any chance you get," says B.j. "I always say in the morning, your interaction can make or break someone's day. You walk in and pass someone in the door just give them a smile and a hello. You know, there's been days that smile and hello changed my day around. Be kind."
On the anniversary of Ben's death, B.j. held a BBQ and raffled off a grill raising around $2,000. That first fundraiser sparked others including an annual golf tournament. In the winter Blessings from Ben hosts a Toys for Joy drive where a hillside is lit with a star and the message to share the love.
B.j. invites the community to support Blessings from Ben by attending fundraisers. "Come on out and have fun with us when we are having events and support a great cause," he says. "Watch for flyers around and on our Facebook." The eventual hope for B.j. is to reach all of Lewis County and have fundraisers at bigger venues.
Beyond events, Ben's extended family works to keep the blessings flowing. They had a car wash raising around $900. B.j.'s sister Cathy held a yard sale earning around $500.
All in all, Blessings from Ben have given back $15,000 in grief relief, sporting equipment and fees. On a mission to share the love in the wake of such a tragic event, B.j. and his family chose to honor Ben's legacy by sharing the love. "That's success to me," he says. "To honor him through love. He lives through my heart now."