The STP (Seattle to Portland) is the largest multi-day bicycling event in the Pacific Northwest. This year, 8,000 cyclists will trek 206 miles over the course of only one or two days. The event begins in Seattle on July 13 and ends in Portland on July 14 – or as soon as you get there! Some finish the journey in one day flat.
Along the way, bikers enjoy scenic views of Mount Rainier, Mount Saint Helens, luscious valleys, immense forests, quaint towns, rolling farmland and everything in between. It's no wonder Bicycling Magazine calls the STP one of the best cycling events in the nation!
A special treat awaits cyclists at the halfway mark in Chehalis. Here riders encounter a street lined with Centralia-Chehalis Chamber of Commerce members and volunteers handing out creamsicles. "The riders yell with excitement 'We rode here for these creamsicles!' Says Chamber President Alicia Bull. "It's fun to see their faces as they light up with our familiar halfway-there goodie."
The Chamber is in charge of the one-day rider food stop located at Penny Playground Recreation Park. It's a big task. Approximately 2,750 riders complete the STP in one day. That's a lot of mouths to feed – and in a hurry!
In addition to handing out creamsicles, they also handle all the luggage for riders who stay in Centralia or Chehalis overnight. That requires coordination on a grand scale. "The other big job that we work on year-round is coordinating private housing for riders that want to stay locally overnight," Bull says.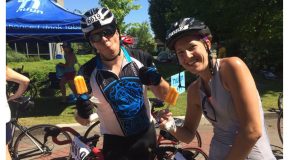 The Chamber begins soliciting housing months in advance. Securing local homes for riders to stay in heightens the experience for everyone. Riders get a comfortable place to recuperate from a strenuous day and local families get to enjoy a piece of the excitement.
Bull's favorite part is meeting people from across the United States and around the world. "People travel near and far for this event and bring a lot of culture to the STP," she says. "You have people that speak different languages and have really unique backgrounds. It's fun to talk and get to know them as they spend time in our local community."
Not only is this an incredible ride, the event also raises money for WA Bikes and Cascade Bicycle Club. In addition, the event contributes around $100,000 to nonprofits, schools, and other community groups who provide services along the way.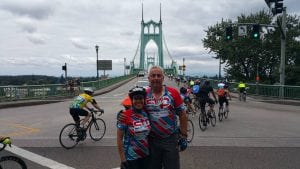 The STP is a remarkable event, but it's not easy; 206 miles is a long way and a lot can happen in route. It can be especially dangerous when conditions become too hot or too wet. "We have seen some pretty nasty bicycle wrecks and have had to assist in that," Bull says. "If the road is wet and people hit loose gravel, it can be pretty ugly."
Fortunately, the fun and excitement of the STP far outweigh any risk. Bull and the Chamber team are especially enthusiastic for 2019. They're looking forward to representing Western Lewis County the best way possible. "We are excited to help make this event happen at a really quality level," Bull says. "It's exciting for us to get all of these people from out of town."
Bull and her team hope to leave riders with positive memories of our area. She says, "They get to experience a friendly community that they hopefully will come back to when they have more time."
For more information on the STP, visit cascade.org.
Sponsored