Lewis County has long been considered a hotbed for high school fastpitch. Five local teams – W.F. West, Pe Ell/Willapa Valley, Adna, Onalaska and Toledo – will each attempt to add to the area's already impressive legacy when they head to the state tournament.
W.F. West, champions of the 2A Evergreen Conference, travels to Carlon Park in Selah for the Class 2A state tournament, while the other four teams out of the 2B Central League will compete at the Gateway Sports Complex in Yakima in the 2B tourney.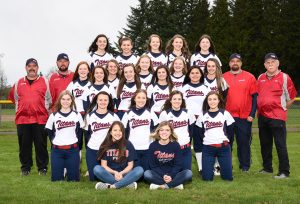 Both tournaments begin on Friday, May 24 with the state championship game and placing rounds being held on Saturday, May 25.
W.F. West and Pe Ell/Willapa Valley will each look to win its second state title over the last three seasons.
The Bearcats (20-3) will face Port Angeles (17-7) in the first round at 10 a.m
W.F. West will be making its 18th trip to the state tournament since 2000, only missing state in 2003 and 2015. Over that span, the Bearcats have one more state championship than it does seasons where the team failed to qualify. The Bearcats won state titles in 2000, 2012 and most recently in 2017.
W.F. West closed out the regular season winning nine out of its last 10 contests to add yet another EvCo championship to its resume, but stumbled in the semifinals of the district tournament, losing to Ridgefield, 6-5, before rebounding and knocking off conference foe Aberdeen, 7-2, to wrap up the No. 3 seed.
Payton Crawford and Ashlyn Whalen smacked home runs during W.F. West's win over the Bobcats, helping the Bearcats cruised to a quick 7-0 cushion after the second inning.
The Rough Riders were runner ups of the 2A Olympic League before heating up and winning the 2A West Central District tournament, defeating Sequim, 9-6, in the title game. Port Angeles has won eight straight. Included in their current streak is victories over 2A state participants North Kitsap and Sequim.
Port Angeles is making its seventh consecutive trip to the state playoffs. The program has won its last three first round games, last losing an opener in 2015 to W.F. West, 15-3. The two programs also met in the 2017 finals with the Bearcats capturing the championship following a 5-1 triumph and in the 2013 quarterfinals with W.F. West winning 10-0.
The Bearcats finished third at state last year, losing to eventual state champion Woodland, 10-1, in the semifinals before hammering Ridgefield, 11-6, in a loser-out contest. W.F. West clinched its third straight top three finish after destroying Selah, 17-3, to collect the third-place trophy.
A win by the Bearcats will advance them to the quarterfinals where they will play the winner of North Kitsap (14-5) and East Valley Spokane (14-6). A rematch against Ridgefield (18-5) could materialize in the state semifinals, while defending state champion Woodland, which is a perfect 22-0 on the season, looms on the opposite side of the bracket.
Pe Ell/Willapa Valley (19-4) begins its quest towards another 2B state crown against Liberty Christian of Richland (17-7).
The Titans ran roughshod through district play, winning their three games by a combined score of 32-3, highlighted by a 7-0 blanking of Adna in the title game.
Of Pe Ell/Willapa Valley's four losses this season, two came against Elma and one against Montesano. Both teams are 1A state participants this year. The Titans have won 14 consecutive games against 2B teams, lost losing to Adna, 5-1, on March 20.
Coach Ken Olson's squad is led offensively by junior Brittney Patrick, who is hitting .536 with a team-high 44 RBI and 7 home runs. The Titans also received plenty of offensive punch from senior Kamryn Adkins (.508 average) and junior Katelyn McGough (.476 average, 31 RBI and 6 home runs).
Adna, which saw it's 18-game winning streak snapped against Pe Ell/Willapa Valley in the district title game, will square off against Lake Roosevelt in a first-round match-up of 20-win clubs. The Raiders (20-2) suffered a similar fate in their district tournament, seeing it's 14-game winning streak come to an end in the semifinals before securing the third seed out of District 5/6.
The Pirates, whose only loss in the regular season came during an early season non-league contest to 4A power Tahoma, beings plenty of offensive firepower into the state tournament. Haley Rainey leads the team in several offensive categories. The sophomore is hitting .563 with 43 RBI and 8 home runs. She is also one of Adna's top pitchers, sporting an 11-2 record with a 1.82 ERA.
Rainey is hardly the only hot bat in the Pirates lineup as senior Olivia Rodriguez (.448 batting average, 34 RBI, 6 HR) and juniors Skye Snow (.463) and Payton Aselton (.468) have also produced big numbers this year.
Should Adna get by the Raiders and advance to the quarterfinals, the Pirates will play the winner of the first-round game against 2B Central League rival Toledo (12-10) and defending state champion Northwest Christian (Colbert) (18-3).
Rounding out the list of state participates from the Central League is Onalaska (16-9). The Loggers will play Dayton/Waitsburg (15-6) in the first round. The two teams met in a loser-out game last season with Onalaska notching an 11-4 victory.