Jeremy Hicks, co-sales manager at Chehalis' Awesome Ford, has what can be called a "friendly face." He's engaging, enthusiastic and quick to smile. It doesn't take long to see that he loves his job.
Jeremy started in the auto sales business just short of 15 years ago at age 20. Living in Yakima at the time, he drove over mountain passes to Western Washington and started dropping off employment applications at car dealerships in Thurston County. The first one to show interest was a Ford dealership.
He went on to serve for over 14 years as a salesman and sales manager there and is grateful for the experience, which prepared him for the position he enjoys today.
Jeremy started at Awesome Ford in June of 2018 and he's obviously landed at the right place. Sales is an ideal fit for Jeremy. He says people have told him "you should be in sales" his whole life. He credits it to growing up watching his dad, who could readily talk to anyone who came his way. From that, Jeremy learned how to engage with others.
Switching to Awesome Ford was an important move for Jeremy. "It was a big decision," he says of leaving his former employer. "It was a really big deal for me to find the right place."
Mission accomplished at Awesome Ford.
With his eyes sweeping across the showroom floor, Jeremy says, "There's always a lot going on around here. I love it. I like the atmosphere. The customers here are downhome and nice. I get such good vibes from people here."
Jeremy says interviewing with dealership owner Heidi Pehl, Vice President Robert Pehl and later meeting Chief Financial Officer Julie Bullock, just felt good. "It was like talking to friends," he says.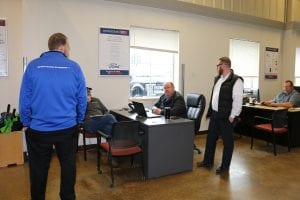 And Jeremy knows a lot about that. He's known for turning his customers into friends. It's just how he likes to approach his job. "I'm a huge believer in customer service," he says, referring to the golden rule that we were all taught as children. "You treat others how you want to be treated. And, building relationships with customers, well, I guess that's just building trust."
Jeremy's philosophy reflects Awesome Ford's. Both he and Co-Sales Manager Ryan Hughes sit at the front counter, ready to help. They're the first people customers see when they walk in the door, and they set the example for other staff members. "It all starts with Ryan and me," Jeremy says. "If the sales staff see us opening doors for customers or walking a person back to the service desk rather than just giving them directions, they'll do it too."
The two make a good team. "Ryan and I are so much alike, it's phenomenal," Jeremy says. "We have been trying to grow the business since I got here and we're doing great. We're hitting and surpassing Ford's objectives. We grew almost 19 percent from January 2018 to January 2019. Ryan and I have the goal of another 19 percent growth for 2019." He pauses, then corrects himself. "No, we're not going to try—we're going to accomplish it."
Jeremy likes the automobile business because it's forever changing – technology, manufacturing, the styles of cars and trucks. "And I'm a Ford guy," he says. "I always have been."
Located at 1001 Interstate Avenue in Chehalis, Awesome Ford and Awesome RV share the same showroom. This enables the two businesses to also share the 10 people on their sales team.
Awesome Ford and Awesome RV's sales department is open from 8:30 a.m. to 7:00 p.m., Monday through Friday; 8:30 a.m. to 6:00 p.m. on Saturday; and 10 a.m. to 6:00 p.m. on Sunday.  The service department is open 7:30 a.m. to 5:30 p.m., Monday through Friday; and 9:00 a.m. to 4:30 p.m. on Saturday. The dealership can be reached at 360-748-3355.
Sponsored