Over the last 25 years, only two runners have won back-to-back high school state cross country championships in the boys' 1B/2B classification. Adna High School's Austen Apperson is looking to become the third.
Judging by the way he has opened his senior season, he's well on his way to joining that select fraternity.
After triumphing in a pair of two-mile races and a three-mile event, Apperson set a personal record time of 15 minutes, 31 seconds in the 5,000 meters at the Fast and Flat Invite at Cascade Peaks in Randle.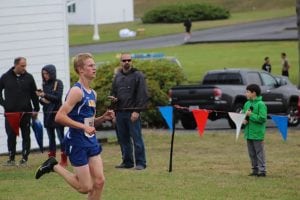 No runner got within 30 seconds of him and only one was within a minute of Apperson.
His performance is currently the eighth fastest at the distance this year regardless of school classification and second among 1B/2B runners.
"Cross country times differ so much because every course is different and not every course is as long as advertised," Apperson said. "Either way, I was happy to start off the season with a new best time. The course I ran 15:31 on is the flattest course we'll run on all year, but hopefully I'll be able to improve on that time in our invitationals."
Since the start of 2017, no one in the 2B ranks has been able to catch Apperson, or really even been close.
Apperson raced in 12 cross country meets last season. The only two he didn't triumph in were the Nike Hole in the Wall Invite in Marysville and the George Fox Classic in Salem, Oregon. Both races feature the top talent from every large school in the Pacific Northwest
"There are certain guys [in larger school classifications] that have always been better than me since we were all freshman, but each year I close the gap a little bit," Apperson said. "This year my goal is to try to beat some kids I've never beaten before at meets like George Fox and Hole in the Wall. At smaller meets, I can always try to improve my time from previous years. And no matter what, I try to remember that all my training now is going to help me reach my goals during the spring track season too. So overall, motivation is never an issue for me."
During his freshman year, Apperson finished 22nd overall at the state meet and was the only rookie runner to place in the meet's top 30.
He made major strides in his sophomore season, trimming nearly a minute off his state time to finish fourth overall at the meet.
His times continued to drop last year when he won state as he covered the distance in a speedy 15:59.0.
Apperson now looks to join Asotin's Chandler Teigen, who won the 1B/2B state title in 2013 and 2014, and Reardan's Brad Serdar, the classification's state champion in 2005 and 2006, as the only runners over the last 25 years to successfully defend the 1B/2B state crown.
"The feeling this season doesn't feel any different," Apperson said when asked if there was any added pressure this year as both a senior and returning state champion. "I'm just going do what I have always done and enjoy my last year. Furthermore, being the defending champion doesn't affect my mindset."
As expected, Apperson has already drawn interest from several colleges, including the University of Idaho, University of Wyoming, Boise State, Washington State University and Biola University, among other schools.
"I was pretty happy with my training [heading into this season]. I had a later start than usual because my track season was extended because I ran at the Portland Track Festival," said Apperson, the Pirates' school record holder on the boys' side (his twin sister, Lauryn, is Adna's girls' record holder). "I built up to 50 miles per week consistently, which I had never done before. Nothing was fancy about my summer though. Consistency is key."
Which perfectly sums up Apperson's performances since arriving at Adna.
"It's been really awesome," Apperson said of his involvement in the Adna cross country program over the last four years. "It has given me everything I've ever needed to reach my goals and be successful. Hopefully, I've been able to represent Adna in a positive way. I'll greatly miss these years I've gotten to compete here."