They're not only teammates on the court driven by the desire to win. These two Adna Pirates, Ellie and Emily Sliva, are sisters. And that sibling rivalry, which is evident whether they're at home playing board games or on the basketball court chasing a loose ball, helps push them to be better.

"They've always been very competitive against each other," said Chris Bannish, Adna's girls basketball coach who has known the two sisters since they were little. "Whether it be softball or basketball, they go after it. They're great."
Emily, a junior forward, and Ellie, a freshman guard, started together for the first time in a recent game against Mossyrock. They transferred this school year from Willapa Valley and are playing basketball for the Pirates for the first time.
They push each other to be better.
"Every once in a while we'll butt heads," Emily said before the Mossyrock game. "But it's just a sister thing. I like playing with her."
For these two Sliva sisters, the goal is to get better as a team, not to just outdo a sister.
"I don't think it's a rivalry," Emily said. "We work together really well. If I have things I need to fix, she'll help me. And I help her a lot. I've had a couple more years of playing. We help each other a lot."
The Sliva sisters cheer for each other, hoping that the other one makes that outside jumper in a game. But Ellie admits that sibling rivalry sometimes pops up at practice, interfering with the goal – to get better.
"It's tough sometimes," Ellie said with a smile. "But we make the best out of it. We push each other."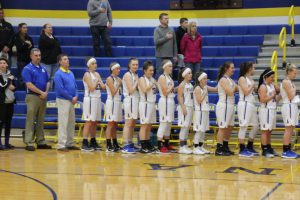 Ellie admits that sometimes that "push" leads to a "bicker."
"I'm really competitive and she's competitive," Ellie said. "So we push each other. She tries to make me better. But then I get mad sometimes. We work it out."
So playing a board game at home can get a little competitive. And usually Emily wins the big battle and has the TV remote.
"Emily gets it because she's stronger," Ellie said with a chuckle.
Besides sharing the same last name and a penchant for sports – they also play softball together in the spring – the sisters share an uncommon talent in the classroom. They're both A students – Emily has a perfect 4.0 GPA and Ellie is at 3.8.
"It's a good competitive fire," Bannish said about the two sisters.
In practice earlier this season, that competitive fire surfaced when Bannish was establishing a new offensive scheme.
"We were putting it in and Emily was trying to help Ellie on it," Bannish said. "What Emily was trying to teach her was exactly right but she wasn't going to have it. She wasn't going to hear it from her sister."
Bannish had a word of advice.
"I said she should listen because what she's telling you is the right thing," Bannish said. "They know in practice when to put that aside and be teammates. So it's good. They're great."
The Slivas aren't the only ones sharing the same last name on this year's Pirate roster. There's also freshmen Faith and Kiyah Kennedy, who just transferred to Adna from Rochester over the Christmas holidays. With their addition, there are now five freshmen on this young Adna team that only has two seniors – Abigail Kruger and Samantha Foster.
Last year, the Pirates finished 26-5 with a senior laden team. This year Emily Sliva is the only junior on the team. So when the Pirates came into this year, Bannish knew there would be some growing pains.
"A lot of people said we're rebuilding," Bannish said. "We said, 'No, we don't want to be rebuilding. We want to be right there again.' We know it's an uphill battle with teams like Napavine and Wahkiakum but we also understand that if we get better every day we can be in there for a top five spot in the end."
Bannish thinks the talent is there.
"It's young talent," Bannish said. "We've gone through some struggles. But it's part of growing up and it's part of youth having to play early on. Our sophomore and freshmen are having to step up."
When Darian Humphrey, a senior who was leading the Pirates in scoring with a 12-point average, was lost for the season when she tore her ACL in the second game of the season, Bannish knew his young players were going to have to fill the gap. The experience is good for next year.
"If they're willing to put the time in, we're only going to get better," Bannish said. "It's a good group. It's a fun group. They work really hard defensively. Sometimes we struggle to score. We know that. So our defense kind of generates what we're trying to do offensively."
Both coach and the Sliva sisters agree that the sibling rivalry is a good prod, pushing them to be better.
"I'll do something really good and she'll see and she'll want to push to do better than that," Emily said. "We're always trying to step up one another. So in a way that could be bad. But I think it pushes us both. Because we both want to do better than the other. We're both trying our hardest – putting 110 percent in everything."
Ellie gave her sister a high five for her accomplishments and then made a distinction.
"We're two different people," Ellie said. "She's more like a thinker. I'm more like a doer. She thinks everything through."
All differences aside, these two sisters continue to march to the same drummer – striving to be the best they can be.