Glass floats, agates, sea glass and sand dollars: Grays Harbor beaches are full of treasure waiting to be found. Grays Harbor Beachcombing is a fun activity that, in exchange for just a bit of planning, can yield great rewards. Check your tides, anticipate the weather, take the necessary gear and head to the beach ready to collect your next big jackpot.
First thing, check the tide tables and weather for your planned beach before heading out. You want to arrive as the tide is going out, at least two to three hours before the low tide. If you are searching for rocks and shells you will probably want to go on a very low tide. A good storm is more likely to bring in flotsam and debris like bull kelp but if your goal is sea glass and agates a bit of sun will help you spot them.
Knowing the conditions ahead of time will help you plan for the supplies you will need. It's always a good idea to have a first aid kit, snacks and plenty of water in your car. Rubber boots and rain gear as well as some good plastic-coated garden type gloves are necessary in stormy conditions. Wear layers to stay warm. Of course, you'll want a container for your treasures, and a camera for restricted items or things too big to take home.
Beachcombing experts will tell you there's a method to getting a good catch. Carl Ebbesmeyer says to go after a storm when the tide is going out and start your search at the wrack line—the debris deposited along the high tide mark.
Treasures range from sea shells and rocks to flotsam and some less desirable items too. Flotsam—items with no clear owner that have been abandoned to float at sea—can be claimed by anyone who discovers it. A few years back, household debris from the Japanese tsunami regularly washed up on the Harbor's 50 miles of ocean coastline. Beachcombers regularly find unmarked buoys, glass floats, bottles, and even rubber duckies. In your hunt watch out for things like rat poison canisters (fallen from grain ships), and military ordinances. You can take pictures but you probably shouldn't touch these potentially dangerous items. Report these less desirables to authorities.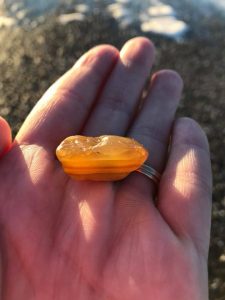 Grays Harbor is a beachcomber's paradise. Check conditions, be prepared, and keep your eyes on the prize. From driftwood to shipwrecks you're sure to find some fun beachcombing at one of these Grays Harbor beaches.
Grayland Beach
Grayland beach is abounding in sand dollars, driftwood, bullwhip kelp, sea creatures, cool rocks, shells and incredible amounts of flotsam. Last year a whale carcass was discovered washed up on the shore! Beachcombing here can get competitive, especially after a big storm. Arrive early to check the high tide line for goodies. Grayland beach connects to a long stretch of beaches. Fortunately, you can drive on this beach to save your legs for the best part of the hunt. The best shell and driftwood collections are to the south where you will discover moon shells and periwinkles amidst the abundant driftwood. The Ocean Spray Beach Resort is conveniently located on the Grayland Beach Access and there are several cute gift shops in the vicinity. Stop in for snacks and a swirl cone at the Beachcomber Grocery & Deli where they mix fruit into their soft serve.
Cohasset Beach
Across from Cranberry Road Winery on State Route 105 is the Schafer Island Beach Approach. It is a great place to start your hunt for sea glass and agates. Arrive about two hours before low tide. Park at the approach and walk out to the beach. At low tide the rock beds will be exposed both to the north and south. You'll easily find jasper, quartz and petrified wood. When you're done hunting warm up with a coffee from White Cap Espresso and stay the night at one of the cute vintage accommodations in Grayland, like the Walsh Motel.
Roosevelt Beach
Roosevelt beach is nestled between Iron Springs Resort and Seabrook on Highway 109. The cliffs bordering Roosevelt beach are gorgeous and a perfect backdrop for your treasure hunting fun. It feels a little more remote than the other beaches and is often overlooked because of that. Less traffic also means less competition for the bounties of the sea. Driving is allowed on this beach only part of the year and you should be prepared with a shovel and tow ropes in case you meet soft sand. Check out the high-tide line to look for treasures lodged between logs. Buoys, glass floats and other high-demand flotsam go unclaimed here because of the low amount of traffic coming through. After filling your pack with your trove head on over to Frontagers Pizza in Seabrook to fill your tummies. The pizza is incredible and the gelato is a treasure all its own!
Pacific Beach at Moclips
North of Seabrook  is Pacific Beach State Park, one of the few parks in Washington that allow camping within 100 feet of the beach. This popular spot for beach combing allows traffic on the beach seasonally, but all-terrain vehicles are not allowed in the park or on the beach or dune areas. At Pacific Beach you will find driftwood, buoys, some shells and other flotsam. It is also a great spot for flying kites and building sand castles – a really fun way to spend a weekend. It can get busy here during the summer so get there early. Within quick walking distance are the shops and restaurants of the Pacific Beach Community where you can warm up with an espresso and some snacks at the popular Surf House Cafe.
Sponsored