When Roland Haney was told about the dilapidated 1910 craftsmen style home located at 200 NW Washington Street in Winlock by Windermere Centralia realtor Melissa Wallace, he was intrigued. But his contractor told him not to even bother, that it wouldn't be profitable. Roland decided to take a look anyway and when stepped inside the old mansion, he knew he couldn't let it sit there.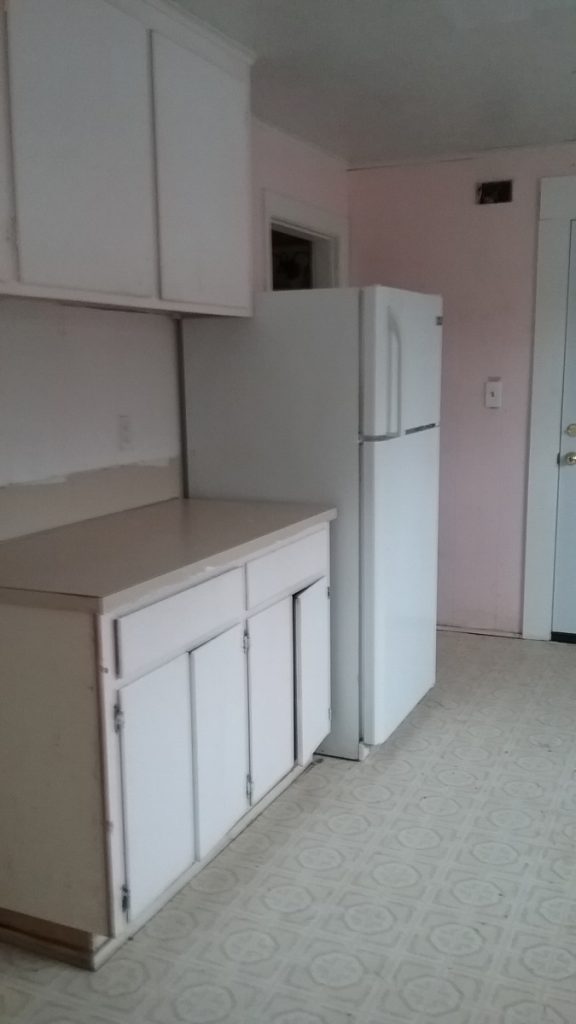 "Being an artist, I love design and elements," Roland says. "I saw the beamed ceilings, the old chandelier, the lion head on the fireplace – all this detail – and I thought 'This would be such a beautiful home.' So I jumped in with both feet."
See, this is what Roland lives for – preserving the past while bring these homes up to code and making them livable again. It's a passion that is shared by Melissa.  "They don't make homes like this anymore," she says. "They are so unique and built to last."
Roland grabbed a level and showed me how, after more than 100 years, the middle of the living room was still level because of the well-made framing. But good bones are not everything – there was still a lot of work to be done to fix this old home up to its former glory.
Preserving the Past
Part of the reason he loves refurbishing these old homes is because of the history. "I studied history in college and I still love it," he says. "I try to find out as much history about these houses as I can. I believe this was probably a logger's or timber baron's mansion. I've been trying to get the history on it but so far I haven't had any luck, because the Winlock museum has sporadic hours."
Roland tries hard to keep as many original elements as he can – as long as they are functioning and safe. This house had some extra special touches he was able to preserve, including that lion head mantle that first caught his eye and definitely draws you in as soon as you enter the home.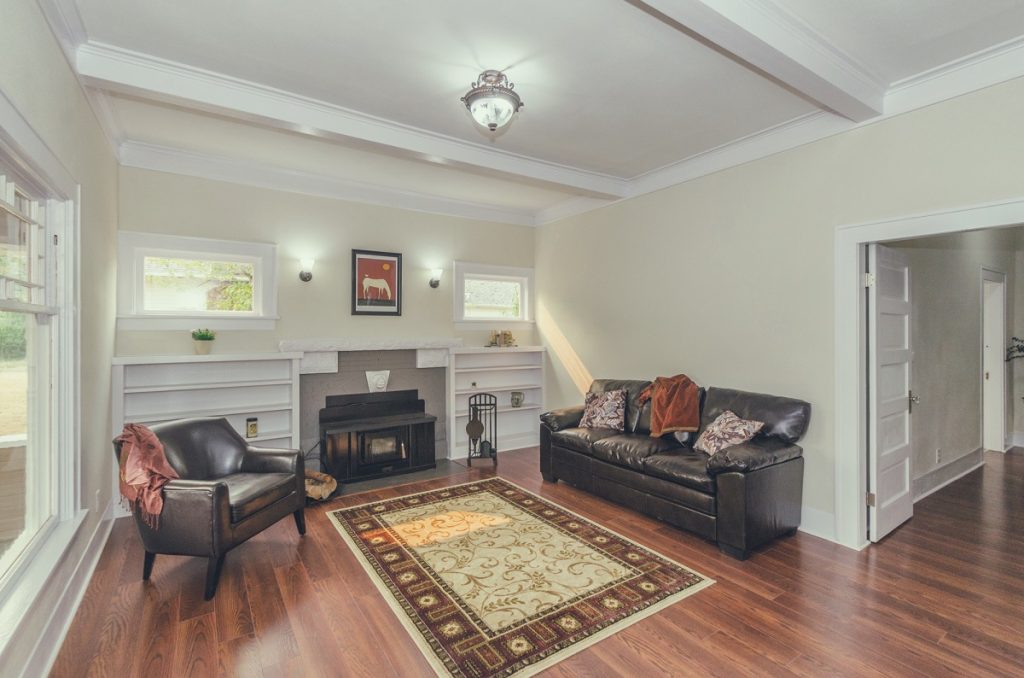 "The hearth surrounding the fireplace was all white which meant you couldn't see the intricate carving in the stone, so we painted it a grey to make it pop out," he explains. The ceiling beams in the same room are original and so are most of the baseboards and crown molding. They matched whatever they had to replace. They also kept the original leaded windows with the pulley systems, which were restored by Roland's contractor. "We were lucky, there were only two broken windows," he adds.
The unusually large and custom windows make the home bright and airy – to have removed them would have been a crime, he comments. You hardly need to turn on the lights during the day, there is more than enough sunlight streaming in each room.
Shabby chic-style corner china hutches in the dining room add country charm. One original cabinet in the kitchen was kept as well as a nice reminder of days gone by.
The original banister with wooden steps leading upstairs feels more modern, though they are over 100 years old, as their style is timeless. Also original are the furnace vents, which are much larger than today's and therefore heat the house very quickly Roland, explained with a boyish grin on his face. You can tell he truly loves preserving these small touches.
Creating a Home for the Future
No home redone by Roland is ever left with anything that is not up-to-code or safe. The house came with a roof that was just two-years old and a one-year-old furnace. But he had to completely rewire and re-plumb and also add sheetrock. "There is nothing worse than moving into a home and having to immediately do a repair or fix something, so we make sure everything is done for the new owner," Roland explains.
The kitchen, one of the most important rooms in the house, was updated with brand new, fresh white cabinets, stainless steel appliances and new countertops. They also did a bit of a remodel in the kitchen, removing a wall by the back door and reconfiguring it slightly to make the laundry room a bit more open in what was once wasted space. The refrigerator is a doublewide, roughly 25 cubic feet.
Unfortunately none of the original chandeliers or lights were salvageable, but Roland was careful to select pieces that matched the turn-of-the-century home.
As a nod to the past, you can see the original shiplap inside the bedroom closets upstairs. Also upstairs, they left the incredible convenient built-in drawers next to the his and her closets in one of two potential masters. This leaves plenty of room for a reading chair or a desk in the oversized room.
They also added a bathroom to the 3 bedroom home, making it 1.75 baths. The attention that was taken into preserving the small details makes this home a truly one-of-a-kind find. It's over 2,100 square feet on a .10 acre, fully fenced lot. For more information on this or other listings, contact Melissa Wallace and Bryan Finch through their website or call 360-880-0626/1627.
Sponsored