Alisha Perkuhn loved her job at the Hillcrest Food Mart in Chehalis, but she dreamed of doing something more. Alisha wanted to be a realtor, but was worried about taking the leap to change jobs, knowing it wouldn't be an immediate steady income. Alisha found encouragement in an unlikely place – the owners of Hillcrest Food Mart, Chuck and Connie Bode.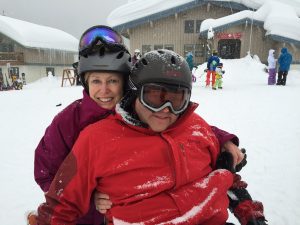 "We support the efforts of people who have goals and want to work to achieve them," says Connie. Connie has been a real support system for Alisha, including being flexible with her work schedule as she started her career as a realtor at Windermere Centralia. After Chuck became wheelchair bound, he didn't let it stop him from fulfilling his own dream, which spurred Alisha on to follow her own.
Four years ago, a staph infection left Chuck paralyzed from the chest down. It was a devastating blow to someone who had always been very active. Chuck and Connie enjoyed taking walks, camping, waterskiing, and snow skiing. "My husband and I were both skiers – had been all our lives. We taught our kids to ski and Chuck had really been looking forward to skiing with his grandkids one day. It was very hard."
While attending physical therapy at the University of Washington, Chuck and Connie kept asking what he could do to "do more" physically. "He wasn't going to be happy just sitting around doing nothing," explains Connie. Chuck's recreational therapist suggested the Outdoors for All Foundation, a nonprofit that helps give adaptive and therapeutic recreation for children and adults with disabilities. Each year they help more than 2,400 people participate in snowboarding, snowshoeing, cross country and downhill skiing, cycling, hiking, yoga, kayaking, day camps, rock-climbing, camping and custom events.
The doctors wouldn't clear Chuck to try any of the sports at Outdoors for All for an entire year due to the damage that was done to his spine. However, he didn't give up. Instead, they spent the year researching and learning about the choices he would have when he could be more active. In 2014, they went to a Spinal Cord Institute Summit to learn more about the Outdoors for All program. They returned the next year and Chuck was able to test the recumbent bike and signed up for skiing lessons. He took skiing lessons in the winter of 2016 and 2017.
"Being able to have a more active lifestyle and be able to continue to do some of the things he wanted do, was really pretty critical to give him something to look forward to in his life," says Connie. They also bought a recumbent bike that was hand-propelled so that he could go on walks with her down trails and places that wheelchairs just can't go. "It made him happy," adds Connie.
The equipment is definitely expensive. The bike Connie and Chuck purchase was around $3,500 and the dual skis are about the same she says. Many people cannot afford to buy them. Luckily, Outdoors for All provides the equipment as well as the training for the activities. "Everybody that teaches people at Outdoors for All are volunteers," she adds. "It's an amazing thing that these professionals, with full-time jobs and families of their own, would then donate their time off to help others. It takes a lot of time, patience and knowledge to do what they do." While you do pay for the classes, they are almost a necessity since you really need at least two people to help the person use the equipment and at least one of those persons needs to know how to do use it correctly and safely.
Last winter, with the help of Outdoors for All, Chuck was able to fulfill his dream of skiing with his grandchildren. He had the opportunity to ski with one of his sons and oldest granddaughter twice during his 8-week session. His other son he was able to ski with once. "It was pretty amazing that he was able to do what he wanted to do, at least a few times," says Connie. "He told me that last day was the best day of his life. He was just so happy, it was really fun." Chuck passed away just two days after that day.
Alisha found strength in Chuck's determination and positive attitude. She is enjoying her new career at Windermere Centralia immensely and knows she wouldn't be where she is today if wasn't for her role model. "Chuck never let his paralysis get him down," says Alisha. "He never let it stop him or slow him down. If he could accomplish what he wanted then why couldn't I?  I don't have anything holding me back, but me.  He showed me if you want to do something then do just so it! So here I am living my dream helping people find their dream home to spend their lives in, making memories. I will always be grateful to him for that."
Connie Bode continues to support Alisha and wishes her all the best in her new real estate career.  You can contact Alisha Perkuhn by visiting the Windermere Centralia website or calling 360-304-9455.
Sponsored