In June 2017, Cosmic Comics and Games LLC opened in downtown Centralia, and while the shop is stocked with current comic books and graphic novels, as well as the latest board, dice and card games, it also evokes the pre-Internet
and social media days when fans could spend hours in a shop discussing their favorite comic book artists with someone they just met, and when customers could check out various products in person, receiving recommendations from the knowledgeable employees behind the counter.
Cosmic Comics and Games is the brainchild of Lewis County natives Cameron McGee and brothers Tyler and Matt Peterson. Matt describes being "your average games and comics-loving kid" during his youth. "It was after high school when I really got into it. I graduated in 2003, and about 1999-2000 was when the comic movies started to hit theaters. I'd go see 'X-Men' and the 'Blade' movies, and realized there was more to it."
Around this time, Cameron introduced Matt to HeroClix, a tabletop game that utilizes popular characters from superhero comics. "It just escalated ever since then."
Having worked in retail for several years, Matt and Cameron decided to turn their passions into a full-time business, with Tyler coming on board as a financial backer. Cameron was already leasing space for Calypso Window Washing, his other business, and figured they could use the main portion of the storefront.
"All I really need is the office – occasionally," says Cameron. "We realized we were wasting retail space downtown that we could use for something else."
Demonstrations of games, as well as weekly meetups for game and dice tournaments, all of which are open to the public, are a big part of Cosmic Comics & Games. A conversation regarding the continued popularity of dice resulted in Matt giving an impromptu demo for a dice game based on "Batman: The Animated Series." Matt, Tyler and Cameron want to let prospective customers know that most of their games are easy to follow, and to encourage a couple of trial runs before purchasing.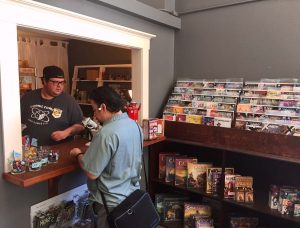 "There's nothing worse than spending 40 to 60 bucks on a game, and going home and nobody likes it," says Cameron. "We're trying to have an opportunity for them to at least see them play. Some of the games, like Arkham Horror, can take hours to play. Those are a little harder to demo, but at least people can see what it looks like."
"When you first open the rule book and try to read it, and go 'I have no idea what this is,' whereas somebody can walk you through it as you're playing, and it's like, 'Okay, this all makes sense,' especially for someone who may have not played a board game outside of Monopoly and Risk, where you roll the dice and move the squares, and that's it."
Another advantage of purchasing comics and games at a physical store run by fans: customers can get recommendations regarding the content of a comic book or roleplaying game, and whether it would be appropriate for fans of a certain age.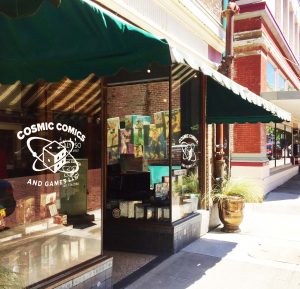 "We're trying to blend comics where it would be okay for a younger fan to read with comics where the titles and rating makes sense for the kids," says Matt. "That's how it is with some of the games, too. Some of the games are rated as 10+, but then I play the game, and I teach kids how to play the game, and can make my own recommendations based on experience."
A free demo session for Zombicide: Black Plague, held on July 1, brought in several fans, including Brian Smith from Napavine, who judges the HeroClix and Dice Masters tournaments on Sundays, which are held in the ballroom of the Lewis & Clark apartment complex next door.
"We held the first tournament for HeroClix on the last Sunday in June, and had a really good turnout," says Brian. "Also, the new student recruiter for Centralia College came over to play Magic: The Gathering a couple of weeks ago. That's an excellent way to get the word out."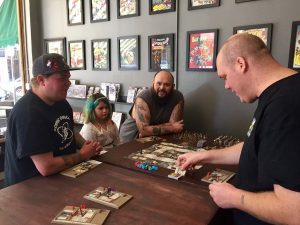 During the Zombicide demo, Tyler was impressed by an eight-year-old first-time player who took to the game like a professional, becoming well versed in the tricks and trials by the end of the session. Indeed, one of the many highlights is witnessing a new generation express enthusiasm for the same comics and games that he's into.
"The other day, a 10-year-old girl came in with her mom, and she was talking to me about the 1990s X-Men TV series – this is my bread and butter," says Tyler. "I can't believe I'm having a real conversation about something that I watched when I was seven with someone who found the series on Netflix and watched the whole thing through."
With repeat customers dropping in to check out the latest products and shoot the breeze with Matt, Tyler and Cameron, and word-of-mouth spreading among the local devotees, Cosmic Comics & Games has already become a hub of social activity shortly after opening its doors. In regards to future plans, Cameron has his eyes set on bringing game nights to bars and restaurants, attracting people who may not be aware of the latest tabletop games, and bringing some evening activities to Centralia.
"We're going to try to set up board game nights outside of our store – somewhere downtown where once a month, adults can come down and game and have a drink and have dinner, and make a date night out of it."
Cosmic Comics & Games is located at 117 Magnolia Street. For information regarding game demonstrations and tournaments, call 360-736-2186, or visit their Facebook page