Centralia has a famous founder named George Washington. He isn't the one you think, but he was also a great man. This year marks the 200th anniversary of his birth and Centralia is planning a party that will last for an entire year.
Centralia's George Washington was born on August 15, 1817, in Virginia. He was the son of a slave, although his mother was white. History records that his father was sold away when George was an infant. His mother wanted to keep her child free and gave him to her friends, James and Anna Cochran, to raise.
"George was an inspiring person whose life really is an American story," says Brian Mittge, chairman of the George Washington Bicentennial Planning Committee. "In just one man, we see the terrible impacts of slavery, the potential of westward expansion, the mixing of pioneers and Native Americans, the Civil War, the intensity of pioneer life and the growth of the American West."
The Cochrans were good and honorable people and Washington grew up to be a remarkable person. He was skilled in many trades, honest, hard-working, and by all accounts, compassionate. To a modern person it may sound funny to add that he was also literate, something that many people of color were not in those days.
Pre-Civil War rules made life difficult for Washington. Time and time again, restrictive anti-black laws prevented him from living easily as a free man.
"If there is a place in this world where there is peace, I will find it," he's quoted as saying. His search took him westward and eventually to the Pacific Northwest. In 1852, Washington staked a squatter's claim at the convergence of the Chehalis and Skookumchuck Rivers. There he built a cabin and set up a ferry service and way station, called Cochran's Landing.
For the next 53 years, Washington did many good works for family, neighbors and friends. He and his wife, Mary Jane, are remembered as humanitarians, philanthropists and visionaries. According to Washington's stepson, Stacey, "He helped those in need and did it with a free heart…'I want to do right by my fellow men,' he'd say, 'And if I do, then I'll never lose anything by it.'"
Washington donated lands for public use as well as providing food, jobs and lending money to town residents during the panic of 1893.
"George Washington exemplified the Biblical meaning of loving God and loving others," says local pastor, Alan Woods. "His commitment to serving those in the community gives hope to all of what Centralia could become if we embrace his desire to serve others."
After the railroad crossed his land, Washington decided to build a town. In 1875, he founded Centerville, which later to became Centralia. He and his family laid out the town's design and wife, Mary Jane, named many of the streets. "Every time we walk through the beautifully named streets of Centralia – Pearl, Magnolia, Gold – we're stepping into Mary Jane's vision," Brian Mittge explains.
Centralia residents are excited to celebrate Washington's bicentennial birthday, the centerpiece of which will be a life-size statue of George and Mary Jane Washington created by well-known sculptor, Jim Stafford. The bronze statue will be unveiled at George Washington Park in August of 2018. Donations for the statue are being accepted through the Centralia Community Foundation.
Centralia's Centennial Celebration Events
The birthday festivities kick-off this year on Saturday, August 12 at 8:00 a.m. with a fun run/walk tracing the perimeters of George's land grant.
From 10:00 a.m. to 2:00 p.m. in George Washington Park, there'll be food, family fun and music. At mid-day, there will be an official ceremony unveiling a memorial bench in Washington's honor, which will later be part of the statue grouping.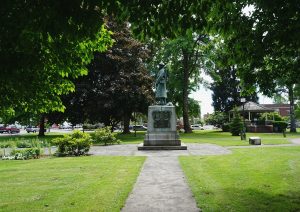 In Borst Park, the historic Borst Home will be open for tours from 1:30 to 3:30 p.m.
On Sunday, August 13, there'll be a worship service in Washington Park, including Washington's favorite hymns and a short homily by Pastor Alan Woods of Trinity Christian Fellowship.
During the 2017-2018 year, there'll be many commemorative events celebrating Washington, including a new radio play, documentary, special postal cancellation stamp, commemorative coloring book, lectures and historical reenactments.
The PageTurners reading group, meeting every third Tuesday from 5:30-6:45 p.m. at the Centralia Timberland Library, will honor George Washington with books highlighting African Americans in the Northwest and the black experience in America. The final list of book selections will be available at the library in mid-August 2017.
"I believe the most exciting part of this celebration will be the community awareness of the life of our George Washington," says Pastor Woods. "The history of this man, and his wife, will make all residents of this great city proud to call Centralia home."
Schedules of events can be found at the George Washington 2017 website and the George Washington 2017 Facebook group.