If you are a student at Centralia College, did you know that you can get help getting to and from the college with a free student bus pass every quarter?
Centralia College has had a partnership with Twin Transit for many years. They decided to join forces and offer free bus passes to help give students an extra resource to get them to classes. According to longtime cashier, Georgia McKinley, it happened quite simply. "Someone expressed an interest and took it to the college administration." In the beginning, students received a pass each month. "That was kind of complicated to keep up with, though," says McKinley. Finally, the process was revised and students now get a bus pass that is good for the whole quarter. Now every enrolled student is eligible to receive a free bus pass if they want it.
Chris Wilson, Centralia resident and college student focusing in psychology, has been using the free bus pass for two years. "I didn't have a vehicle to get around in town. I wanted to go to college, but wasn't sure how I would get there. Then one of my advisors told me that I could get a student bus pass for the quarter. I used it the whole two years. It's been the most useful thing ever for me. It's my main transportation service; it's very convenient for me."
Wilson can't say enough about the drivers. "I use route 22 and the drivers are very personable. They make sure to take note of my schedule and if I'm not there for a day or two, they'll ask me when they see me next if everything is okay. I've become friends with them and really appreciate when they check on me." Wilson is thankful for the bus pass and hopes the college and Twin Transit continues their partnership. "I would have had to walk a long way to school in very nasty weather conditions," he says. He plans to attend Washington State University and says that thanks to his experience riding Twin Transit, he will now be comfortable using public transportation systems in other towns.
Jon Lee has been using Twin Transit to go to Centralia College for about two and a half years, just finishing his degree in energy technology and power plant operations. "I found out about the pass from a bus driver. I started using it and that's what I did every day." Lee credits going to college with helping change his life. "I have been four years and six months without a drink and without a drug. The college has done so much good for me in so many ways, including re-introducing me to being around people clean and sober. I'm very proud of the fact that I graduated with high honors," he smiles. "Getting to school would have been extremely difficult without the student pass. I walked it one time and it took me an hour. Granted, walking is good for me, but I wouldn't be able to do that every day."
The connections the drivers make with the riders are what makes riding Twin Transit so special, according to Lee. "Darlene is my favorite driver and I'll work my schedule so that I'm on her route," he says with a smile. "After I finished my degree, when I got on the bus, Darlene handed me a graduation card. I'm not used to receiving things. She really makes me feel welcomed on the bus. She's just an all-around nice person," says Lee.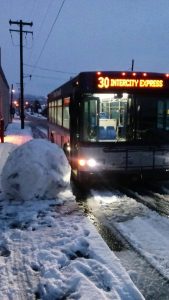 Dr. Bob Mohrbacher has been president of Centralia College since June of 2016. During his first year at the helm, he has seen the usefulness of the bus passes. "They're a great benefit to students. I see that if Twin Transit can expand and open a new transit center, it will allow even more students to ride to and from campus. Anything they can do to improve transportation will increase ridership."
McKinley says that typically the college gives out around 125 to 150 bus passes each quarter. Numbers have gone down lately as enrollment has also gone down, but there are still over 100 students using the passes each quarter. "Winter is typically higher because of the bad weather," she explains. She goes on to say that the most common users of the bus passes are typically those without cars, such as Running Start students (high school students who are completing high school classes while earning their associate's degree at the same time.) McKinley also has high praise for the partnership with the college. "Twin Transit has been wonderful," she says.
Currently enrolled Centralia College students can take their student ID number to the cashier's office in the new Trans Alta Commons building to get their free quarterly bus pass. For more information, call 360-623-8931.
Sponsored