Kelley Christensen, the owner of Centralia's Twin Cities Sign and Graphics, is a hard-working woman who wears many hats. She has a degree in CAD drafting and design, is an active sports mom with four kids, and the president of Centralia's Little League. Kelley laughs when she explains that she never has enough time to sleep. "The business is open five days and we get the weekends off, and I need that for my kids and the sports."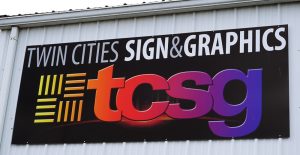 In 2015, Kelley bought Twin Cities Printing from the previous owner and changed the name to Twin Cities Sign and Graphics. "I've owned the business for two years and it's been a work in progress," she says. "I've changed the focus from small document printing to vehicle wraps and graphics, also banners and signage. Vehicle graphics are a really strong product for us – they're our best seller."
But Twin Cities Sign and Graphics hasn't lost touch with its printing roots. They still use innovative design ideas to help clients create everything from logos and letterheads to store signs and window graphics. "We work with tons of businesses," says Kelley. "Our customers expect us to be a one-stop shop for them."
Twin Cities Sign also offers large-scale document printing, drafting and design for construction sets. "There's not really anyone in the area who offers the large document scanning and printing, so we still offer it and we'll keep that, it's not going away."
Kelley takes pride in her innovative problem-solving skills, even when the problem has little to do with signage. "We had a guy in here yesterday doing a repair for his RV awning. Since we use an array of substrates and materials, we looked through our supply catalogs and found him a product that's going to work. It was a lot of fun," Kelley says with a smile.
The shop's industrial storefront offers little clue to the modern, airy lobby inside. The walls are tastefully decorated with past print work: attractive banners, posters, stickers and original artwork. Behind the counter, a large picture window offers a view of the company's large-format printers. "We're a very open type of shop," Kelley says. "Customers can watch us work."
Printing is the last stage of graphics creation. The process begins with design, something Kelley knows a lot about. "I did drafting and design for 15 years before I did design work here," she explains. "I've learned key things to help customers get their ideas onto paper."
During an initial meeting, she'll ask for your design inspirations. "If you've seen something online that catches your eye, or a specific style, let me know…it'll help me to see what you're envisioning."
Designing the graphics is often the most time-consuming part of the process. When creating a vehicle graphic, for example, the scale of the image can be hard to imagine. But Kelley has a remedy for that. "We'll put together a proof on a vehicle template so that they can see just what it's going to look like on your vehicle."
Twin Cities prides itself on exceptional customer service. "I want my customers to feel important and taken care of. We guarantee our products and correct any problems that may happen."
And what if you live outside of Centralia, can you still work with Twin Cities Sign and Graphics? Absolutely. "We've got clients in Missouri and back east. We can ship anywhere in the United States by two-day shipping. We put in the extra hours to make sure the job gets done right."
Twin Cities Sign and Graphics is located at 540 N. Tower Avenue in Centralia. They're a local shop with a big reach and a lot of heart. Kelley Christensen goes out of her way to make sure of that. For more information, you can give the shop a call at 360-807-1200, email them at tcprint@comcast.net or find them on Facebook.
Sponsored