Valery Byrd is a third-year graduate student at University of Washington Tacoma. She is majoring in social work, after spending the last few years working as a case manager at the county shelter in Centralia. She has a passion for helping the homeless in the community and she is pursuing a master's degree because it will give her the opportunity to help on a larger scale.
"In order to truly make a difference, I needed more options in regards to job opportunities and a master's will give me that," Valery says.
She is currently taking an advocacy and policy class that gave her the option of several assignments, which in turn had options within them. One of the choices had the option of shadowing a City Councilman for a minimum of ten hours. Valery chose this for her assignment because she has a real interest in Centralia, having lived here for 20 years. She had no prior knowledge of what the City Council did or how it worked and thought this knowledge could be useful.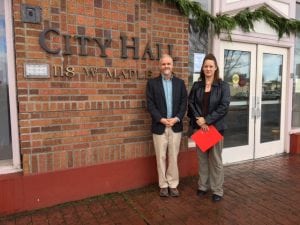 "I live here and purchase things here, pay taxes here and never paid much attention to city government," she explains. "It's been a huge eye opener for me and I've learned tons and tons."
She is shadowing Max Vogt, a Designated Broker in real estate for the past two decades and owner of Windermere Real Estate in Centralia since 1996. He became interested in serving on the Centralia City Council about four years ago when a City Councilman came to his business and introduced himself. "He explained what City Council does and said to come to him if I had any needs as a business owner," Max says. "It impressed me and got me thinking about serving on the Council myself."
Max is now in his second year serving and he says it's such a natural fit because he owns a business in Centralia, which has helped him serve other business owners while on the council. In addition, since his business is all about the city, he has a strong desire to see it flourish. "I love Centralia and as a Realtor I am a constant promoter of the city," Max says. "I don't have a career in real estate if people don't want to move here and stay here. Good schools, good roads, entertainment, culture, job opportunities – all the things City Council is involved in to better the city, are things I, as a Realtor, want as well."
He loves that City Council is non-partisan – he has no wish to be a politician. He just wants to give back to his community and share in the responsibility of making it better. And he says he is learning a lot from the experience. For example, recently he was on the solid waste committee. He learned all about what happens with Centralia's solid waste – the transfer stations, landfills, where it goes and the fees.
"The detail and the breadth of what all is involved – the fees, the costs – it's incredible," Max explains. "We are in the process of turning the closed landfill over from responsibility of the city to the county. And the whole process of that – how many people are involved – all the cities that have dumped anything into the landfill. It's quite a lot of information to know."
Max has learned so much during his two years of service that he jumped at the chance to have Valery shadow him so he can pass on what he has learned. And, he says, "I'm learning just as much from her as she is from me."
Valery's passion is the homeless and figuring out ways to help those within Centralia. Hearing her voice, he says, has really helped him see new sides to this epidemic.
"Her questioning leads me down new hallways to think about things," Max explains. "It gets me to think about how our decisions will affect the homeless community. We don't always think about that on every decision we make on the council, and we should, so having her hear to remind me has been great."
Max said that this is one of the reasons he strongly encourages citizens to show up to City Council meetings, which are always open to the public. "The squeaky wheel really does get the grease," he says. "People can come to the meetings and let us know which issues are important to them. They are always listened to when they do come." Or they can contact their City Council representative directly, by going onto the city's website, and find out which Councilman represents them in their district.
For Valery, shadowing Max has been an eye opener in regards to how much it takes to get things done and the number of people, laws, and hoops one needs to jump through with any decision.
"Had I known the things I know now, I believe it would have greatly helped my former position," she says. "It's taught me how I can get things accomplished or changed and it's not so intimidating now that I know how the system works."
Her paper resulting from this assignment will be on the lack of low barrier housing in the Centralia area, which indirectly relates to the homelessness issue and her former job at the shelter. She is combining her first-hand experience with trying to find housing for people who have trouble due to criminal histories, no credit, not enough money for large deposits, lack of rental history, and other issues, with the knowledge she is learning while shadowing Max on the City Council.
Councilor Vogt has meetings once a quarter at a local coffee shop that he has invited the people in his district (#3) to come to. They introduce themselves and share issues and concerns with Max and he tells them about what's going on in the city.
Valery has attended one of these meet and greets, which she described as low-key and casual, and a chance for residents to meet their council member and express concerns or ask questions about their community. "Max explained how some of the issues are being handled, or what citizens such as themselves could do about them – such as organizing and speaking at the city council meetings," she explains. "The issues ranged from conditions of local roadways and sidewalks, installing signs in certain neighborhoods, enforcing ordinances around clean-up of graffiti and fines, the homeless littering and sleeping in the parks, safety issues, maintenance of public parks, flood mitigation, enforcing ordinances around parking, and code enforcement of rental properties. It seemed to me that many of the issues were connected with the homeless problem in our city in one way or another, either directly or indirectly."
Both Valery and Max have a real heart for helping the homeless in our community, but they definitely can't do it alone. For more information or to get involved, contact Max Vogt through his Windermere website or the City Council's website.
Sponsored