As common of a pastime as playing golf, hunting is one of the most anticipated seasons for Lewis County outdoorsmen and women. But one of the biggest questions typically is—where to hunt? Much of the land accessible to the hunting community in Lewis County is owned by Weyerhauser and it is only available for a permit or lease fee. And even then, finding roads and mapping a route can be tricky.
GoHunt is an application that has been developed by the Washington State Department of Fish and Wildlife. The program was created to assist the hunting community with locating game management unit (GMU) boundaries, roads, clear-cuts, and public and private hunting land. The application allows users to find data relative to their hunt and the species they are after, quickly and easily.
The program can come in handy for hunters who are hunting Weyerhauser land. Weyerhauser a well-known timber company across the Pacific Northwest owning over 1 million acres of forest land throughout Washington State alone. Prior to 2013, Weyerhauser allowed free access to this land, but due to an increase in vandalism and abuse, something had to be done to protect this treasure. A recreational fee access permit program went into place, as it had successfully been in operation for decades in Weyerhauser's southern timberlands.
"The fees allow for us to offset costs that are incurred as a result of allowing the public access to our property," claims Anthony Chavez, Weyerhauser representative. "The permit program allows us to better manage visitor access to our forest lands. In addition, permit holders will be able to enjoy a quality outdoor experience, while our employees continue to work and the forest remains protected."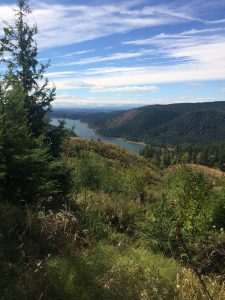 One of the more popular tree farms in Lewis County on Weyerhauser land is Vail. Vail is a home for deer, bear and elk. There are three main gates to access Vail, and two of them are located in Lewis County. Those gates are found at Pigeon Springs Road near Onalaska and Big Hanaford Road in Centralia. The price for the permits for 2016 was $300 dollars, and became available online for purchase in May.
As quick as these permits are placed on sale, they are often sold out, but it is easy to understand why. Purchasing the recreational permit opens up 160,000 acres that only 800 hunters have been given access to this season. Permit holders are mailed a key that will unlock the gates going up to the Vail Tree Farm. Key holders are only allowed to bring their spouses, children and grandchildren who fall under the age of 18 as of August 1, 2016. Therefore, if a fellow hunting friend does not purchase his or her own permit, you are unauthorized to bring them along for the ride. The vehicle permit mailed along with the key must be placed on the rear view mirror while on Weyerhauser property, and access is only valid from one-and-a-half hours before sunrise to one-and-a-half hours after sunset all seven days of the week.
There has been a noticeable increase in price since the program piloted in 2013, leaving some hunters questioning the future use of Vail, as well as the hit to their wallets. This is not a cheap sport in any sense, so paying to use land is not included in everyone's hunting budget.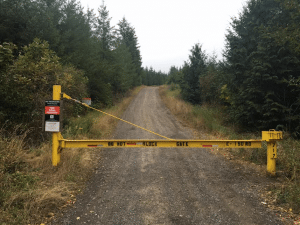 In questioning the motive behind the increase, Anthony states, "We added new benefits to the program. For example, the permit now allows access to our tree farms all year round (instead of previously a six-month period), those with permits may cut up to two cords of firewood and overnight camping is now a benefit."
Some restrictions still remain on camping and usage of the land, but with access granted from August 1, 2016, through July 23, 2017, Vail key holders will be able to do more than just hunt the land. It is also noted as a hotspot for rock climbing up Fossil Rock and High Rock.
The thick green timber, dense fog and the old logging roads through Vail are quite a beautiful sight on an early fall morning. If you were lucky enough to snag one of the 800 recreational permit keys, you might just see what I am talking about. If not, there is always next year and the short-but-sweet opportunity to purchase online.