There are few places where a hiker can see the four great volcanoes of the South Cascades—Mount Rainier, Mount Adams, Mount Saint Helens and Mount Hood—at once, and Juniper Ridge is one of those places. Located in the heart of the Gifford Pinchot National Forest, from the top of Juniper Ridge one can also see vast expanses of mountain meadows, and smaller peaks and crags that make up the Cascade Range.
While the hike up to Juniper Ridge, along the Juniper Ridge Trail (No. 261), is only three miles, making a six-mile round trip, there is an overall elevation gain of 1,900 feet, so make sure you are physically able to make the climb before you go. Bring plenty of water and snacks for when you reach the top, as well as bug repellent in case the mosquitoes are out when you go.
Juniper Ridge Trail is not an overly crowded one, but is open to horses, motorcycles and bicycles as well as hikers, which has caused some minor ruts in the first few miles of the trail. My family set off on a July morning with two dogs in tow for our first real hike. The trail is open for dogs, but they must be kept on a leash at all times.
As soon as you hit the trailhead, the trail starts with a steady climb through shaded forest, some of which is old growth. Even in the forest, summer mountain wildflowers such as Indian paintbrush and lupine add color to the landscape. The trail continues to climb, sometimes with switchbacks and sometimes quite steeply through the forest for several miles.
After about 1.5 miles, the forest opens up and allows for the first good view of Mount Adams. Here we needed to stop and apply bug repellent, although most of the trail was relatively free from mosquitoes.
The trail continues for about a mile through sparser vegetation, and then comes to a three-way split at the 2.5 mile mark. We took the left—and steepest—fork, but realized after the fact that all three forks reach the same destination. For a more gradual climb through a forest stand, go right.
From here the trail opens up onto the saddle of Juniper Peak, and for the first time we could see Mount Adams, Mount Rainier and Mount Saint Helens at once. It was a clear day, and we even spotted Mount Hood to the south and the snowcapped Goat Rocks. It is truly incredible to be surrounded by all of these giants, and very rare to be able to see them all at once. If you go, try to get a good panorama shot.
After reaching Juniper Peak, we continued along the saddle toward Jumbo Peak and Shark Rock—named because of its jutting shark-fin appearance—taking time to climb some volcanic rocks on the side of the trail. We climbed Jumbo Peak and sat down for a lunch, and to give the dogs a well-earned break.
During our time on the saddle, we also climbed Juniper Peak. There is a clear trail where other hikers had climbed up before, and the top yielded even better views of the surrounding volcanoes. The trail continues from this point for hikers who wish for longer day hikes or overnight trips, but most people turn back here. We did the same, and headed back to Randle for a barbecue with family.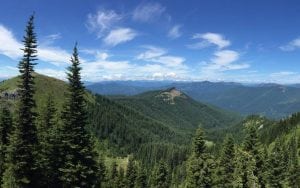 To reach the Juniper Ridge trailhead:
To reach the Juniper Ridge trailhead from Randle, drive south one mile on Forest Road 25, then turn left on Forest Road 23. Continue on for nine miles, and then turn right onto Forest Road 28. After one mile, turn left on Forest Road 29, and then after four miles turn left onto Forest Road 2904. After another four miles, the trailhead will be on the right side of the road. If you prefer to look at a map, check the Gifford Pinchot National Forest Motor Vehicle Use Map.
There is an obvious parking area across the road from the trailhead, and the road becomes unkempt. The roads to the trailhead are quite uneven and there is a lot of elevation gain, so make sure you bring a vehicle that doesn't high center easily, and that you don't mind getting a bit dusty.