For the past four years and counting, friends Anna Greenly and Kim Witham have been putting their heads together to develop creative, tasty and smart crockpot cooking classes. The classes take place at The Greater Chehalis Food Bank and are designed to not only teach their students how to cook a single recipe, but to learn skills that can be applied over and over again.



Anna Greenly is the volunteer coordinator for Our Literacy Council. And for her, her passion and drive for teaching is all about literacy. Anna explains, "To me literacy isn't just about reading and writing. It's also about how to live and how to take care of yourself."
Anna's teaching partner, Kim Witham, a Pampered Chef consultant and LewisTalk Account Manager, shares that her inspiration for teaching has come from her work with Pampered Chef. Kim says, "For me it's been a personal journey and a passionate one about cooking and healthy eating."
So Anna and Kim have joined forces to develop classes that are meaningful, educational, and tasty. Kim shares, "At every class we sample everything we teach. We love making it and we love feeding it to people."
"When they're done they leave with a crockpot and a head full of recipes," adds Anna.
Kim shares with a laugh, "I thought I knew cooking until I met Anna. She taught me to save the peels and the tops of veggies to turn them into broths and other meals."
Anna smiles and adds, "It's free seasoning. The only thing that goes in the garbage at the end of the day is the bones and vegetable tops, at least once we're done making broth."
For both Kim and Anna, the classes are as much about teaching others how to cook as they are about teaching and sharing life skills. "We had to adapt the classes to fit what people needed. Whether you're living in an RV or a motel, you can still cook in a crock pot," Anna shares. "As long as you have electricity, you have the ability to cook healthy meals."
Anna and Kim's students in their classes are often dealing with many hardships in life. The cooking classes they offer are one way that Kim and Anna are giving back hope. Kim says, "Often, when they come to class, they come with a frown. But they always leave with a smile."
Anna shares, "It is so gratifying when people walk out of class with a crockpot in hand, food, and a smile on their face." And that is the motivation that keeps Anna and Kim constantly looking for and creating new, affordable, and easy recipes that can be made via crockpot.
Along with sharing recipes and teaching how to cook, Anna and Kim devote much of their teaching time educating their students about how to shop wisely to make the most out of their money. Even more, to do all of that and to make healthy and nutritious options.
Kim says, "It's important that they're being educated on how to cook healthier and use their food stamps to the best that they can. Anna has developed recipes that really do make two cups of chicken enough for a family of four."
One time, Anna brought in one frozen spaghetti dinner to class. She illustrated how this was enough for one person. Then she had the class read the ingredients list. Not surprisingly, it was full of preservatives and unrecognizable ingredients.
"Then I showed them the ingredients to make homemade spaghetti for the same price. They could see difference right there. The homemade version could feed six. And they could see everything that was going into their meal," explains Anna.
Another added benefit to cooking homemade meals, for any home chef, is getting kids involved. "I tell them, if you make it yourself and get your kids involved, they're at least going to try it," Anna says.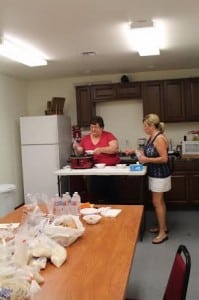 Kim and Anna love to see their students include their children and family. When the lessons from the classes travel home with their students and are then passed on for generations to come.
Anna shares that they would like to offer another type of cooking class at the food bank, one inspired by Food Network's Chopped. Anna shares that her inspiration came from the show and the fact that when people are given a box of food for the week, they don't always know what to do with all of the ingredients inside.
Anna says, "The chopped class opens their imaginations. And when you're tight on money it is hard to be imaginative."
Kim and Anna offer the classes about once a month. They encourage people to donate to the foodbank, and Kim adds, "Anyone who would like to donate a crockpot or help find a grant for us to purchase more crockpots would be greatly appreciated."
The Greater Chehalis Food Bank
750 SW 21st Street, in Chehalis
greaterchehalisfoodbank.org
360-748-1226