The Bodymechanics school transforms lives through educating students in massage therapy and personal training.
Shari Aldrich, LMP, is the president of the growing company, which has now expanded to Vancouver. But it all started when Shari was a stressed IT Director who had lost three family members in seven years — her mom at 59, her brother at 36 and her sister at 39.
In 2004, Shari decided to take control of her health and chose to train and run the Seattle Marathon. Consequently, she received her first massage during training.
"The first time hands were laid on me like that was life-transforming," she says. "I wanted to help people the way massage helped me."
Now, with school locations in both Tumwater and Vancouver, the Bodymechanics School of Myotherapy & Massage offers vocational education opportunities to students from Thurston, Mason, Lewis, Pierce, Grays Harbor, Pacific, Cowlitz and Clark counties.
"We offer programs that allow our students to be leaders in their chosen field," Shari says, who believed in the power of massage so much that she made the switch from the IT field to working as a massage therapist in 2006, and started teaching at the school under previous ownership shortly after graduating.
She became the owner of Bodymechanics School in 2010 and added new programs to the offerings – including fitness boot camp classes and a professional massage and chiropractic clinic.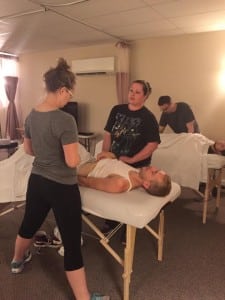 Business was good, and she enjoyed helping people, but when she lost one of her fingers in a trauma accident in 2013, she decided she could help even more people by focusing on the school.
"The trauma injury was a life-changing thing, but it helped me decide to work on my business, instead of in my business," Shari says. "I asked myself, how can I help more people discover their passion? How can I help thousands more people get relief of their aches and pains by teaching students what I know? And how can I help students open businesses of their own?"
The Bodymechanics advanced-training programs offer in-depth study of chronic and acute conditions, sports-related injuries, car accidents, and other studies, but people's physical injuries don't always come from sudden, traumatic events, Shari says.  Instead, the pain is caused by simply working on computers for 20 years at a desk in a sedentary position. "And people want to know why their head or back hurts," she says.
Because of our contemporary work styles and the resulting wear on our bodies, massage therapy and personal training are two of the fastest growing fields in the country, Shari notes. "We offer a down-to-earth attitude that is results-focused. We're enrolling now for our next classes in both Tumwater and Vancouver."
Shari points out that there is only one thing a student needs to be successful in the Bodymechanics programs: and that's to have a strong desire to learn. "You need to be interested in the human body," she says, "wanting to know how and why people get injured, but more importantly, how to help them feel better."
The massage therapy program excels and offers an advanced coursework that includes injury treatment studies. The popular student clinic teaches students how to operate in a clinical setting under the guidance of our instructors. Once students graduate their program and complete the State of Washington certification exam, they can work as a Licensed Massage Practitioner (LMP).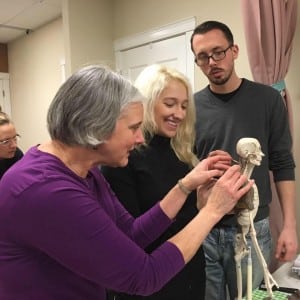 "That's where our program excels," Shari says. "Our exam pass rate on the first attempt is 99%."
The average rate from other schools around the country is 70%.
On the personal training side, Bodymechanics' education is offered through an exclusive arrangement with the National Academy of Sports Medicine (NASM), which is the gold standard for personal training in the United State.
"Graduates of our program get a diploma from our school, and a certificate from NASM stating they went to an academic partner and have a leg up on people who do an online program," says Shari.
Shari adds that Bodymechanics doesn't just teach the technical aspects of the field, but also how to run their own massage and personal-training businesses.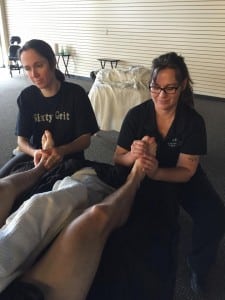 "Our commitment to student success continues long after graduation," Shari says. Bodymechanics follows up with students the entire first year with marketing tips, motivational advice, business tips, and other assistance, she says.
Shari adds that one of the strengths of the Bodymechanics program is the small classes and limited enrollment: students get more personal attention from their instructors. And now the school is supporting even more students: after years of being part of the community in Tumwater, Bodymechanics has expanded to Vancouver.
Shari's passion for business has taken an equal level to her passion to take care of people, she says. "I'm continuously working to up the game for our students, so they can take their game to the next level.
"I want everyone to be successful and to go for it," Shari says.
To learn more about the Bodymechanics School of Myotherapy & Massage, visit their website or call 360-350-0015.
Sponsored