Christine Chamberlain found a silver lining when she injured herself three years ago at Crossfit. While at physical therapy for the injury, she befriended her physical therapist, Angie Maxwell. The two found themselves chatting about how so many other towns have great running clubs, like the Flying Irish in Spokane and the Pints Pavement Pounders Running Club in Olympia.
"I said to Angie, you know, I've always wanted to start a running club, and she said, me too! So we decided to start the club. We just dove right in." The club had their first run and meeting the very next week, meeting on a Thursday at O'Blarney's in Centralia, as they have ever since.
They took to Facebook to crowd source the club name, asking for ideas and going with their favorite, Run Amok. The Run Amok Irish Running Club meets every Thursday evening from March 17 to the end of October and offers group runs and walks of three to five miles.
"O'Blarney's takes great pleasure in partnering with Run Amok Irish Running Club to promote health and wellness in our community," says owner Jeff Malloy. "We look forward to seeing all the familiar faces every week."
Christine says that her favorite part of the club is welcoming new members and making new friends. "I like meeting new people, the friendships you build. Everybody's so friendly. We're all encouraging each other," she says.
"It seems like early on every time Christine, Angie and I would try to guess how many people would show up the number would almost always be double our greatest expectations," adds Malloy.
Holly and Peter Abbarno and their children Sophia, 4, and Antonio, 3, have been "Run-Amokers" since the club's first year. The family looks forward to the runs each Thursday.
"It's exercise and something to do as a family. We can meet up after work, run, have dinner and spend time together," Peter explains. "It's about just getting out there. We're pretty active anyway, but what I love, more than anything, is getting the kids out, getting them involved in something, getting them out of the normal kids' comfort zone.
"I want the kids to be part of this group, and hopefully in 10, 15 years from now they'll be here, maybe they'll be on the Run Amok board, and you know, maybe in many, many years they'll bring their kids," he continues. "It's good to be a part of that – to know they built something in our community that outlasted me, that outlasted you, and that brings people downtown."
Peter says that the club is great for small businesses and stimulates the local economy. "It's great for the city. People come down here, they go out to dinner, they go have drinks. It's infectious, when you see that many people downtown," he says.
The kids love Run Amok and look forward to the runs, Holly adds. "The kids like having their shirts. They like people high-fiving them. It gives them a little family inside our community. And it makes people happy to see little kids, so many people cheer for them as they're coming and wave to them as they go by, and call them out by name."
Holly explains that the club is welcoming and accessible for people of all ages and fitness levels.
"I think that everybody wants to get out, but they're scared, or they're nervous, or they're unsure," she says, "and when you see this many people and show up for the first time you're so accepted and it makes you want to come back.
"Every week we have a new friend that comes with us. Someone always pulls up next to the stroller and says, what's going on? People are just curious," she says.
"Everybody's so friendly," Christine adds. "Sometimes people are scared to come because they can't run and I tell them – 60 to 70 percent of our people walk." She explains that there are options for runners or walkers, with three and five mile options and earlier starting times for walkers. "We tell people you don't have to do the three miles. The object is to get out there and exercise. If you can only do one mile, do one mile, maybe eventually you'll do three miles. I just encourage exercise," she says.
Christine tells stories of elderly women working their way up to the three mile course and community members losing over 60 pounds with the help of Run Amok. The first year they were happy to break 100 participants, she reports. The second year they reached 200 participants, and now, in their third year, the goal is to break 300 runners and walkers. Run Amok members come from all over the area including Napavine, Onalaska, Mossyrock, Olympia, and Elma for the weekly runs.
The club has a long list of local sponsors and therefore does not charge dues. It is completely free to join and run, and the optional milestone shirts are $10. Club members receive their first one after their sixth run, then their fifteenth, and so on.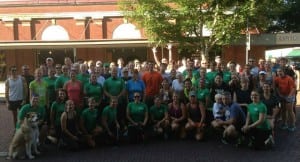 At O'Blarney's after the runs, those 21 and over take a shot to get their shirt and those under 21 tell a joke. But don't worry, in the Run Amok spirit of inclusion means you can skip the shot or the joke, and still get a shirt. They just want you to show up.
Peter explains what keeps his family coming back each week. "It brings us together, it's something that we have in common. Especially in this day and age, with little kids, as a young family, we're busy, and this is something that we have in common, it's a common interest, it's something that the kids enjoy doing. It gets us out and active and healthy and talking about it. We plan around it. It's social, it's not on a computer. We look at each other, and talk, it's face to face."
"The board members always make it come together and we know it has been another successful run when we here the toast master shout 'Run Amok…drink 'em up,'" summarizes Malloy.
Run Amok meets every Thursday from March 17 to October 31 at O'Blarney's at the Gibson House in Centralia. Walkers start at 5:45 p.m. and runners start at 6:00 p.m., followed by revelry, camaraderie and shirt ceremonies back at the pub.