Chance Slater, currently a senior at Adna High School, was this year's youngest recipient of the Jack Stone Award for New Music, presented in San Antonio, Texas. This award is designed for composers who attend community colleges: Chance is a Running Start student and secured the coveted position of second runner-up while still attending high school.
The winners of the Jack Stone award — including Chance — were flown to San Antonio,
where their compositions were performed by distinguished members of the San Antonio Symphony.
"At first I was writing this song as a senior project for a saxophone trio, and then I completely changed the arrangement to suit the musicians that were preselected for the performance in San Antonio," Chance says. As a result, he wrote his final composition, "Gifted a Violet" for cello, violin and marimba.
A Passion for Jazz
Chance began taking drum lessons when he was eight years old, and took up the clarinet when he was in the sixth grade. But it was when he picked up his band teacher, Ryan Brumbaugh's soprano saxophone in the eighth grade, that he truly found his calling. "Jazz allows you to play to your strengths," says Chance. "In jazz you can really do that. Really express yourself musically. Express yourself beyond the notes on the page."
While his greatest musical icon is Charlie Parker, Chance's greatest musical influence is his teacher. "I really do credit it all to Brumbaugh," Chance says. "I was always an underachiever and just went with minimal effort. I was considering dropping out of high school even."
During his sophomore year Ryan noticed Chance's natural talent and offered to give him private lessons on the saxophone, free of charge. "It was the first time I got to play with a really good musician and have someone take the time to help me get through it," Chance says. "He taught me how to practice, and what the meaning of really practicing was. That was when I started practicing a huge amount."
"You can tell Mr. Brumbaugh really cares," he continues. "He is really good at making me feel I've accomplished something when I have, and making me feel bad when I haven't. There's a place for that. The next Charlie Parker wouldn't quit because of being told they need to get it together. It drives me to want to never hear that again!"
"Chance is one who is independent and walks his own path. He is methodical and detail-oriented, so naturally composing music fits him," says Ryan. "If there is a box that Chance is supposed to fit in, he will find a way out of it. That is why music speaks to Chance. You can go anywhere you want with it."
It was during those three life changing months that Chance discovered his passion for music—and that advanced music studies was something he wanted to pursue.
"If it wasn't for those three months I would never even be in college. I wouldn't be at C.C., I would have quit and worked elsewhere," he says.
"Although few of his family members have pursued higher education paths, they support his decision to move forward toward his dreams rather than join the family business, he says. "My parents will fully support me in my studies. I've been given the choice. On the other hand, I always figured I'd minor in business."
It was through his Music Theory teacher at Centralia, Dr. Beth May, that Chance heard about the opportunity to submit a composition for competition. "I literally heard about it every day for an entire quarter from her. She'd say, 'You never know if you'll actually get the trip.'"
Chance was already in the process of writing a composition for his senior project when he decided to enter the Jack Stone competition.
"I was going write a couple of pieces for my senior project but I turned it into being all about this single piece," he says.
He originally intended to write a piece suitable for amateur high school musicians to play, but when he heard that professionals would be playing his music if he placed, he decided to challenge himself, and the players. "I spent a ton of time on this piece after I'd decided to use it to submit."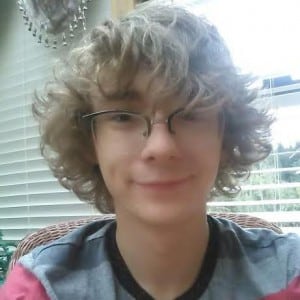 Another of Chase's instructors, Dr. Beth May, was pleased that Chance took the opportunity to submit his composition. It was the first year that any Centralia students had submitted works for the Jack Stone award. "Chance is a talented and enthusiastic musician with a thirst for knowledge," she says. "He takes musical risks and explores new ideas with gusto," said May.
February 28 was the deadline for submission, and by March 14 Chase was flying to San Antonio with his parents to attend the event. The next day, in the recital hall at North Vista Community College Chance got to experience something every composer dreams about, but few get the opportunity to experience, to hear his music played by real professionals.
"Compared to what I thought it would sound like, it was very different," Chase says. "Each musician just had their own flair. It filled the room. I wanted every single instrument to have its moment to shine. You could really hear that when they played. It was mind blowing."
While Chance still has three quarters before he graduates from Centralia College, he has his eyes set on opportunities beyond.  He bonded with the other recipients of the Jack Stone award, especially the oldest, Eunho Kim, who, at 42 was the oldest recipient of the award.  "I'm going to New York this summer to visit him and tour the city. He is one of the best piano players I've ever heard.  He can take an arpeggio and chords to a whole other level," he says.
Chance is unsure about the exact course he will follow in order to pursue his studies in music. "I like the idea of going to WSU," he says, adding that he's convinced he has found his path.