While the winning is fun, and rewarding, it isn't why the three Sandrini sisters stood together, smiling and clapping their hands after a recent doubleheader sweep for the undefeated Adna High School's fastpitch team.
Sure, there's the winning legacy – Adna won its third state fastpitch
championship in six years in 2015 and they're on track for their ninth all-time this spring. But that's not why Jessika Sandrini, who won a state title on the 2009 team, and her sister Jordan, who was on the 2009 and the 2011 state championship fastpitch teams, returned to their high school to be assistant coaches.
The lure, the attraction for them to return to this small farming town in southwest Washington town, is simple.
"This small community, this small town, there's nothing like it," Jessika said. "I wanted to be part of it again."
Both Jessika and Jordan wanted to also share the moment with the Pirates' first baseman, who happens to have the same last name as they do. It's Josey Sandrini, the youngest of the sisters.
"I can't get away," Jessika said. "It's my sister's senior year. We had to be here. Every step of the way."
After graduating from high school, Jessika and Jordan both tried to get away from the lure of Adna by going clear across the country. They both accepted scholarships to attend Siena College in the state of New York.
There's a lot of different places Jordan could be, but like her older sister she wanted to return to her roots.
"It's family and a small town that brought me back," Jordan said. "You've got to love the spirit here. At college, you don't have that spirit. Here everyone is involved. The community is involved."
And all the winning is a thank you to the community, a thanks for their support. Having a sister on the team, sharing the moment with her, is also special.
"It's fun," Jordan said, then added with a chuckle. "We get to say to her to go run. She might not like it. But we enjoy it."
Josey also enjoys having her sisters coaching. Most of the time that is.
"It's pretty rough sometimes," Josey said with a smile. "Sometimes I don't like them. They're hard."
But Josey knows that they're hard only because they see the potential in her. Sometimes good needs a push. However, Josey hasn't needed much of a push. She's batting about .635 for the season.
"I love having them there," Josey said. "They can help. If I'm doing something wrong they know what to help me with."
The Sandrini sisters are third generation Pirates. Their parents and grandmother all graduated from Adna High School. Naturally, they're at all the games, cheering. Their grandmother, Anita, a 1959 graduate from Adna, is a regular cheerleader at the games.
"She does two bits, four bits," Jordan said. "She also brings food for us."
But the Sandrini sisters aren't the only ones with a long Adna High School connection. Mike Raschke, Adna's head fastpitch coach for the last nine years, is also a third generation Pirate.
"Well, everyone asks me if I like Adna," Raschke said with a chuckle. "Well, my grandparents were in the second graduating class at Adna. Mom and dad graduated from Adna. My brother and sister and myself graduated from Adna. My six kids graduated from Adna now my grandkids are in Adna."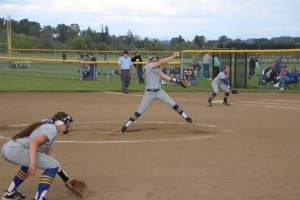 So, that enduring connection suggests that they've found a good home. And Raschke is pretty wowed with his team this spring. But winning a state championship can sometimes bring a sense of contentment and sometimes a team doesn't push as hard. But that's not been a downfall of this team.
"We've always said repeating, coming back is harder than winning it the first time," Raschke said. "You've got this huge target on your back and everyone is gunning for you. We've got six seniors who lead us. And we've got a great bench. We've got great kids coming off the bench."
The Pirates lost only two seniors off last year's 2B state championship team. So, the potential coming into this season was obvious. And through hard work, they've lived up to their potential. Samantha Rolfe, one of the six seniors on the team, is a pitcher with that determined work ethic.
"The challenge of being a pitcher is always having to practice extra," Rolfe
said. "Sometimes, I'll stay another hour and pitch."
That's not a complaint. It's the price of the victory.
"It's worth it in the end," Rolfe said.
Being on that state championship team last year was the reward.
"It was amazing," Rolfe said. "It was the best time. Having all my hard work pay off and having my whole community and all my teammates and family there supporting me was amazing."
Shanay Dotson, a senior and the Pirates starting shortstop, never feels she goes up to bat by herself. She feels the community's support.
"It was an unbelievable experience," Dotson said when asked what it was like winning the state title last spring. "I've never felt anything like it. We had the whole community there supporting us. It was wonderful."
That's the beauty of playing in a small town.
"Everyone is there supporting us," Dotson said.
And everyone is there supporting them again, cheering for the best. When Dotson scoops her last grounder for the Pirates this spring, she hopes she's not finished playing. On Monday, May 1, she accepted a scholarship to play basketball at Lower Columbia College. She's also hoping to play softball there.
"I'm trying to do both," she said. "That would be fun."
And, the Pirates and an entire community would say, so would winning another state title.