In her years as an aesthetician, Kerry McGill has seen a lot of clients but one in particular stands out: a teenage girl with a large birthmark on her face. "We used laser, and it went away," she says. "Seeing her change was like watching a butterfly who'd been in hiding her whole life."
Those kind of life-changing moments are all in a day's work for McGill, the newest employee at Laser Artistry & Medi Spa in Tumwater. She helps people feel better about how they look through treatments with laser and aesthetic injections. "It's a huge confidence booster," she says. "You see people come in who aren't feeling confident about how they look. If they feel like they look better, they act better."
Although she's new to the spa, she's known the owner, Dr. Terrence Hess, for over 20 years through mission trips to Nicaragua and Central America. "I've been working off and on with Dr. Hess for years but at the spa it's just been the last three months," she explains. McGill's husband Charles, the spa's medical director, works with Hess at Foot & Ankle Surgical Associates in Tumwater.
McGill says her work at the spa allows an outlet for her creativity. "I have a good aesthetic eye," she says. "Beauty comes in all shapes, sizes and ages. It's my creative, artsy side that loves this work so much." Prior to joining Laser Artistry, McGill ran her own spa in Centralia.
Much of the work she does involves helping her clientele, especially women, deal with issues connected with aging. Often, clients will come in complaining of looking tired and concerned about the impacts on their faces. "When you reach a certain age, your lips thin out and everything kind of sags," she explains. "People will say, 'I just need something to pick me up.' Using some filler on the lip and maybe a little cheek filler will really pick up the face. It's amazing what we can do without surgery."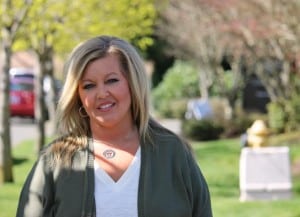 The filler McGill is referring to is Botox, a drug that temporarily removes wrinkles. She's an avid fan of the product because of the results it creates.  "There's a reason people love Botox," she claims. "I've had clients say, 'People don't want to approach me because I always look mean.'" Faces can become frozen into forbidding expressions complete with frown lines between the eyebrows. But, she says, "With a tiny bit of Botox, people don't looking like they're scowling all the time."
She believes that the work they're doing is important. "A lot of people think that aesthetics aren't really about helping people," she says. "But when you look good on the outside, you feel good on the inside."
In addition to her work at the spa, McGill is a registered nurse. "I still work in surgery at the Washington Orthopaedic Center," she says. She is also on call at Greenhill School, a juvenile rehabilitation facility where she removes tattoos on former gang members. "It's a life-changer," she says. "It can prevent them from getting out of the facility and getting killed right away." Removing tattoos also helps with finding jobs. "How employable are you when you've got a teardrop tattooed on your face?"
Although she has three different jobs, McGill emphasizes that none of them are full time – which is a good thing, considering that she also has five children. She says that the transition to Laser Artistry has been a smooth one. "My personality is really a good fit. This spa offers the total package, and it perfectly combines everyone's expertise. The master aesthetician is amazing," she says. "Everyone here is really kind and they're also go-getters."
Part of that fit is her ability to be tactful but honest. "It's important for people to feel like we're listening to their wants and needs," she says. "If someone comes in and tells us they're feeling really tired and asks if it shows, we'll honestly say, 'You would look better if you had a treatment.' I want people to be able to look in the mirror and feel happy with what they see, and overall have good feelings about their experience with us."
For more information about Laser Artistry and Medi Spa visit www.laserartistryfasa.net or call 360-753-4221.
Sponsored