With a sister who doubled as a teammate, Payton Pocklington never had to look far to find someone to play catch in the backyard.
Growing up, Pocklington, who is now an all-league shortstop for Centralia High School's fastpitch team, had a live-in playmate, someone to hit grounders or popups to in Parker Pocklington. A healthy sibling rivalry between the Pocklington sisters was a helpful prod.
"She's always been there to really push me and work hard," said Payton, who was a freshman when her sister was a senior at Centralia. "I always had someone to hit ground balls with."
The sister's father, Bruce Pocklington played baseball at Washington State University and has coached at Centralia Community College.  He now coaches at Centralia High School, providing both the genetics and the coaching insights.
Years of work has had a big payday. Pocklington, like her big sister, has accepted a scholarship to play fastpitch at Eastern Oregon University. Her sister is the starting shortstop at the University of Arkansas. When Parker got her scholarship to Arkansas, something sparked in Payton.
"When she signed there, I was like you know what, I really want to play softball in college, too," Payton said.
With that goal achieved, Payton's attention is focused on her final season as a Tiger. With eight seniors back, there's hope for reaching the district playoffs, something the Tigers just missed last season. Centralia is especially strong up the middle. Besides Pocklington at shortstop, there's Leticia Ramirez back at second, Madi Crews at centerfield and Melissa Zion at catcher.
"We're really strong up the middle," said Mike McDonald, who has taken over as head coach after being an assistant since 2006. "If you're strong up the middle, you're usually okay. We're looking for big things out of our seniors."
Besides being big swingers at the plate – Pocklington batted .570 last year and Crews batted over .400 – this is a team that takes care of business in the classroom. Pocklington and Ramirez both have a cumulative GPA of 3.8. Crews has a perfect 4.0, last getting a B-plus on her report card when she was in fifth grade.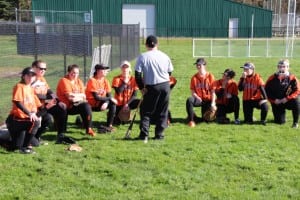 So often when someone excels in sports, that becomes the priority. Academics get pushed aside, but that's not the case with these Tigers. Crews gives her parents a high five, saying they always stressed academics, but she made straight A's her goal.
"My parents have been a pretty big influence on my academic success," Crews said. "I set a tone for myself in grade school. I just always stuck to my goals to get straight A's, because I know I can do it, as long as I put in the effort."
Sports and winning are important to Crews, but that doesn't trump academics.
"In the long run I'm not going to play sports the rest of my life," said Crews, who plans on majoring in communications. "My education is more important."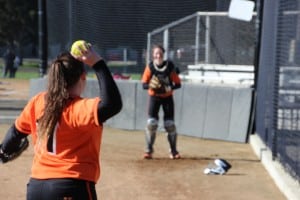 A strength to this Tiger team is friendship. Many of them have been teammates since grade school. And a lot of them take the same AP and honor classes.
"We pretty much take the same classes," Ramirez said. "So we've been in the same classes for a long, long time. We're all friends and know each other pretty well."
That friendship builds teamwork.
However their season turns out for these Tigers, whether they reach the playoffs or not, McDonald knows that his players will all have an important takeaway at the end of season. He appreciates the life lessons sports teach.
"Sports, in general, puts you on a schedule. It's a job," McDonald said. "These kids' job is to go to school and be a student first and an athlete second."
It's takes a big chunk of their time and their parent's time.
"It teaches commitment. It teaches teamwork mentality," McDonald said. "It teaches them good listening skills. It helps all the way around. Not just with the academics."
With all the extra-curricular activities and athletics, students have to do well in school or they can't participate in sports – that becomes the dangling diamond, the lure to do well in the classroom.
"Most of these kids love the game so they put the time into the classroom," McDonald said. "It's a cause and effect. You have to be a student if you want to be an athlete."
For Pocklington, sports has taught her how to work hard.
"It's taught me to work for something that you love and that you care about no matter what happens and no matter what the obstacles" Pocklington said. "I've had a lot of obstacles with the sports that I've been playing. There have been situations where I could have just quit and said I'm done."
But not wanting to quit, Pocklington learned something about perseverance. "If you want something, go work for it," she said.
One of those difficult challenges was playing on a soccer team that was winless her freshman, sophomore and junior years. "It was very rough," she said.
But Pocklington never quit and learned something about overcoming – another lesson learned.