Coming soon to a theater near you may be a movie made near you. Faith vs. Fate Productions, LLC is a Seattle-based independent film and production company making commercials, trailers, music videos, short films and full-length features throughout Washington State.
"I fell in love with the people in Faith vs. Fate Productions," said props and costume consultant Mary Dawn Kurtzbein of Centralia. "I have a friend who was the weapons expert for Faith vs. Fate," said Kurtzbein.
The first production in which Kurtzbein was involved was Wasteland Legends, better known as the Mad Max stories. This promotional clip was filmed in Washtucna near the Polouse Waterfall. "I was the props consultant on that production. The Jewelry Boutique provided a full-finger claw, some furs, a telescope, some leathers, and a silver boomerang. The silver boomerang was a key in the original Mad Max," said Kurtzbein.
This experience paved the way for another opportunity. "That was such a wonderful collaboration that they contacted me a couple weeks later to be a prop and costume consultant for a music video for Devin Sinha," recalled Kurtzbein. Faith vs. Fate Productions produced two music videos for Sinha's CD, Our Past and Present Futures. Both were filmed in Snohomish. The song, Call the Mountains Down, was filmed in Bonnie Lake. Kurtzbein attended the Seattle video release party in early February.
Another production created locally by Washington Filmworks was A Bit of Bad Luck, starring Cary Elwes of The Princess Bride. This full-length feature was shot in Seattle, Mineral and Morton. "The people were friendly in Morton and it was cost efficient to film there," Kurtzbein said.
"Getting to be a part of this is awesome," said Kurtbzein who feels she's in her element when doing quick fixes under pressure. "What was attractive to me was working on the set with those guys and working well under fire – popping a boot strap and finding a piece of leather and fixing it without losing any time, that's right up my alley."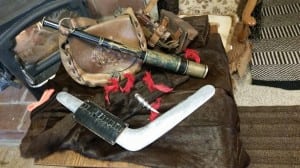 Kurtzbein was impressed with the age and skill of some of the crew. "They typically use the same cameramen and make-up artist, such as Talitha Vanzo who is from Tacoma. They are their own entities. They have a young cameraman who is living the dream, traveling the world making Nike commercials," Kurtzbein said.
She already is involved as a location scout for a future shoot closer to home. An upcoming project, "In Those We Trust," has scouted locations in Hoquium, downton Centralia, and Aberdeen. Faith vs. Fate Productions is part of a growing movement of locally-based production companies advocating film-making in Washington State. "They are really involved with KeepFilm in WA," said Kurtzbein.
While she has not been paid for the productions she previously worked on, Kurtzbein said, "The rewards have been great and the experience allows her to grow her name artistically." She's collaborated with other artists, such as the photographers at Kingmon Creative.
"It's really an exchange of professional services with Kingmon Creative. They're helping me with my Etsy shots with my jewelry," Kurtzbein said. This way, they help move each other forward. Kingmon Creative recently featured some of Kurtzbein's hand-crafted jewelry in a Bohemian wedding shoot. "It's a small world in the production world,"said Kurtzbein.
Aside from her recent involvement with Faith vs. Fate Productions, Kurtzbein is an artist in her own right. "The last five years I've been silversmithing at Centralia College under Russ Lunders and working with my mom at The Jewelry Boutique," she said. Lunders' classes are popular and Kurtzein waited two years before get finally getting in. "I'm glad I didn't change my cell number every year, otherwise I might not have gotten the call," she said referring to the class waitlist.
Her handcrafted, re-purposed and salvaged pieces are displayed at The Jewelry Boutique and the Barbara Clevenger Johnson Art Gallery in Morton. "When I found out the Morton Roxy Theater was being restored and having an art gallery featuring local artists, I inquired about having my art at the BCJ Art Gallery," said Kurtzbein.
Having her art exhibited at the BCJ Gallery makes Kurtzbein feel like she's giving back to the community in which she was raised. A 1988 graduate of Morton High School, Kurtzbein's spent the majority of her life in Lewis County. "I'm really rooted in the country. I spent some time in Alaska and Arkansas, but I've always been a Washington girl," she said.
"I've been my mother's daughter for many, many years, and saving silver pieces. If there's any little bit that can be saved, I want to do that. Sometimes that involves taking something old and creating something new," said Kurtzbein.
Another way Kurtzbein gives back to the community, is volunteering on a committee dedicated to saving the Veteran's Memorial Pearl Street Pool in Centralia. "S.T.O.P. and Swim is our technical name and saving the pool is our purpose," Kurtzbein said who has been volunteering with the group to save the pool since the day the group formed.
Although the Gail and Carolyn Shaw Aquatics Center opened in Chehalis in 2014, it is not large enough to accommodate the children and families of the Twin Cities. "This group is important to me," said Kurtzbein. "Kids in Lewis County need to have more access to swimming lessons."