By Kate Scriven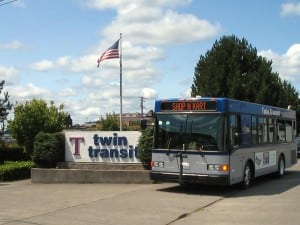 Many of us take the ability to get from place to place, safely, reliably, and easily for granted. Hop in the car and head out. Whether it's to work, a community event, doctor's appointment, or to socialize with friends, the "how" of getting there for many is the least of their concerns.
However, throughout Lewis County, many people rely on someone else to help navigate the travels of their daily life. Since 1977, many in Centralia and Chehalis have relied upon Twin Transit for their transportation needs. While they started out small, the growing Twin Transit has worked hard to evolve along with the community and provide modernized services to fit the wide variety of rider needs.
General Manager, Rob LaFontaine, believes the community is noticing the positive changes his small agency is making. "We're a lean, but certainly not mean, public agency," says LaFontaine. Twin Transit operates as a public agency with an annual budget of $2.1 million. While that may sound like a big number, in reality it's barely enough to cover current costs let alone expand services and infrastructure.
Many citizens wonder about the origins of Twin Transit's funds. LaFontaine explains how only 5-6% of income comes from the fare boxes on each bus. Sixty-five percent of the budget comes from sales tax revenue and, at a rate of .2%, Twin Transit has the smallest voter approved sales tax rate relative to other transits in the state. The remaining 30% of funding is generated through state and federal grants. While the budget is tight, Twin Transit is working hard to operate a system that is both reliable and consistent for riders while at the same time adding much needed improvements to bus stops and route frequency.
The services provided by Twin Transit fall into two general categories: paratransit service and fixed route service. Fixed route service is what you typically think of when riding the bus. You find a route headed near your destination, select a pick up time, and wait at the stop for your ride. Twin Transit makes it easy for riders with an accurate, reliable online system showing maps of all routes and real-time bus arrival times. Paratransit serves people with a variety of needs that prevent them from riding a fixed route bus. Riders taking advantage of the Twin Transit paratransit service include those with limited mobility, riders with physical and mental disabilities, and riders with conditions such as blindness that prevent them from driving or independently accessing fixed route options.
Both fixed route and paratransit services provide a lifeline to those who cannot drive themselves to maintain independence, engage with their community, and get to where they need to go for school, work or fun.
With only 28 total employees, including office staff, operators, dispatch and mechanics, the small team has worked hard in the past few years improving their accounting system, paratransit program and internal policies and procedures.
Bus Operator Peggy Haase has been greeting Twin Transit passengers for over 26 years and is proud of where the agency is headed. "There's been lots of little things that are big things," says Peggy, referring to improvements to the system. Peggy says she is pleased to see the relocation of bus stops out of private parking lots and the implementation of half-hour bus service that makes it easier to use the bus. "Routes have been improved and it works more like the big cities now."
The agency is looking to the future and LaFontaine feels it's a bright one. He admits considerable investment in transit related infrastructure such as bus turnouts, bus stops and a transit center are needed but is hopeful that with voter support, the group can make these goals become a reality. "At a tax rate of .2% it's tough to achieve all of our goals, but we're proud of the progress we're making," says LaFontaine. "We understand we need to earn the right to ask for additional tax revenue and hope that we are accomplishing that."
Goals for the future? Twin Transit hopes to have all routes operating on 30 minute frequencies as well as the implementation of technology which makes using the bus an attractive alternative to driving and parking. A transit center is also under discussion, significantly impacting access and service for all riders. "I'm optimistic about the future and am excited to see how we can improve to better serve college students and other target populations," LaFontaine shares.
In the meantime Twin Transit will continue making improvements, focusing on its mission of safely, reliably, and consistently helping residents in the community get where they need to go.