By Lisa Brunette
When I moved to Lewis County earlier this year, I saw it as an opportunity to get closer to my food source. As a born-again meat eater, I was thrilled to discover that I could find grass-fed, organic beef from cows raised a few miles from my home.
Paul and Dalene Olson have been in the organic business since before there was one. The husband-and-wife team have lived and worked on their family farm near Chehalis since the 1970s. "We've always followed safe field and animal practices," Dalene explains. "We only used treatments when absolutely necessary and stayed away from commercial fertilizers and herbicides. We've never used hormones."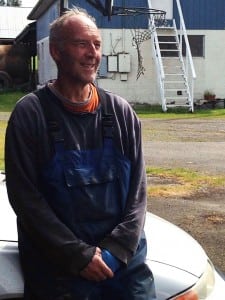 The Olsons are 100-percent focused on beef now, but originally, their farm was a dairy.
The two married in 1975 and purchased the dairy farm from Paul's father a couple years later. They ran it in an ahead-of-their-time ecologically sensitive manner for nearly two decades. In 2000, when Organic Valley brought to Lewis County farmers the option of shipping milk under the Certified Organic label, the Olson farm easily made the transition.
But circumstances made it tougher for Paul and Dalene to continue the dairy business in 2006. Their manager, who is also now their son-in-law, left to move closer to their daughter in Eastern Washington.
"Paul didn't want to go through the process of hiring someone else," says Dalene. "We had already built a fairly large herd of Angus beef, and our small farm was reaching maximum, so a decision had to be made. As hard as it was giving up the dairy cows, it was the right decision for us." They switched to beef-only.
The Olsons raised five children on their farm, and one of their sons is now interested in becoming involved in the business. They'll be trying that out for the next few years.
"I think our kids would all say they really enjoyed growing up on a farm," says Dalene. It certainly was a memorable experience—she describes chasing cows with her kids in the middle of the night when a fence broke. "It was a lot of fun working with the kids, and they all learned that sometimes a job has to be done whether you're tired or not." She credits farm life with instilling in them a sense of responsibility and a strong work ethic.
The Olsons take sustainability very seriously and are very proud of their herd. As their website proclaims, "Not all organic beef is pasture-fed, and not all pasture-fed beef is organic." They continue to refrain from using pesticides and herbicides on their fields and have a no-spray order from the county. Their cows graze the fields rather than eating grain, which they argue is healthier for the animal.
"Pasture-fed animals are allowed to grow at a natural pace, without hormones or any growth-promoting additives, and therefore live much lower-stress lives," says Dalene. "Because they are healthier, there is no need for antibiotics or supplemental drugs, which in turn makes them healthier."
The beef is healthier for whoever eats it, too. It's leaner, with less fat and cholesterol and fewer calories. It contains greater amounts of omega-3 fatty acids and vitamins than commercial beef.
The Olsons are members of the Cornucopia Institute, a watchdog group for the organic industry representing the family-scale farmer. The institute polices against abuse of the organic label and works to educate consumers about the value of organic food.
Purchasing beef from the Olsons is a little more do-it-yourself than tossing a package of hamburger into a shopping cart. They've cut out the middlemen and deal directly with the consumer. My husband and I contacted them, ordered a quarter of a cow, spoke to an abattoir about the cuts and processing, and then picked it up directly from the farm.
We felt much more connected to the source when we visited the farm, which is literally out their Chehalis back door. The Olsons gave us a tour of the calf barn and fields and talked to us a bit about their business. While I'm no expert on cows, theirs were beautiful, in a stand-there-and-ruminate sort of way.
Dalene maintains that all the hard work is worth it for the appreciation and compliments they get from customers. She and Paul are satisfied in the knowledge that they're making a difference in the health and well-being of their customers.
"Probably the hardest thing for us is sending the animals for processing," says Dalene. "A person works so hard to keep the animals alive and healthy, and it can be hard to finish the process by turning them into meat for consumption."
To learn more about the Olson's farm, PND Organic Beef, visit their website or call 360-748-7873.