It's time to celebrate the end of 2021 and the start of 2022. Here in Lewis County, events are happening to mark the occasion. From 21 and over parties, to family events or the outdoors, there is something for everyone to celebrate on New Year's Eve.

Level 22 NYE Party at Insert Coin
Join Centralia's Insert Coin for a fun time from 9 p.m. to 1 a.m. as we enter Level 2022! This cool New Year's Eve bash is all about the music with a live DJ and hip hop artists, including Eddy P, Ambient Village, Choir Boui, J. Shep, AR Fuego, The Hajj, and more guests. Admission is free, and between the fantastic arcade games and live music, enjoy specials on food, jello syringes, cocktails, and dry ice drinks to ring in the new year.
Draggin' In The New Year at McFiler's
Head over to McFiler's for a fantastic New Years' Eve party in Chehalis starting at 9 p.m. as they celebrate the life of Tru Starlet. This event features live performers, a raffle and a karaoke contest. A $5 donation is suggested and will be given to Tru's family to help cover any costs incurred since her passing.
New Year's with Bella Anima and the Beautiful Souls, The 99's, The JazzEMan, & Muddy G at Flood Valley Brewing Craft Taphouse
Don't miss the fun and music as Flood Valley in Chehalis hosts an event featuring Bella Anima. Also, find special guest appearances by The 99's, Muddy G, and The JazzEMan.
Emerald City Sound Machine at Olympic Club
McMenamins Olympic Club presents Emerald City Sound Machine for a rocking New Year's Eve. The doors open at 8 p.m. with the concert at 9 p.m. Party the night away with The Emerald City Sound Machine for $20 advanced tickets or $25 at the door.
New Year with Winlock Egg Day Royalty
Ring in the new year with Winlock Egg Day Royalty at the Winlock Community Building. This family-friendly celebration starts with dinner at 6 p.m. and includes dancing, games and a karaoke contest. A DJ from Mill City Entertainment will be on hand with the music. Donations are accepted.
New Year Celebration 2022 at Fairway Lanes
Fairway Lanes is open again and ready to party! New Year's Eve will be a  fun night of rock & bowl from 9 p.m. until 2 a.m. For $25 per person, get party favors, sparkling cider or champagne, and free raffle entry with prizes throughout the night. At midnight, celebrate the end of 2021 with a balloon drop and the ball drop on all the televisions. Find drink specials as well. Call 360.736.4100 for a reservation.
Jeremy's Farm to Table 2022 NYE Party
Count down the New Year with Jeremy's Farm to Table from 7 p.m. to midnight. This party will have live music performances and a special buffet. Chow down on slow-cooked ribs, coleslaw, mac and cheese, salads and more. There is a $5 entry fee, and it is $30 for the buffet.
New Year's Eve Skate and Dance at Centralia Rollerdrome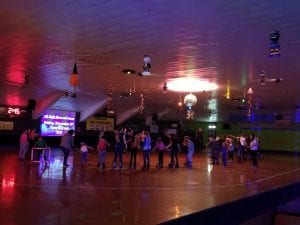 Come celebrate the New Year with Centralia Rollerdrome. Bring the family to skate and dance from 7 p.m. to 1 a.m., including a countdown and confetti celebration at midnight. Entry is $25 and includes admission, regular skates, a slice of pizza, small pop, hat, lei and noisemaker.
Or, if you don't want to stay all night, come to the Rollerdrome for the New Year's Eve afternoon skate from 1 to 4 p.m. This earlier party is $15, includes admission, regular skates, a slice of pizza, small pop, hat, lei, and noisemaker with a confetti celebration and countdown at 3 p.m.
New Year's Eve Clam Dig
Celebrate the New Year in a very Washingtonian way and go clam digging! Long Beach, Twin Harbors and Copalis will all be open for digs on New Year's Eve 2021. Check the Washington State Department of Fish and Wildlife website for locations and times.
State Parks 2022 Free Days
Start the New Year off with a hike and visit a State Park for free on January 1 for First Day Hikes, New Year's Day. There's no need for a Discover Pass on the first day of 2022, so get outside and enjoy the great outdoors here in Lewis County. Rainbow Falls and the Willapa Hills Trail offer beautiful scenery with easy trails for all ages.
Mark the end of 2021 and bring in the New Year with friends and family at one of these fun events. Cheers and Happy New Year, Lewis County!