Submitted by Chehalis Basin Lead Entity 
Lea and Nick love their jobs as salmon biologists with the Washington State Fish and Wildlife Department (WDFW). They are currently busy gathering needed scientific information about salmon in the Newaukum River.
Lea grew up on an oyster farm, earned a B.A. degree with an emphasis in genetics, and worked in a pharmaceutical lab after college. Shortly after starting that job, Lea knew she had to find employment where she could be outdoors more. She got that chance by monitoring fish catches on a commercial fishing boat, which in 2003 led to a job with the WDFW.
"My first assignment was conducting sockeye fish monitoring on Lake Washington, which I thoroughly enjoyed," Lea shared.
Nick grew up in the coastal town of Blaine, WA. "I don't remember a time when I wasn't outdoors chasing fish. My dad was a park ranger, stationed at a park with the only boat launch in town alongside all my family and friends who are active anglers," said Nick. Nick was often on a boat fishing in the Salish Sea or fishing alongside a lake. At Bellingham Technology college, Nick got a degree in Aquaculture Science.
"I was so excited to learn that I could make a career out of my love for fish and work as a fishery biologist! I started work with WDFW in 2015 and was able to conduct stream surveys in the Methow Valley," said Nick.
Today, both Lea and Nick have fulfilling careers conducting fieldwork in the streams and rivers in the Chehalis River Basin. The Chehalis has benefited from the help of more specialists like Nick and Lea because of funding provided through the Chehalis Basin Strategy, whose mission is to protect communities and fish from flooding and restore habitat to support aquatic species.
In the past, there has been limited salmon data collected in the basin. Monitoring the presence, abundance, and distribution of salmon species is necessary to effectively manage fisheries, improve recovery of native stocks, and help understand the potential effect any flood mitigation measures may have on salmon.
"As a result of the Chehalis Basin Strategy, funding was provided to implement more extensive salmon monitoring," Nick said. "Since 2019, we have been busy with adult spawner and juvenile monitoring in the Newaukum basin where we look for spring and fall Chinook Salmon, Coho Salmon, and steelhead trout," added Nick.
One of Lea's primary responsibilities is taking the data collected by Nick and other field biologists and calculating and summarizing the results related to timing, spatial distribution, and life history diversity of salmon spawners.  All the data they collect is published in reports accessible to the public on the WDFW website.  Their 2019-2020 Newaukum report is available here.
Nick, Lea, and other researchers have contributed to knowledge about the current state of salmon populations. As noted in recent WDFW reports, historically, on average (run years 2000 to 2019), the Newaukum River contributed between 18% and 45% of the Chehalis River spring Chinook population compared to the rest of the Chehalis River basin. However, the abundance of spring Chinook has been declining in the Newaukum and Chehalis rivers since 2000. The Newaukum River's contribution of spring Chinook to the overall population has also been declining.
Monitoring the presence, abundance, and distribution of salmon species is necessary to effectively manage fisheries, improve recovery of native stocks, and help understand the potential effect any flood mitigation measures may have on salmon. "These data are especially important to understand stream conditions before and after any proposed restoration projects to make sure efforts are effective and not detrimental to salmon or other aquatic species," said Lea.
When asked about his time in the field, fish-loving Nick estimated that he spends about 50-75% of his time in the field during the fall, winter, and spring. "My best friends are my layers of wool and fleece thermal wear and my waders with cleats. Weekly, my crew of three and I walk or boat (as conditions allow) the 60-mile length of the three forks of Newaukum River. We also often check out an additional 30 miles of tributaries. Our monitoring consists of spawning ground surveys (redd counts and live counts), along with carcass sampling, adipose mark status (marked/unmarked), coded-wire tag (CWT) status, and biological collections (e.g., scales for aging and tissue for genetics). Each redd we find we identify to species, flag, number, and georeference."
"This monitoring is done to assess the abundance and biological characteristics of adult salmonid spawners and to understand the number of salmon not caught by commercial or recreational fisheries that return to their natal habitat, known as escapement." (WDFW, 2019)
Lea and Nick work closely with the local streamside landowners and send out annual letters to landowners to inform them of the purpose of the surveying. "I also call and sometimes get the chance to talk to landowners in person. Folks are often very curious about the data we collect and salmon ecology – like, finding out that you can age a fish like you age trees — from counting their growth rings. I like to answer their questions about rivers and how it connects to their own fishing experiences," said Nick.
"We also like to share how salmon are a super important
component of our ecosystem and economy," added Lea. "We have more salmon and fishing opportunities in the Chehalis Basin than we have in most other places. We are fortunate that we have no listed (Endangered Species Act) species… Sometimes I think that we take that for granted… We want to try and maintain healthy stocks so that they don't become listed and impose additional restrictions.    Salmon are also like the canary in the coal mine and as a keystone species, important for bears, eagles, and so many more species of wildlife."
"Salmon are super important culturally for Native Americans and fishermen like me and generations of families. Salmon are nature's great conveyor belt to get marine-derived nutrients upstream into our forests. They are the reason why we have these big trees in the basin," contributed Nick.
Nick recalled a spectacular time field monitoring, "When I was monitoring above the proposed Chehalis Basin dam site, I saw some steelhead. I decided to put my phone camera in the water. Steelhead are skittish fish and do not stay long on their redds, so not many people have been able to see steelhead spawning. When I pulled my phone out of the river, without high expectations, I found that I had caught the coolest video showing steelhead spawning!"
Lea also shared, "During the pandemic, we have seen how important it has been for people to be outdoors and to be able to head out to their local river or stream. This experience has great benefits for our physical and mental well-being."
"Water is becoming more and more of a critical issue throughout Washington State and here in the basin," said Lea. "The more water taken out of the ground for watering lawns, washing cars, means less water for salmon. The last couple of years have had very high-water temperatures, which is really hard on cold water-loving salmon." Find out more at Conserve Water, Protect Salmon.
Lea added, "The salmon need large wood in the river, not hauled out used for firewood or other uses. Find out more at Wood in the Water is Good for the River and Salmon.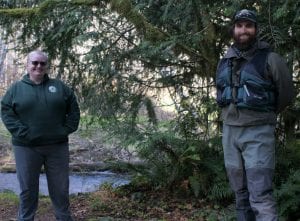 Major findings for the WDFW 2019-2020 Newaukum monitoring season were: 
Spring and fall Chinook spawners overlapped in the same place and time. Total spring and fall Chinook estimates for the 2019 run year were 175 and 858, respectively.
Spring Chinook spawned throughout the main stem Newaukum River
Fall Chinook spawned throughout the lower North and South Fork Newaukum River and main stem. There were also lots that spawned from Leonard Rd down to Jackson Hwy in the lower South Fork Newaukum.
Coho was the most abundant salmonid species in the Newaukum basin in 2019/2020 year with 1,988 spawners estimated. Middle Fork Newaukum River and Kearney Creek had some of the highest densities of spawning coho, and there was little spawning in the main stem.
Steelhead was the second most abundant species in the basin, with 1,103 spawners estimated. Steelhead were mostly distributed in the upper North and South Forks of the Newaukum River with little spawning in the main stem and Middle Fork Newaukum.
The Newaukum River basin was also selected as a "pilot watershed" by the Chehalis Lead Entity to help guide and monitor restoration projects in the Chehalis River basin and to determine how climate change may affect the salmonid populations in the basin. Find out more here.
For more information on the Newaukum Salmon Monitoring Project, please contact Lea Ronne, Fish Biologist III at lea.ronne@dfw.wa.gov or Nick Vanbuskirk, Fish Biologist I at nick.vanbuskirk@dfw.wa.gov.
For more information on how you can be involved in salmon restoration projects on your land, please contact Kirsten Harma, Chehalis Basin Lead Entity Coordinator, at kharma@chehalistribe.org or see their website.