Submitted by Centralia Ballet Academy 
After many years of presenting successful local productions of The Nutcracker, Centralia Ballet Academy is expanding the audience nationwide with a special virtual production. Featuring over 50 youth and adults, Centralia Ballet's video of The Nutcracker will be available for purchase through Amazon in early December and will stream for free on December 20, 2020 for "Nutcracker Night," a special event to bring holiday joy to living rooms across the country.  
"Our performers have danced their hearts out and we are thrilled to share our virtual production of The Nutcracker with families everywhere," said Nancy Gunter, Artistic Director and Co-Producer. "The Nutcracker is a beloved tradition that brings sweetness and inspiration to the holiday season. In a difficult year like 2020, we felt people needed the magic of The Nutcracker more than ever." 
Because of COVID 19, most live Nutcracker productions, like all live events, have been canceled. This is devastating on many levels. For dance companies and schools, The Nutcracker provides a source of revenue that many of them need to keep their doors open. For dancers, it something they look forward to participating in every year. In fact, it is the reason that many of them got into ballet in the first place. For families, it is part of holiday traditions. And for many young kids, it is their first experience with the performing arts.
Centralia Ballet deeply understands the importance of this production. That is why they found a way to not only allow the dancers in their community to participate but to share it with as many people as possible.  They worked with doctors, nurses, and health professionals to establish protocols and ensure the safety of their dancers.
"Producing this show in the midst of a pandemic has been challenging to be sure, but absolutely worth the effort," said Mick Gunter, Co-Producer and author of "Fritz the Rat King: A Nutcracker Adventure. "Kids who are missing school and their friends have had a chance to do something positive. And because this is a virtual production, it will be accessible to families who, even in a 'normal' year, not be able to attend stage productions of The Nutcracker."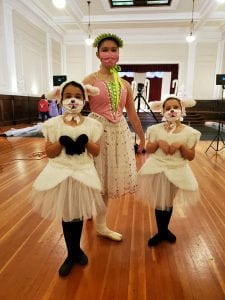 The current situation also allowed them to be creative in their casting.  For example, the father of the boy who won the role of the Nutcracker Prince was asked if would play the part of the Rat King.  This way, they would be able to have an epic, WWE style fight during the battle scene.  And because all theaters are shut down, Mickey and Nancy got inspired by old Hollywood musicals like "Summer Stock" and "White Christmas" and performed their show in a barn.
Centralia Ballet Academy draws diverse dancers from throughout Southwest Washington. Dancers range in age from 8 to 65. The star roles of the Sugar Plum Fairy and the Cavalier will be played by sister and brother pair, Jenova Williams and Marius Williams, Jr. For more information as well as fun ways to make Nutcracker Night special, please visit www.NutcrackerNight.com.