The leaves are falling and the temperatures are dropping, but now is the perfect time to celebrate the changing of the seasons. Get outside with the family and find some outdoor fun at local pumpkin patches and Halloween fun in Chehalis, Centralia and throughout Lewis County. Autumn is here!

Parkerosa Farms
292 Chilvers Road
Chehalis
Find fall fun at Parkerosa Farms in west Chehalis. Open seven days a week through October from 9:00 a.m. to 6:00 p.m., Monday to Friday is U-pick only. Bring the kids on Saturdays and Sundays for tractor rides and games with the purchase of tickets. New this year, have fun in the corn maze for just $3 and enjoy complimentary refreshments.
U-pick pumpkins are sold by size at $4, $6, $8 and $10. Find other fall décor like straw bales and ornamental pumpkins and gourds. Bring cash or checks only and find the perfect pumpkin to carve at this adorable farm.
Huntting's Pumpkin Patch and Haunted Forest
600 Cinebar Road
Cinebar
Huntting's Pumpkin Patch and Haunted Forest in Cinebar is a spooktacular haunted forest, pumpkin patch and corn maze that will keep the fun going all day. Don't forget to take lots of photos with the fun props. For family fun see if you can find all 12 checkpoints in the corn maze. The cost is $7 per person with kids under four free. For the truly brave check out the haunted forest for $13 per person. Do both and save at $18 per person.
Be sure to try the Goblin Egg Sling Shot for tons of fun! Buy 3 shots for $5, 8 shots for $10 or 25 shots for $20. Grab orange pumpkins for .39 cents per pound, specialty pumpkins are .59 per pound. and decorative gourds for 1.00 per pound. The pumpkin patch, corn maze and Goblin Egg Sling Shot are open 10:00 a.m. to dusk every day. After dusk, don't miss the haunted forest and flashlight corn maze on Friday and Saturday nights until 11:00 p.m.
The Pumpkin Patch
518 Goodrich Road
Centralia
Centralia's The Pumpkin Patch has everything you could need to decorate for fall. Pumpkins and squash are .40 cents per pound. There are also corn stock bundles, miniature pumpkins, straw bales and gourds for sale. Open every day from 10:00 a.m. to 6:30 p.m., this lovely farm is a beautiful backdrop for family fun.
After finding the perfect pumpkin, kids will enjoy hay and train rides, getting lost in the corn maze and parents will love capturing the day with fall photos at the adorable displays, wooden cutouts and tractors.
Willy Tee's Pumpkin Patch
3415 Jackson Highway
Chehalis
Willy Tee's Pumpkin Patch is nestled on a picturesque, sixth-generation farm in Chehalis. The family fun is open Friday to Sunday from  10:00 a.m. to dusk. The wide variety of pumpkins and gourds are .35 cents per pound including traditional Jack O' Lanterns, Cinderella pumpkins, pie and white pumpkins.
Kids will love feeding the farm animals and parents will enjoy all the wonderful photo opportunities. Find something handmade to decorate for the seasons in the craft booth. When he's available get a custom caricature for the kids, free of charge. "It's just something I've always enjoyed doing," says Owner Bill Teitzel.
Horseshoe Lake Ranch Pumpkin Patch
Airport Road – one mile north of the Chehalis Airport
Chehalis
A new pumpkin patch this year, but sure to be a favorite. Plus, 50% of the proceeds from U-Pick pumpkins will be donated to Reliable Enterprises for their Emergent Foster Care program, Ryan's House & Anderson House. All funds raised for the program will go directly into services, supplies, and experiences for children. The Anderson House & Ryan's House provides a warm home environment as children transition from a home crisis to a permanent foster home.
Open daily from 12:00-6:00 p.m., cash payments only, please. Get pumpkins at small $3, medium $5, and large are $7.
Fairytale Farm's Contactless Pumpkin Patch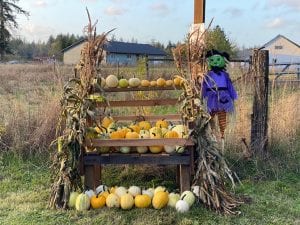 416 Coulson Rd.
Chehalis
If you are looking for smaller pumpkins perfect for decorating, carving and painting, stop by the Fairytale Farm's contactless pumpkin patch! They have all colors – white, orange, striped, even green! Pick a couple out! All pumpkins were handled with gloves and you will not interact with anyone! This is an honor system, pay what you can. The cash box is located on the stand by the cornstalks. Open every day from 10:00 a.m. to 6:00 p.m.
Extra Halloween Fun
For candy, cars and cool, don't miss the 1st Ever Trunks with Treats at the Veteran's Memorial Museum. Join the Quarter Milers Car Club on October 31 for a fun community event open to the public. Trick or treat drive though is from 3:00 to 6:00 p.m. and walkthrough is from 6:00 to 9:00 p.m. at 100 SW Veterans Way in Chehalis.
Little goblins and ghouls will love trick or treating at Yardbirds. While gathering all the goodies, stop by StrangeLand's Oddities, Omens, & Charms for their 1st Annual Halloween Costume Contest. Enter the contest by getting your photo taken at the shop for posting on their Facebook page and the one with the most votes in a week will win a $50 Strangeland's gift certificate. Be sure to check out Strangeland's retail oddities store for unique Halloween décor and more at 2100 N. National Avenue, Space 84 in Chehalis.
The annual Chehalis Centralia Railroad's Pumpkin Train excursions are Saturdays, October 24 and 31, and Sunday, October 25, at 12:00 noon and 1:30 p.m. Young and old are encouraged to wear costumes and participate in the costume contest for all age groups. The cost is $15 per person for the train ride including a pumpkin and goody bag. Children 2 and under are free. Reserve your tickets in advance to ensure seating at SteamTrainRide.com.
New this year is The Haunted Halloween Train on Friday, October 30, at 5:00 p.m. and 7:00 p.m. for adults 21 and over. Wear your clever, scariest or cutest costume and enter the costume contest for a chance to win fun prizes. Enjoy refreshments on board, followed by a visit to the Haunted Halloween House Railcar. Tickets are $45 per person and be sure to make a ticket reservation at SteamTrainRide.com.
Trick or Treat Transit
This free and fun event is a great way to get around and stay safe while trick or treating. Starting in downtown Chehalis hop on a Twin Transit bus and ride to various stops in Chehalis to collect candy and fun treats. Additional buses will be used this year to encourage social distancing so wear a mask and enjoy this fun Halloween tradition on October 31 from 3:00 to 5:30 p.m.
Lewis County is full of fall fun at farms and events. Try something new or create a family tradition. Celebrate in the beauty of the changing season at fantastic local pumpkin patches and fall events.