If this were a normal summer, Evan Barkis, a 17-year-old member of Boy Scout Troop 222 in Lacey, would be training other scouts as an Assistant Senior Patrol Leader. It's something he's done for the past three years, but this year it was canceled because of COVID-19. "It was unfortunate, but there is nothing we can do about it," Evan said.
In a way, however, the cancellation may have helped Evan by giving him more time to complete his Eagle Scout project by January when he turns 18. He's chosen to replace a pair of wooden rocking horses that were originally built by a craftsman with the Civilian Conservation Corps (CCC) sometime between 1933 and 1936.
The horses were popular with children visiting the Lewis and Clark State Park near Winlock. Even now people say, "Oh, I remember the rocking horses when I was a kid." But time and weather wore them down until some prankster decided to throw them in the fire pit and set them ablaze. They were removed in 2001 and Evan born in 2003, never had the chance to see them in person.
Evans' parents and their extended family have come to the park since Evan's grandparents moved to Chehalis from Texas in 1969. Every Labor Day they get together for a barbecue at one of the wooden picnic shelters built by the CCC. Evan's dad and some of his eight siblings also enjoy camping at one of the nearby campsites. Last year, the family celebrated 50 years of the Barkis Family Lewis and Clark BBQ tradition.
"This park is ingrained in my DNA I guess you can say," Evan said. "I kind of knew when I joined the Boy Scouts that I wanted to do my Eagle Scout project here. I wanted to give back to the park that meant so much to me."
Originally, Evan wanted to rebuild one of the bridges in the park that had washed out or fallen apart over the years. He approached Tom Fisher, ranger over Lewis & Clark, Ike Kinswa and Seaquest Parks, who pointed out some of the obstacles he would have to overcome in getting permits.
To build a replica of the bridge, Evan would need to use the original plans and follow them exactly. Another problem is the stream was recently reclassified as salmon-bearing, bringing even more restrictions.
Tom suggested replacing the rocking horses instead, something he had always wanted to do but never had the time. To skirt the historical requirements, they agreed to list the rocking horses as replacements, not replicas on the permits. They will be historically accurate pieces modeled after photos they found from the 1970s and 1980s.
Finding help for the project was the easy part. Wood from downed cedar trees was donated by the park. Evan, his father, Andrew, and older brother, Cameron, cut the wood to specifications from plans that the rangers found in their archives and re-drew for Evan.
A talented woodworker named Jon McAnich who owns Cedarville Farms near Rochester is helping Evan. "He has a huge shop that he has been gracious enough to let us use," Evan said. "So far we have stripped all the bark off of the cedar and we've begun to sand them down."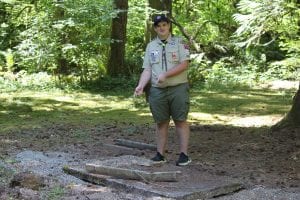 Evan is shaping the wood so it will sit properly for riders. The original concrete foundation from the '30s is still there just needing a good cleaning and alignment. Evan hopes to get a work party of scouts together this month and assemble the horses. The whole project should be completed by the time he starts his senior year at River Ridge High School in Lacey.
Once Evan completes his Eagle Scout project, he will meet with his Scoutmaster, Chris Panush, for a conference then he goes on to an Eagle Board of Review where his requirements will be checked. He will receive his Eagle Scout badge at a special Board of Honor, adding the Eagle badge to a scout uniform that is already covered with merit badges and patches.
Evan's family is one with many scouts, including his brother, father and a few of his uncles although he is the first to earn Eagle Scout rank. "It's just kind of a family thing, I guess," Evan said.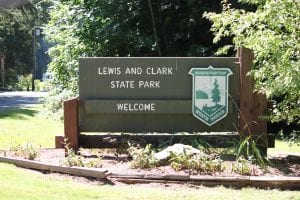 The Lewis and Clark State Park is located at 4683 Jackson Highway, just outside of Winlock. The park has eight miles of hiking trails in an old-growth forest with 25 standard campsites and eight full utility sites for RVs up to 45 feet in length and five equestrian sites. Sites can be reserved from May 15 – September 15. Call 1-888-CAMPOUT for reservations. A Discover Pass is required for day use at the park and can be used at many other state sites. The pass costs $30 a year or $10 for a day and can be shared with two different vehicles.