New York Times bestselling author Mandy Hale says, "To make a difference in someone's life you don't have to be brilliant, rich, beautiful or perfect, you just have to care."
Izzy Masias and Audrey Williams are not just normal teenage girls. With caring hearts, these two phenomenal young ladies were given a homework assignment in Jennifer Littlefield's leadership class at Rochester Middle School. They decided they wanted to tackle an issue that is very taboo to talk about – periods.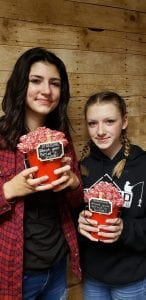 No one is comfortable talking about the subject. Guys do not always understand it and girls often despise it. Girls can start their period from the age of ten to fifteen. Up to forty percent of girls stay home from school because of period cramps. Nearly every young woman has been at school and started her period and not been prepared. This is traumatizing in an already stressful time in a young girl's life. In a school where the principal is male, it can be extremely embarrassing to have to go to the office and ask for help.
Izzy and Audrey realized this is a huge issue for young gals and decided for their project they wanted to help. They desire to help every girl be confident and comfortable. The girls' school counselor Andrea Friedman was supportive and a great help.
No Problem. Period was born. The girls created a website, a Facebook page, an Instagram and a Go Fund Me account. They exceeded their initial goal of raising $2000.
Izzy and Audrey made bins for each of the bathrooms in their school. They included tampons, pads, wipes, underwear and even two different sizes of leggings. The girls oversaw two all-girl assemblies; one for the sixth graders and one for the seventh and eighth-graders. Izzy and Audrey explained to their classmates what they were doing and asked everyone to respect the bins but to feel free to use anything that was needed. While the school already had a feminine hygiene dispenser, the girls know that not everyone carries around quarters with them and can be caught unprepared.
The determined girls did not stop just with the bins. Izzy and Audrey went all the way to the capitol. They testified in favor of SB6073.  The bill would require all public schools to provide free feminine products in bathrooms. The bill did not pass however, they are not discouraged.  They are now focused on how to help others during COVID-19.
Anyone who needs help with feminine products can contact the girls through their email or the No Problem. Period Facebook page. During the COVID-19 lockdown, they've delivered care packages around Lewis and Thurston Counties with a weeks' worth of products. The girls have been incredibly careful as to just leave the packages on doorsteps, so they do not defy the social distancing order. They've also delivered packages to the local food bank.
"This has been very eye-opening for me as a father and a male," says Izzy's father Tony. "I never realized the issues that girls have to deal with." Izzy and Audrey are bringing awareness to a subject that is hard for everyone to talk about. "Had we had something like this when I was a teenager it would have been life-changing," Audrey's mother Rebecca adds.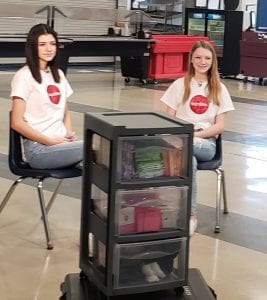 These remarkable eighth-graders will start high school next year and they want to introduce No Problem. Period at the high school. They also would like to be able to leave at least one bin at the elementary school, since some girls start their period earlier.
Their long-term goal is to bring awareness and help to not only girls but any woman in need.  No Problem. Period has already been spotlighted in the Wall Street Journal. When asked if they would like to go county-wide or across the state of Washington, they both replied, "We want to help girls across the country, not just our school." Both girls hope it becomes a movement.
What started as a school project turned into so much more than either of them or their parents imagined. These young advocates are so brave to bring awareness to a subject often considered unmentionable. Girls have stopped them in the hallway and thanked them for helping them from having an embarrassing mishap at school.
Inspired by Izzy and Audrey? Please, visit noproblemperiod.com or email noproblem.period1@gmail.com to see how you can help.