Lewis County has a number of car enthusiasts. As a result, our area is a bit of a hot bed for car shows. Hub City Car Show in Centralia is one of the most known yet there are events in the outlying areas that are equally fun.
Toledo Cheese Days Car and Motorcycle Show
Ron and Sue Smith are the driving force behind the Toledo Cheese Days Car and Motorcycle Show. Working with the Cheese Days Committee and Toledo Lions Club, the Smiths' show rivals most other local shows in size. They had nearly 350 cars this year.
After 19 years, the community still inspires the Smiths hard work. "It adds to Cheese Days," Ron says. "Plus, I've met a heck of a lot of nice people going out and getting sponsors, like Tom Alderson at Awards West."
Starting in January, Ron spends over 700 hours a year working on the car show, not including the hours Sue puts in on paperwork and gathering sponsors.
Ron is quick to give credit to the community for their efforts to put on the show. "The Lions Club is a great organization and I get a lot of support from them," he says. "Also, from the Cheese Days Committee and friends. A lot of communities are having problems keeping these things going. As of yet, we haven't and it's because of them."
What makes the car show so popular is its added events like live and silent auctions. People enjoy trying to win the bids. "It's fun to watch them," Ron says. "We also have a large raffle like nobody else's. We put a lot of money right back into our show."
The car show also supports classes at Toledo High School. "The senior class gets all the profits from the Fun Fest and we buy everything for it," Ron says. "It keeps the little kids entertained after the parade. One class does the dunk tank, and another does the inflatable toys. The yell leaders set up as concessionaires. Another class profits from bingo and again we give them everything for it."
The car show donates gift certificates for the weekend's most exciting event. "Ever see a frog jumping contest?" asks Ron. "It involves about 300 kids and it's just unbelievable. It's all about getting the community involved and it's worked."
This record-setting year was Ron's favorite so far. "The whole day seemed to go perfect," he says. "We gave away 165 trophies. It's gotten bigger and bigger every year and this year they just kept coming and coming."
When he started the car show, Ron was concerned the community wouldn't get behind it. "Boy, have they ever," he says. "Just about every business in town and the surrounding area, and a lot of new people moving here. They are our sponsors. That's one thing about Toledo, they support the kids and programs. You just don't find tight-knit communities like Toledo and Winlock."
Packwood Rod Run
The Packwood Rod Run is a long-running car show now in its 27th year. For the last 15 years, Gene and Laurie Seiber took their family's love of hot rods and poured it into the show.
There are about ten members involved in the car show, all tied to different organizations. "Up here, we wear multiple hats," says Gene. "In small communities, we all work together. It's a lot of families. Most of our members have their wives and adult kids involved."
The effort is a labor of love for the Seibers. "It's a year-long thing that takes a lot of planning," Gene says. "After the show is over, we take a short break and then start planning all the behind the scenes stuff. In April we have meetings once a month for the fine details like ordering plaques and trophies."
Those plaques and trophies come from Alderson's Awards West. "We've done business with them for years and years," says Gene. "We are extremely happy with everything they do. They do a good job for us and they make it affordable for smaller clubs."
It's the community support and local sponsors that allows the rod run to keep going. "We've been so blessed with the outpouring of support in our local community and all of Lewis County," says Gene. "That is what allows us to keep doing this."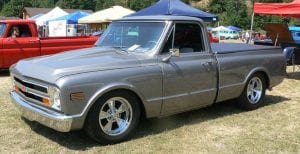 Last year, the rod run saw 150 cars in a two-day show. A barbecue starts the run on Friday night, and Saturday's highlight is a street dance. On Sunday, the hot rods ride in a poker run and the finale is an afternoon of awards.
Participants come from all around Washington and Oregon and even as far as Canada. "We have friends – we call them friends – that come back year after year," says Gene. "The common thing that we all get is the friendships that we make with these people from all over."
What brings people to the show is the relaxed atmosphere on the grass. "They stay a full weekend or longer at friends' houses they have met over the years," Gene says. "People have fun here. That's what we hear, is how much fun they had and they will be back next year."
Both car shows benefit the communities they are in, offer a fun family-friendly event, and bring people here to enjoy the less traveled areas of Lewis County. Through the support of local businesses, their perspective communities, and the dedicated folks who work diligently to provide them, these car shows will continue to thrive and bring enjoyment to many.