When Gary Graveline sat down with his parents, they all knew it wouldn't be a typical discussion. Making end-of-life arrangements never is. But the ensuing conversation led to clarity, connection, comfort and even a few good laughs.
Graveline's parents were initially hesitant to discuss the potentially weighty issue of funeral arrangements, even though their son could help. "They knew I did this for a living but it still took time," Graveline recalls. Ultimately, their desire to have things in place for their loved ones won out.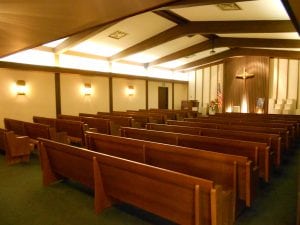 When they were ready, Graveline and his parents discussed their vision for services, burials and other details. The conversation was uplifting, bonding and – most importantly – it ensured their wishes were known.
There were surprises. For example, "I never knew that when mother's mother died, she looked down into the grave – this big, dark hole – and it scared her," Graveline says. "She didn't want to go into the ground. She also didn't want to be cremated. So we decided that we'd purchase a mausoleum space for her and my dad – it satisfied them both."
Graveline and his siblings never would have known this story or her preference without that important conversation.
Ultimately, Graveline's parents decided to be placed together in a companion crypt – at eye level where their family could touch their plaque and place flowers when they visited.
When it came time to select caskets, more surprises were in store. "Dad was a machinist," Graveline says. "He worked in bronzes his whole life. I knew he'd want a bronze casket."
But when the time came? "He picked a copper; I still don't get it," Graveline says with a laugh.
His mother's selection was just as surprising. "Mom loved early American antiques," Graveline says. "She had all kinds of copper pots and pans – but she picked a bronze."
Not only did this conversation ensure his parents' wishes, but it also made them known to all their children. The loss of a loved one is a trying time. Emotions can run high. Pre-planning eliminates the possibility of fighting over a loved one's wishes. They're already stated. All the family needs to do is carry them out. "It was great knowing that as siblings we weren't' going to squabble over what we were going to do," Graveline says. "Mom and dad said what to do; we just did it."
Pre-planning a funeral is also much easier than making arrangements after the fact. It's also more affordable. Preplanning and prepaying locks in today's rate – an impressive savings when you consider how costs consistently increase over time. "The whole idea of preplanning and prepaying is just as good if not better than taking out life insurance," Graveline says. "If you buy a life insurance policy, you're paying on it until you die. When you buy our policy, you get a paid-in-full certificate. It's still good even if you live 50 years beyond when it was originally purchased. And the money is there, no matter which funeral home you go to."
Graveline and the consultants at Sticklin Funeral Chapel have the expertise to guide you through the process. With decades of experience, their insight helps you make arrangements that meet your wishes and set your loved ones on the path to healing.  All you have to do is start the conversation.
Graveline has curated hundreds of funerals over the course of his decades-long career. He's seen everything from a disco-themed event to a hearse on a race track – each as unique as the person they were designed to honor. "Just know we can do anything," he says. "It's important for people to be creative with their life. They lived it. It doesn't matter if it was 20 years or 105 years, there was a lot of life there – celebrate it."
Sponsored