The history of Native American art traces back centuries, marked by a deep connection to spirituality. Artist Lisa Marie David continues the tradition today. She puts positive energy into every craft she makes. As Native American Art, Red Road, Lisa's medicine bags, dreamcatchers, rattles, cradleboards, baby moccasins, and beadwork are both beautiful and functional. Her motto is, "Everything in a tee-pee, we make."

Lisa's artwork is found all over the world. One of her paintings now resides in Europe. An art teacher from abroad bought it to share with her students. Dolls Lisa created with her parents are in galleries in Canada and Seattle. Some of her tool and food bags have traveled around the globe.
Born in Seattle, Lisa's mother was also an artist. "I remember being a little girl and selling things at the Pike Place Market," she says.
She would race her mother to see who could finish a cradleboard first. "I was 27 when I could finally beat her," Lisa remembers.
Her family danced in powwows and Lisa recalls creating regalia with her grandparents. Her father, Joe David, is a master carver in Canada. "I have artists on both sides," Lisa says. "So it was natural. When I look at something, my mind just starts taking it apart and putting it back together."
She recalls a special beaded figure she gave to her mom. She created it from the bottom up, forming it as she beaded, complete with braids for hair. "It's the only one I ever did," she says. "It was special because I had the vision of it going up and it came out perfect."
She now teaches her daughters and grandchildren some of the traditional methods. "We work together and talk about how we need to write a book," she says. Lisa's baby moccasins are created with her aunt's family. "We are all crafty and we all make something," says Lisa.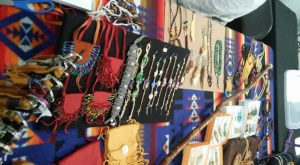 A 17-year Centralia resident, Lisa's work is found at Bead Opus and the Centralia Farmers Market.
Her beautiful dream catchers are made out of yellow willow she harvests herself, only taking what she needs. "I was taught when I was young that when I take from the tree, I thank the tree," she says. "I tell them I really appreciate this and it will really help my family."
While much of her work is Lakota style, Lisa also knows Polynesian mediums. Her customers love learning about native culture. "There is an interest in it," she says. "People want to buy it and know about it. They want to know about how to use the dream catchers. They ask, 'What does it mean?' and 'Is it effective?' It's all a belief thing. You have to believe in it for it to work. If we don't believe in something, then it's just a pretty object."
Although she sells her art at shows around the region, Lisa prefers to create things for people one-on-one. "That way, while I am making it, I am thinking good thoughts about them," she says. "I will burn sage, sweet grass, and tobacco while having good thoughts and making their thing."
Lisa prays over everything she makes with the best intentions and love, even if she doesn't know the customer yet. "It's important," she says. "You're sending it out into the world. You want to send out good."
With a kind heart, Lisa uses her art to support efforts for missing and murdered indigenous woman. "I try to reach out to people who need empathy," she says.
Lisa makes items for her friend's non-profit Unkítawa – Ours, Mine, Yours. The organization sponsors Indigenous Peoples' cultural, spiritual, and ceremonial activities that build and strengthen the Native American community.
Sometimes Lisa is compelled to give her creations away to a particular person. At a show in Olympia, a pair of children really wanted one of her most elaborate medicine bags. Lisa offered them a choice of some smaller bags for a song. The kids returned to sing her a song, thanking her for the bags. "Stuff like that makes it worth giving away," she says.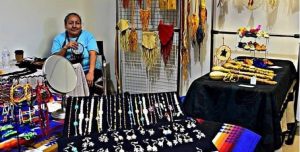 Another time, a man asked Lisa to create a medicine wheel out of porcupine quills for his vision quest. When she told him it would be her first one, he replied, "That's even more awesome."
She traded the medicine wheel for his homemade plum barbecue sauce. When she ran into him years later, he told her about his successful vision quest and showed her his shield with the wheel on it. "That meant a lot to me," says Lisa.
Lisa makes a living crafting genuine works of art, reflecting her customs and ancestral roots. "This is what I breathe," she says. "This is my bloodline so I do it every day. It's hard for me not to create every day."
Davidlisamarie501@gmail.com
971-320-5774